Description
The superb 3-9x32 AO Parallax focus "Bug Buster" from Leapers UTG with

Red

-

Green

Illuminated Mil-Dot CQB Compact Rifle Scope + QD Picatinny Base Rings + Flip up caps + Sniper sunshade
Bug Buster = super short range minimum focus range - crystal clear focus at just 3 yards
FREE UK shipping and money off international shipping is automatically applied when you check out

QD (Quick Detach lever lock) premium grade Weaver/picatinny base mounts (20mm width bases) are included - They are factory packed so cannot be swapped out for other types. If you need air rifle 9-11.5mm 3/8" or another type they have to bought in addition to the scope. See bottom of page for suitable choices or ask if unsure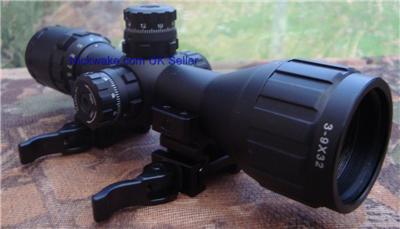 >>> For All Types and Power of Hunting rifle and Air Rifles - (see testing on powerful spring air rifles and scope killer firearms info below)
>>> CQB Long eye relief (4.2 - 3.2") compact (206mm) scope - This makes it well suited to carbines, airsoft assault weapons and even long body pistols.
>>> Red-Green illuminated Range Estimating Mil dot Reticle
>>> Premium Zero with lock and reset zero 1/4 MOA turrets.

>>> Flip up caps included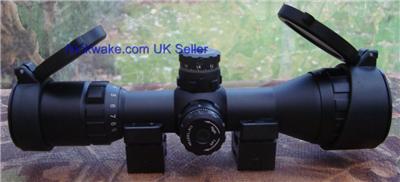 >>> Wide angle large field of view lens making it ideal for CQB missions.
>>> Supplied with premium grade mounts, flip up caps and 2" sniper sunshade.
New in box
Leapers True Strength 1 piece tube construction. Waterproof - Shockproof - Fogproof - Exceptionally Recoil proof.

Nitrogen filled and sealed tube.

Crystal clear vision through fully multi coated camera quality lenses.

Exceptional focus clarity at all ranges from 3 yards up.
Parallax from 3 yards to infinity
Length: 20.6cm (8.1")

Weight: Lightweight 390 grams (13.9oz)
Genuine Leapers sourced direct from Leapers. NOT a cheap clone.
There are many low price Leapers copy scopes from far east direct sellers and even UK sellers who should know better. If the price is too good to be true then it IS too good to be true. Copy scopes are built on inferior scope blanks (Not Leapers super tough True Strength) and use low grade optics in place of the grade A Leapers use. I Guarantee this is a genuine Leapers scope, a fact you can verify when you get it if you check the serial number with Leapers customer support.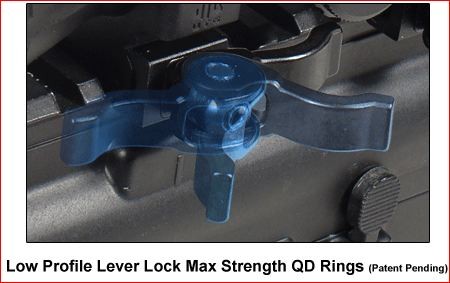 Leapers Illuminated Improved Mil Dot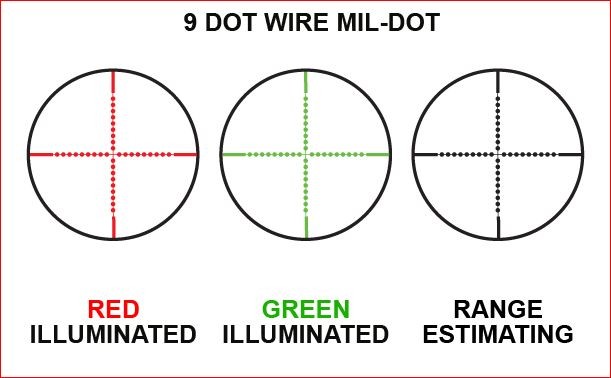 Illumination is a very useful feature for low and bright light, It gives you a much better contrast of the target against the crosshairs. Red is the color for low light, indoors etc and green helps in bright conditions.
When not needed you just have it turned off and use regular black cross-hairs.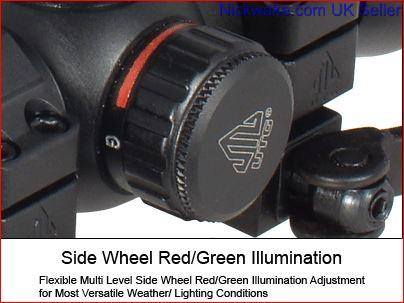 The Mil-Dot Reticule was developed by US Marine snipers in the 70s to improve range estimation. It is now the most popular fieldsports crosshair about.
Wide field of view and edge to edge lens clarity makes this a true hunting scope, you'll be able to pick up quarry on the peripheral edge of the sight picture.
The innovatively designed Leapers Mil Dot reticle has improved upon the standard mil dot by giving you more reference points for quick range estimation during shooting.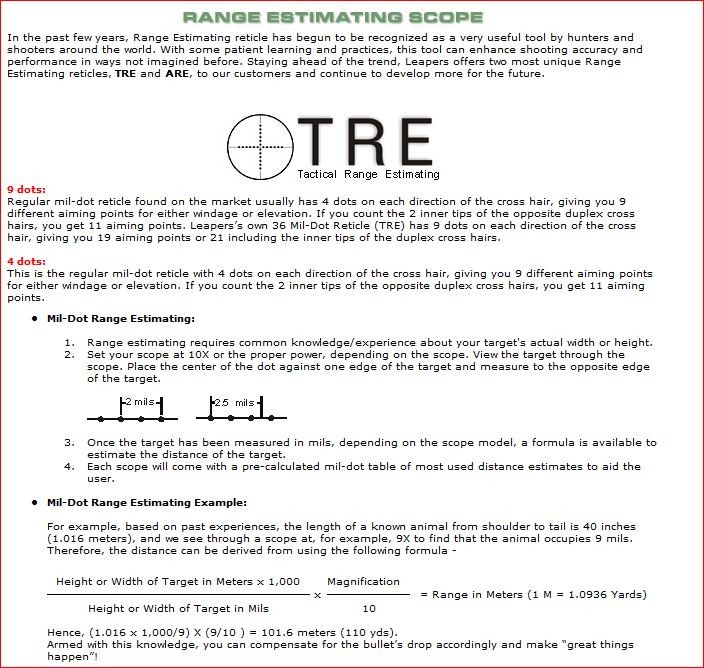 32mm Fully Multi Coated Lens:
An excellent medium lens size.

Excellent light capture coupled with fast target acquisition and moving target tracking.

Great for all light conditions especially good in lower light.

Multi layer coating gives excellent light transmission and clarity of vision while limiting glare and reflection, (looks great too).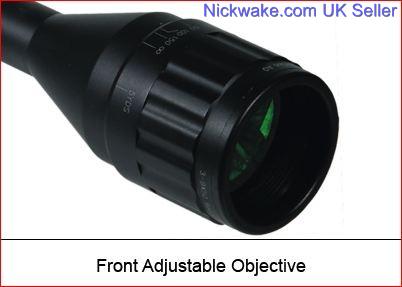 3-9x magnification
Adjust to any number between 3 and 9x magnification.

Ideal all round variable magnification

Focus from 3 yards at 3x

Very Easy and very fast dial adjustment.

Exceptional close range focus clarity
Finger Click Adjust Lock and Reset Windage and Elevation Turrets:
Windage/elevation target turret with center hex screw to control zero locking, zeroing and zero resetting functions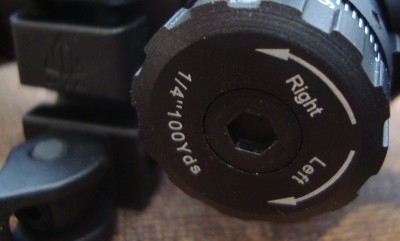 Easy, fast adjust 1/4 MOA at 100 yards with 160 clicks of movement.
Windage and elevation is how you set the scope so that your shot falls where the cross-hair says it will. AKA - zeroing.

Set it up (instructions supplied) and put the protective caps back on so that your settings stay in place. Simple.
160 click range (1/4 MOA)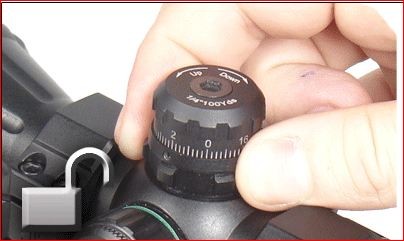 Leapers True Strength Platform = Mega strong recoil proof scopes
Leapers have designed an ultra strong 1 piece scope basically.
Using what they call smart spherical structure (SSS) to achieve simplified and strengthened inner/outer tube interaction for exceptionally precise and responsive W/E adjustment and super tough resistance against a lifetime of recoil.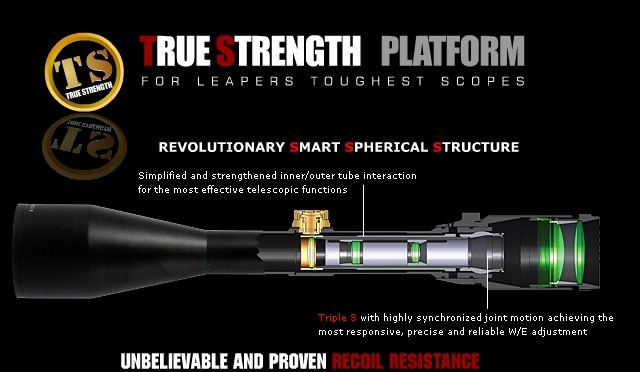 Dealer test results
To see pictures and video of the tests go to Leapers.com and type 3-9x32 into the search box in the top right corner. Go to the 3-9x32 page and click on the tab that says "TS Platform" Wait for the intro video to play and then click on the Real World Testing and Expert Reviews link.
Dealer test results

Air rifle kick - spring air rifles, unlike firearms, kick both ways and harder forwards. This 2 way snap can be fatal for scopes. The hardest recoil springer in the business is Webley's Patriot (AKA the Kodiak) which is known to bruise shoulders if held too loose or a headache if held too tight!

This scope was tested with 750 shots of the heaviest pellets which were measured at 30lbs/foot in pressure and the scope passed with no problems at all.

Firearms/hunting rifle tests - A .416 Rigby (AKA the "Scope Killer") which has a huge recoil was used on the 3-9x40 and 3-9x50. 350 shots fired and scopes inspected immediately afterwards. Dealer comments: Performed well. Grouping excellent. Optical clarity excellent in a high humidity and temperature environment. Adjustment tracking or point of impact remain reliable.
You will get the scope plus:
---
Customer Reviews
Write an online review and share your thoughts with other shoppers!


Similar Products