AGS 6-24x50 30mm SF Red Green IR Half MilDot Rifle Scope + Airgun Mounts + Caps + Sunshade
The best budget 6-24x50 on the market, a lot of scope for the money :) Etched glass reticle and Side focus parallax from 15 yards. Customer comment "Second one I have bought from you now. Great piece of kit for the money"
You will earn
129
loyalty points with this purchase
AGS Cobalt 6-24x50 Side Focus

Red

-

Green

-Black Illumination HALF MilDot Air Rifle Scope + 9-13mm Base Mounts + Flip up lens Caps + Sunshade
Mounts to fit it onto a rifle ARE included to fit standard type .22/airgun 9-13mm base High profile type. These are pre-fitted by AGS so if you need 20mm Weaver/Picatinny you will have to buy them in addition to the scope as we cannot take out the ones in the box and swap them over. See http://www.tacticalscope.co.uk/blog/?p=50 if unsure what you need and related items at bottom of page.
>>> Eyebell turret 7 intensity level Red and Green illuminated cross hair.
>>> One piece aircraft grade aluminium 30mm body tube.
>>> With flip up lens covers
>>> For All Types and Power of Air Rifle and .22 Rimfire LR

Waterproof - Shockproof - Fogproof - Recoil proof


Nitrogen filled and sealed tube




Clear vision through fully multi cobalt coated camera quality lenses




Good focus clarity at all ranges




Parallax from 15 yards > Infinity, by SF (Side Focus) turret.




Length: 44cm - take this into account if planning to fit to a short or break barrel or underlever rifle.




Weight: 750 grams (26oz)



Genuine AGS sourced from official UK distributor with UK based Webley limited lifetime manufacturers warranty.
Red-Green-Black (RGB) Illuminated HALF Mil Dot Reticules
Red/Green Illumination with 7 Brightness Settings in both red and green plus off-black.
Illumination helps by providing better contrast of the reticle against target and background.
Red is good in low light and night shoots. Green is useful in bright and glaring conditions.

New half mil dot - image here is standard mil dot. Half mil dot simply has small bar in between the mil dots at half mil increments to give you more aim and range estimation points.

50mm Fully Multi Cobalt Coated Lens:
A good all purpose larger lens size.

Good light capture with fast target acquisition and target tracking.

Great for all light conditions especially good in lower light.

Multi layer coating gives excellent light transmission and clarity while limiting glare and reflection.
6-24x variable magnification
Adjust anywhere from 6x to 24x.

A wide, flexible range of variable magnification range for most situations apart from very short range (below 10 metres), ranges and prey/target sizes.

Easy, fast dial adjustment.
Effective ocular focus on 6x at 10 yards.

Finger Click Adjust Windage and Elevation Turrets:
Easy, fast adjust 1/8 MOA
Flip up-down covers included
Tough hinged covers fitted front and back to protect the scope while in transit AND use.

Covers are easily detachable.
Parallax Explained
Parallax is the term that describes the difference in angles between objects that are seen up close and those seen far away. When you look at telephone poles passing by on the side of the road, those closest to your car seem to pass very fast, while the ones far away seem to go very slow. That difference is due to parallax.

The reticle in your scope is like a telephone pole that's very close. If you move your head on the stock while watching the target through the scope, it's probably possible to see the reticle move against the target. That affects where you perceive the aim point to be, and that affects your accuracy.

Parallax focus adjustment correction reduces this phenomenon to the greatest extent possible.

Range Estimating Mil-Dot Reticule explained
The Mil-Dot Reticule was developed by US Marine snipers in the 70s to improve range estimation. It is now the standard across for professional armies worldwide.
Wide field of view and edge to edge lens clarity makes this a true hunting scope, you'll be able to pick up quarry on the peripheral edge of the sight picture.
The AGS Mil Dot reticle gives you reference points for quick range estimation during shooting. A mil dot range chart is included.

This model is half mil dot - small bars in between each mil dot giving greater precision.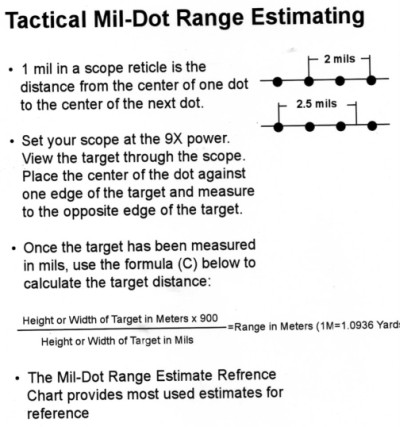 | | |
| --- | --- |
| Brand | AGS |
| Code | NW817 |
| Weight | 1.1kg |
| MPN | AGS62450IR |
| EAN | 9420008959666 |
| Length | 440mm |