AGS Cobalt 4-16x50 AO Red Green IR Half MilDot Rifle Scope + 9-13mm Mounts, flip caps, sunshade
You will earn
72
loyalty points with this purchase
AGS Cobalt 4-16x50 AO parallax

Red

-

Green

-Black Illuminated Half MilDot Air Rifle/Rimfire Rifle Scope with 9-13mm Base Mounts, flip up lens caps and Screw in sunshade
Mounts to fit it onto a rifle ARE included to fit standard type
.
22/airgun 9-13mm base High profile type. If you need a different type they must be bought in addition to the scope as we cannot take out the ones in the box and swap them over. See

http://www.tacticalscope.co.uk/blog/?p=50

if unsure what you need and related items at bottom of page.
>>> Side turret 5 intensity level each Red and Green illuminated cross hair.
Outside United Kingdom buyers please READ - There are special UK export rules for sales of telescopic scopes of 10x or more maximum magnification. You are very welcome to buy but we might have to get an export permit before the product can be shipped. Please read this page BEFORE buying (opens in new window)
>>> One piece aircraft grade aluminum 25mm scope body tube.
>>> With flip up lens covers and screw on/off sunshade
>>> For All Types and Power of Air Rifle and .22 rimfire

Waterproof - Shockproof - Fogproof - Recoil proof

Nitrogen filled and sealed tube

Crystal clear vision through fully multi cobalt coated camera quality lenses

Exceptional focus clarity at all ranges

Parallax from 10 yards > Infinity, by AO (Adjustable Objective)

Length: 37.5cm (14.7") without sunshade fitted. Sunshade adds 11cm

Weight: 698 grams (24.9oz)

Red-Green-Black (RGB) Illuminated Mil Dot Reticules
Red/Green Illumination with 5 Brightness Settings in both red and green plus off-black.
Illumination helps by providing better contrast of the reticle against target and background.
Red is good in low light and night shoots. Green is useful in bright and glaring conditions.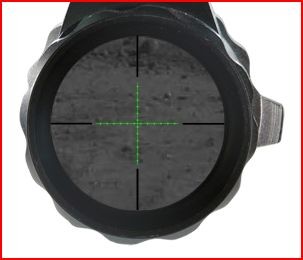 50mm Fully Multi Cobalt Coated Lens:
An good all round large lens size.

Excellent light capture coupled with fast target acquisition and moving target tracking.

Great for all light conditions especially good in lower light.

Multi layer coating gives nice light transmission and clarity of vision while limiting glare and reflection.
4-16x variable magnification
Adjust anywhere from 4x to 16x.

A wide, flexible range of variable magnification range for most situations apart from very short range (below 5 metres), ranges and prey/target sizes.

Easy, fast dial adjustment.
Good clear ocular focus on 4x at 5 yards. (parallax focus from 10 yards)

Finger Click Adjust Windage and Elevation Turrets:
Easy, fast adjust 1/4 MOA at 100 yards.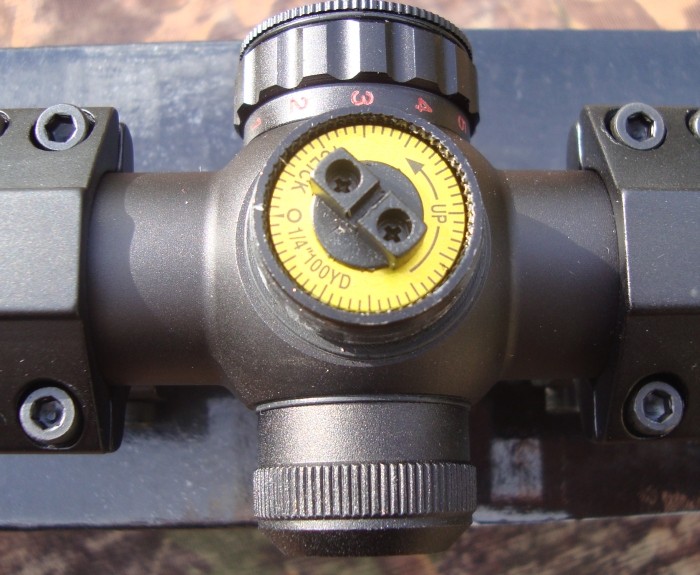 Flip up-down covers included
Tough hinged covers fitted front and back to protect the scope while in transit AND use.

Covers are easily detachable.

Can be used with sunshade.
11cm Sunshade
Easy screw on and off shade for use in very bright conditions and/or to stop give away reflections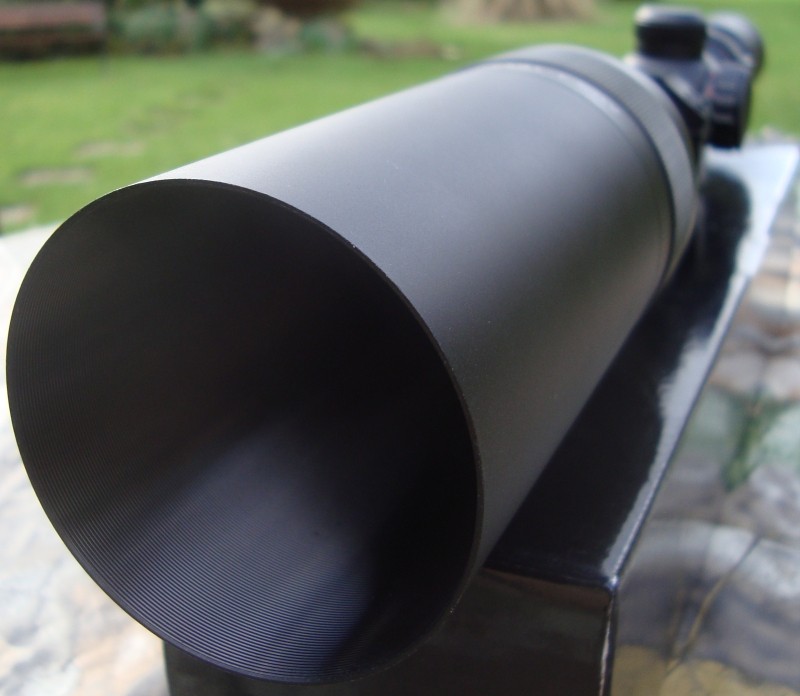 Parallax Explained
At longer distances targets will often "seem" to drift or wobble against their background making locking on them very difficult. This effect is known as parallax. If accurate shots at distance are important to you - small prey head shots, target shooting comps etc then being able to get rid of this problem is critical to your success.
Scopes such as this have Parallax adjustment which basically means you are able to adjust the scope using the AO lens to factor it out of the equation and give you rock solid target lock at any distance.
The effect varies in intensity and effect at different ranges so the scope features a range of adjustment settings. Adjust while looking through and you will find your ideal focus.
Parallax yard settings: 15, 20, 50, 100, 200, infinity.

Adjusted by the front lens objective i..e., it is an AO "Adjustable Objective" scope.
Range Estimating Mil-Dot Reticle explained
The Mil-Dot Reticle was developed by US Marine snipers in the 70s to improve range estimation. It is now the standard across for professional armies worldwide.
Wide field of view and edge to edge lens clarity makes this a true hunting scope, you'll be able to pick up quarry on the peripheral edge of the sight picture.
Half Mil Dot
Half Mil dot is basically a mil dot with smaller bars in-between at half mil in order to offer finer range estimation and holdover calculations. A mil dot range chart is included.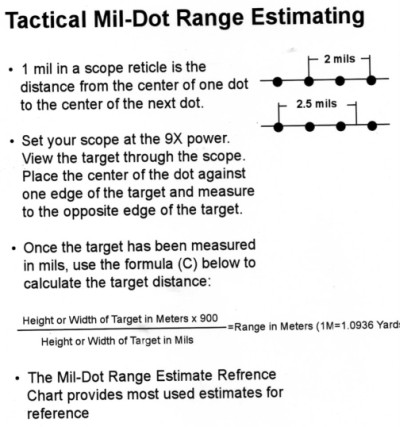 | | |
| --- | --- |
| Brand | AGS |
| Code | NW816 |
| Weight | 1kg |
| MPN | AGSS41650IR |
| EAN | 9420008959642 |