Airgun/.22 9-13mm Scope Mounts
AGS Mounts 9-11mm Airgun Base, 1" 25mm Ring, High 40-56mm Lens Scopes
Out of stock
All rifle and pistol suitable, 25mm/1" Scope 40-56mm lens with 9-11mm base Rail
You will earn
12
loyalty points with this purchase
Really outstanding budget all purpose air rifle and rimfire mount rings

Base and Scope Fit Information
For 25mm - 1" inch tube scopes fitting on 9-11mm dovetail base rails

Height for Scope lens size suitability
Saddle (base or mount to ring bottom height) of 20mm. This equates to a maximum outer objective diameter of 64mm which is most non AO scopes upto 56m lens and most 50mm AO models. Over 64mm and unless the base is raised the scope case will be touching the rifle body. See Clearance Guide at bottom of advert for how clearance can be calculated for this and any other scope/mount combination.

Design features
Reversible locking plate - so the screws can have their heads on your left or right side.
Very strong 2 twin screw base and top plates

Made from precision machined aircraft grade alloy - Very good all round all purpose air rifle and rimfire scope.

With anti recoil stop pin and grip tape in the rings to stop any recoil slippage.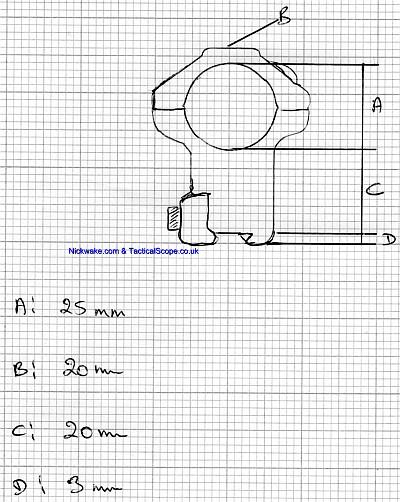 Show here -top plate of looking down at anti recoil pin screw hole. Recoil pin can be taken out using allen key (included)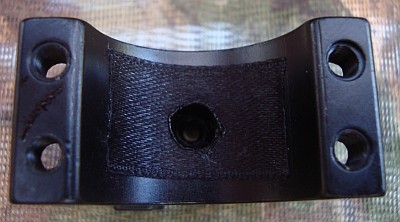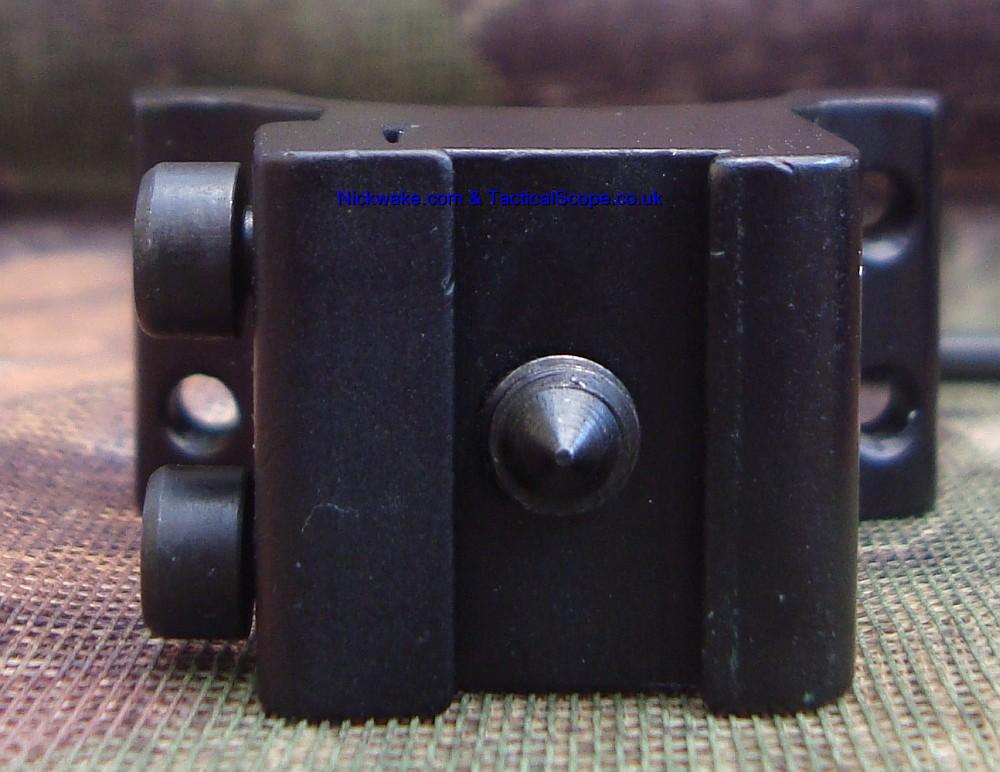 Calculating scope to rifle body clearance
The way you calculate the clearance is by halving the overall OUTSIDE diameter of your rifle scopes objective lens and then deducting half the rifle scopes body tube diameter.

For scopes with a 1" diameter body tube diameter this would mean deducting 12.7mm and 15mm for scopes with a 30mm diameter body tube.

Note we say OUTSIDE diameter - this means NOT the lens diameter, you need to measure the whole outer casing diameter.

The result gives you the minimum "saddle" dimension required - the measure from base of mount to bottom of the ring.

The amount the saddle dimension is greater than the figure you have calculated is the amount of clearance your scopes objective will be clear of your rifles body. The saddle on these mounts is 20mm

Example -
A 50mm AO objective lens scope is measured and found to have an outer case measurement of 62mm.

62 divided by 2 = 31.

1" scope so deduct 12.7mm = 18.3mm

Therefore mount must have a saddle measure (base of mount to bottom of the ring) greater than 18.3mm or else it will ground out on the rifle body.

20mm = nice fit.
Calculating your rifle scopes clearance in this way does assume your dovetail or base is not raised above or below your rifles barrel. Note some rifles with high or adjustable cheek pieces may require higher scope mounts or risers so that your eye is in line with the rifle scope and your head is kept in an upright comfortable position.
| | |
| --- | --- |
| Brand | AGS |
| Code | NW235 |
| Weight | 0.15kg |
| MPN | AGSM38H |
| Height | 20mm saddle |
| EAN | 9420008950328 |