Athlon Argos BTR 8-34x56 SF FFP Illuminated Etched APMR Mil Reticle Rifle Scope
Out of stock
1/10 mil clicks. Length - 15.5 inches - 394mm
You will earn
424
loyalty points with this purchase
Athlon Argos BTR 8-34x56 Side Focus, First Focal Plane, Illuminated Etched Glass APMR Mil Reticle & matched 0.1 Mil Turrets Rifle Scope
Really good user reviews, see them on the reviews tab at
https://athlonoptics.com/product/rifle-scopes-argos-8-34x56-apmr-ffp-ir-mil/
Mount rings to fit it onto a rifle ARE NOT included
If you mount rings you will need to purchase them in addition to the scope. See shop and look for High profile models for 30mm tube for whatever base you have. Please ask if unsure. We can also help with picatinny adapter bases for rifles such as Tikka, SAKO, CZ, Ruger, Remington, Howa, Weatherby, Marlin etc (See Britannia Rails section for many picatinny adapter bases)
Athlon Argos BTR 8-34x56 FFP Illuminated Riflescope design application: Mid to long Range Shooting for hunting and Precision Rifle Shooting type events

The Athlon Argos BTR 8-34x56 FFP Illuminated offers a precision shooting riflescope at a price which is unbeatable.

This model has an MIL matching turret / reticle configuration which is hard to come by when keeping your budget down.

These Athlon Argos BTR 8-34x56 FFP scopes have features normally only found on higher end scopes. Versatile in multiple shooting disciplines. It also has the Advanced Fully-Multi Coated Optics that delivers a crystal clear bright image even in dark environments.

Plus Athlons exclusive XPL coating that protects your lenses from dirt, grease and harsh weather conditions.

The 6061T6 aircraft grade aluminium tube of the Athlon Argos BTR range will protect these world class optics no matter what punishment you throw at it.
User reviews - go to https://athlonoptics.com/product/rifle-scopes-argos-8-34x56-apmr-ffp-ir-mil/ and click the reviews tab

Athlon ATHLON® AMPR FFP IR MIL Reticle - Etched Glass
Designed for precision long and mid-distance shooting with illuminated center cross and 0.5 mil hash mark increments , APMR FFP IR MIL reticle can help you quickly lock in your target and set holdover positions and leads for a moving target.

The illuminated 18 mil span cross lines with 0.5 mil hash marks and 0.2 mil hash marks from 7 mil to 9 mil on three directions provide finer details that help a shooter quickly locate the target and find a holdover position within higher level of precision and confidence.

Very detailed reticle guide at

https://athlonoptics.com/wp-content/uploads/2016/12/ATHLON-APMR-FFP-IR-MIL-Reticle-Manual.pdf



First focal plane design allows you to fully utilize specially designed reticles that shrink or grow along with your target as you zoom in or out. These reticles offer quick target engagement at low power while offering precise holdover positions with finer details.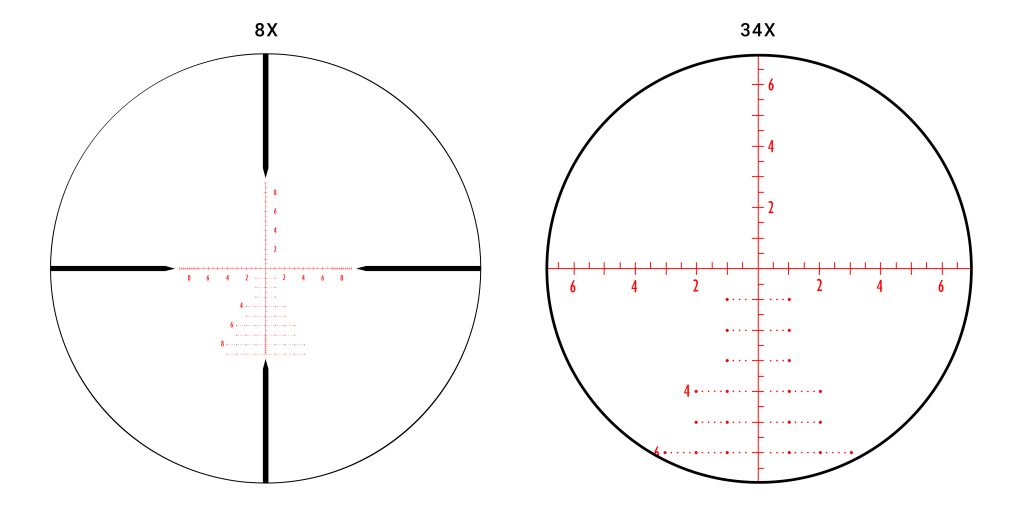 Features in detail

Etched Glass Reticle
Reticle etched on the glass that provides excellent backing support for complex reticle design and offers great durability and much higher shock resistance to recoil as well as a very crisp clear reticle and zero internal light reflection when illumination is in use.

Fully Multicoated
Fully Multicoated optics effectively reduces reflected light and increases the transmission of light giving you a brighter image than normal single coated lenses

6061 T6 Aluminum
The 6061T6 aircraft grade aluminum tube that has exceptional strength and superior mechanical integrity will protect these world class optics no matter what punishment you throw at it.

Heat Treated One Piece Tube Construction
Heat treated one piece tube gives the scope extra strength over multi-piece tubes. A one piece tube also is better at keeping moisture out thus keeping your scope fog proof for the life of the product

Waterproof
Waterproof to protect the scope in the harshest weather conditions or if accidentally submerged underwater

Fog proof
Fog proof to allow you to immediately engage your target when you take your rifle to cold ambient temperature from warm inside

Shockproof
Robust mechanical system with special designs on both control and erector system that give you the ultimate recoil resistance to withstand 1000G recoil for 1000 times.

Argon Purged
Argon Purging uses the inertia gas with bigger size molecules to purge any moisture out of the tube giving you better waterproofing and thermal stability.

Technical Specifications at a glance
Magnification: 8-34

Objective Lens Diameter: 56 mm

Reticle - Etched glass AMPR FFP IR MIL, Glass Etched

Surface Finish: Matte

Lens Coating: Wide Band Fully Multicoated

Extra Coating: Xtra Protective Coating

Tube Material: 6061 Aluminium

Tube Diameter: 30 mm

Exit Pupil: 7-1.7 mm

Eye Relief 3.3 inches

Field of View @100 yards: 12.5-3 feet

Click Value: 0.1 MIL

Adjustment range per rotation: 5 MIL

Total Elevation Adjustment: 13 MIL

Total Windage Adjustment: 13 MIL

Turret Style: Exposed

Parallax Adjustment: Side Focus turret, 15 yards to infinity.

Purging Material: Argon

Length:15.5 inches - 394mm

Weight: 30.2 ounces - 846 g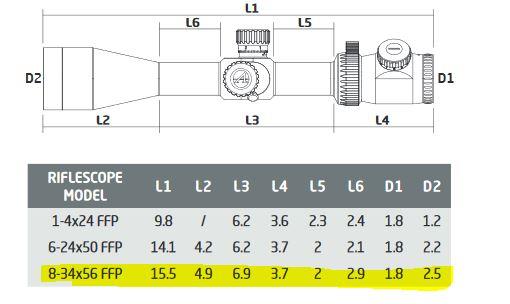 | | |
| --- | --- |
| Brand | Athlon |
| Code | NW1743 |
| Weight | 1.6kg |
| EAN | 813869020443 |
| MPN | 214066 |
| Length | 15.5 inches - 394mm |
| Click value | 1/10 Mil |