BKL278 Double Strap 3/8"-11mm Dovetail OFFSET 1" Mount Rings - High profile
You will earn
44
loyalty points with this purchase
BKL278 Double Strap 3/8"-11mm Dovetail Rimfire and Airgun Rifle Scope OFFSET 1" Mount Rings - High profile
Top quality, made in the USA mount rings for airgun and rimfire rifles.

The BKL 278 Double Strap offset mount ring pair is designed to increase eye relief adjustment on receivers that have very little dovetail or where bolt is too far forward.

Medium/High profile 2 piece mount rings for 25mm / 1 inch tube scopes for fitting on 3/8" and 11mm airgun and rimfire dovetail base rails.
Saddle Height -
0.774" - 19.6mm base to bottom of ring equates to maximum scope outer objective casing diameter of 62mm - Most scope outer casing add 7-15mm to the lens size (depending on things like if it is an AO scope, use of flip up caps etc) so this gives a lot of room.

Generally these mounts are best suited for scopes with 40-50mm lenses though in some circumstances they are useful for bigger or smaller scopes - but unless you KNOW you have a special application such as a need to clear an iron sight (need higher) or have a raised base (need lower) then the general sizing guide is probably correct. As always, if unsure ask us.

Specification
Scope Tube Diameter: 1"

Mount Rail: 3/8" or 9-11mm

Mount Type: Two Piece

Mount Height: Medium

Finish: Matt Black

Fit 3/8" or 11mm Rail

High performance aluminium

Patented clamping system
Technical Specs:
Off Set: 1.25" / 32mm

Base and Ring Clamp Width: 1" / 25.4mm

Bottom of Mount to bottom of Scope Tube: 0.774" / 19.6mm

Weight: 5.5 oz /154oz

Model 263 (standard mount ring) Overall Length: 1" /25.4mm

Model 278 (offset mount ring) Overall length: 2.25" (57mm)
This item sold as a set of 2 mounts - 1x standard BKL263 and 1x BKL 278 offset
Manufactured from aircraft grade aluminium on state of the art CNC machinery in Texas, USA
What are the advantages of BKL mounting systems?
1 - Installation is performed easily because there are few components to contend with. BKL uses the same #8-32 screws for both scope ring and base clamps. One 9/64 hex wrench tightens all.
2 - The inside diameter where the rings clamp together is radiused to prevent scope damage.
3 - BKLs clamping system self aligns as it tightens down on 3/8" and 11mm dovetails.
4 - No lapping required.

Do I have to center BKL scope mounts?
No. All of our products center up as the pressure from the clamping system pulls down as it clamps in.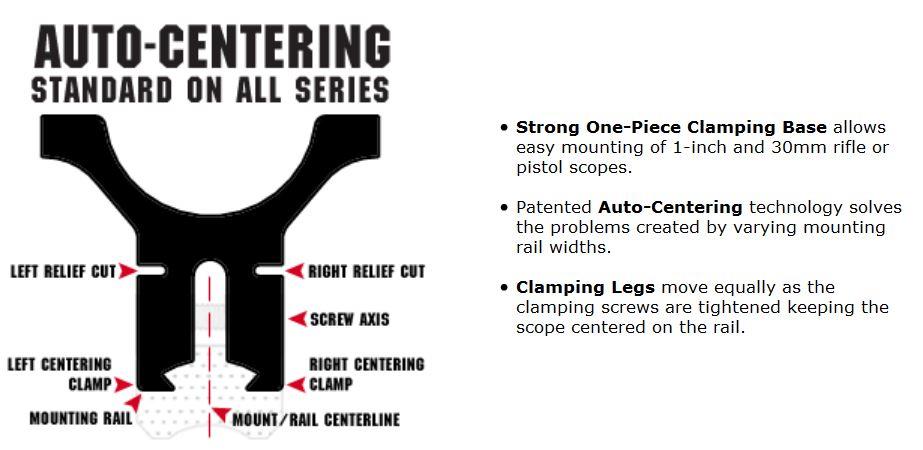 BKL customer user reviews for BKL274 mounts
Reviewer: fffrom Dawsonville, GA United States
Needed to position a Simmons 3-9x32 22 Mag scope 2" foward on a Winchester model 9422 Mag XTR leaver action to get the needed 3" eye relief. After weeks of looking found the BLK 274 Offset rings that worked perfect. Great fit for a great combination.

Reviewer: ffrom PA, United States
Purchase these for my Mossberg 640k Chuckster and they are perfect! You guys do a Super job!

Reviewer: from olympia, WA United States
These rings were a relatively inexpensive, straightforward answer to how to mount a scope on my Walther LGM-1 SSP air rifle. The loading gate lever is so long that it wouldn't clear the turrets when the rifle cocked. I was either going to have to engineer a new lever or mount the scope almost 2" high because a short dovetail precluded separating the mounts any further apart to create clearance. By using cantilevered mount, I was able to keep the scope close to the bore center and get the separation necessary to allow the lever to rotate fully without hitting the scope.
Calculating scope to rifle body clearance
The way you calculate the clearance is by halving the overall OUTSIDE diameter of your rifle scopes objective lens and then deducting half the rifle scopes body tube diameter.

For scopes with a 1" diameter body tube diameter this would mean deducting 12.7mm and 15mm for scopes with a 30mm diameter body tube.

Note we say OUTSIDE diameter - this means NOT the lens diameter, you need to measure the whole outer casing diameter.

The result gives you the minimum "saddle" dimension - the measure from base of mount to bottom of the ring - the saddle dimension that is stated above.

The amount the saddle dimension is greater than the figure you have calculated is the amount of clearance your scopes objective will be clear of your rifles body.

Example -
A Nikko Nighteater 1" 4-16x44 scope has an outer case measurement of 51mm.

51 divided by 2 = 25.5.

1" scope so deduct 12.7mm = 12.8mm

So the mount must have a saddle measure (base of mount to bottom of the ring) greater than 12.8mm or else it will ground out on the rifle body.
Calculating your rifle scopes clearance in this way does assume your dovetail or base is not raised above or below your rifles barrel. Note some rifles with high or adjustable cheek pieces may require higher scope mounts or risers so that your eye is in line with the rifle scope and your head is kept in an upright comfortable position.
About BKL - Made in Texas, USA
BKL Technologies, manufacturer of the largest selection of airgun and rimfire scope mounts in the U.S. Our competition-grade scope mounting system includes scope mounts, scope rings, dovetail to weaver adapters, and scope risers that utilize a quick-installing and self-aligning clamping system that fits both 11mm and 3/8" dovetails.
BKL mounts are compatible with popular rimfire manufacturers such as Anschutz, CZ, Feinwerkbau, Marlin, Remington, Savage, Suhl and air rifle manufacturers such as Air Arms, AirForce, Beeman, Benjamin, BSA, Crosman, Daystate, Diana, Gamo and Webley.
See http://www.bkltech.com/ and ask us about any other BKL products you'd like to get
| | |
| --- | --- |
| Brand | BKL |
| Code | NW1255 |
| Weight | 0.15kg |
| MPN | BKL278 |
| EAN | 5054492362080 |