Hawke Airmax 30 8-32x50 SF AMX Mil Dot Rifle scope + Caps, Sidewheel, Sunshade - Returned
Out of stock
Not used. Sent back as unwanted. Box has been a bit bashed so we cannot sell it as 100% new. Reduced in light of this less than perfect state
You will earn
279
loyalty points with this purchase
Hawke Airmax 30mm 8-32x50 Side Focus px Red Illuminated glass etched AMX Mil Dot Rifle scope + metal Flip up lens Caps, 100mm Sidewheel and 100mm screw in Sunshade

Not used but sent back and box has been a bit bashed so we cannot sell it as 100% new. Reduced in light of this less than perfect state

The Hawke Airmax 30 SF family of scopes focuses on long and short range Airgun hunting and Airgun Target shooting and is also rated for use on any caliber.

>>> While suitable for any caliber The Airmax EV 30 Side Focus offers a specialised optical setup for airgunners.
>>> Exceptional AMX airgun fully floating glass etched Mil Dot reticle.
>>> Supplied with flip up lens caps, screw in sunshade and 100mm sidewheel
Outside United Kingdom buyers please READ - There are special UK export rules for sales of telescopic scopes of 10x or more maximum magnification. You are very welcome to buy but we might have to get an export permit before the product can be shipped. Please read this page BEFORE buying (opens in new window)
Quick fire bullet features
16 layer fully multi-coated optics for exceptional clarity

Side focus control for parallax adjustment to 10 yards to infinity

30mm mono-tube chassis for superior strength

Glass etched reticle with red illumination

Stepless rheostat offers total brightness control

¼ MOA exposed, locking and resettable turrets

Fast focus eyebell and high torque zoom ring

RRP - £369.99
AMX Mil dot
Half Mil Dot spacing on the lower vertical post provides increased aim points when compensating for long shots. Additional bars calculated at 1/2, 1, 1 1/2 and 2 Mil spacing compensate for cross winds. The outer posts are divided into Mil spacing making them perfect for bracketing and range finding.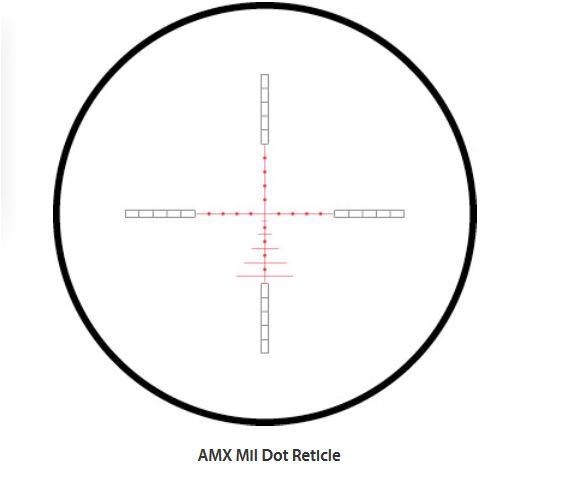 Illuminated Reticle (IR)
Ideal for low light or very bright light. In such conditions targets and background can appear dark or be in shadow. When this happens seeing your aim point on the reticle can be very difficult. The solution - turn on the IR to get instant contrast. You can adjust the brightness to suit conditions and find perfect contrast.

Flip-Up Covers
Included are two metal flipup covers to protect the lenses when not in use. Each cover has a key for attaching it to the rifle scope.

Sunshade
The sunshade can be attached to the rifle scope by screwing it into the objective thread. Multiple sunshades can be combined to create a larger sunshade.
Easy fast turret adjustment
Locking resettable turrets make adjustments easy and repeatable, even when used with gloved hands.
Side focus parallax adjustment, with a range of 10 yards to infinity.
Parallax is the term that describes the difference in angles between objects that are seen up close and those seen far away. When you look at telephone poles pass by on the side of the road, those closest to your car seem to pass very fast, while the ones far away seem to go very slow. That difference is due to parallax.
The reticle in your scope is like a telephone pole that's very close. If you move your head on the stock while watching the target through the scope, it's probably possible to see the reticle move against the target. That affects where you perceive the aim point to be, and that affects your accuracy.

Parallax focus reduces this phenomenon to the greatest extent possible.
This enables you to be parallax free and in focus at all target distances.

The 100mm wheel can be used to give finer operation. It does not need to be used and can be taken off and put on as required.
Technical Details and Summary
Chassis: 30mm Mono-tube

Optical System: 8-32×

Objective: 50mm

Reticle: AMX IR

Illumination: Red - Stepless

Focus/Parallax: Side Focus - 9m / 10yds to Infinity

Field of View: m @100m / ft @100yds - 4.3 - 1.1m / 13 - 3.4ft

Eye relief: 102mm / 4"

Length: 422mm / 16.6″

Weight: 774g / 27.3oz
Waterproof, Shockproof, Nitrogen purged.

All calibre rated.
Material: Magnesium Alloy

Exit Pupil: 6 - 2mm / 0.2 - 0.1″

Ocular Type: Fast Focus

Lens Coating: Fully Multi-Coated - 16 Layers

Power Selector Style: Rubber Coated Posi-Grip

Warranty: Hawke Worldwide Warranty

Elevation and Windage Adjustment Range: 55 MOA

Increment: ¼ MOA

Turret Caps: NA

Turret Type: Exposed
SUPPLIED WITH
4" Side Wheel

4" Screw-in Sunshade

Metal Flip-up Covers

Lens Cloth

CR2032 Battery

Tools and instruction booklet
Dimensions

Free Hawke BRC Software download
The perfect reticle setup is simple with the free Hawke Ballistic Reticle Calculator. It can calculate all calibre rifles. Now includes slug and crossbow bolt settings.
Ballistics can be a complicated business at the best of times, which is why Hawke have developed easy-to-use and deadly accurate reticles with the added support of the patented Ballistic Reticle Calculator.
The BRC is quick to download and navigate around. The calculations produce accurate results that translate into extreme accuracy and precision when you're in the field.
With BRC you can:
Browse a list of preset aim points suitable for your own calibre

Choose a preferred reticle for your shooting calibre and requirements

Adjust the presets to work either in metric or imperial measurements

Change zero distances, muzzle velocity, magnification & Estimated Deterioration/Ballistic Coefficient value (ED/BC)

Plot your rifle trajectory and find aim points

Carry out advanced range finding calculations
Get BRC at http://www.hawkeoptics.co.uk/brc.html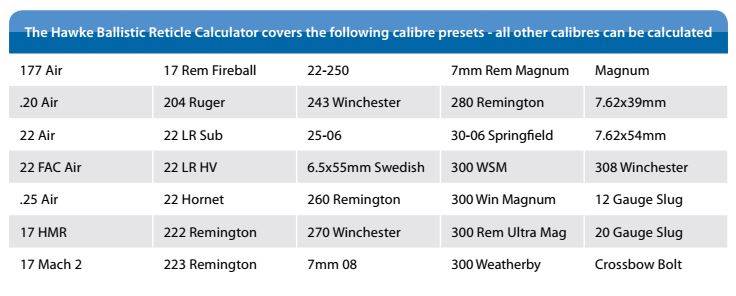 | | |
| --- | --- |
| Brand | Hawke |
| Code | NW871-A |
| Weight | 1.6kg |
| MPN | 13340 |
| EAN | 5054492133406 |
| Length | 422mm / 16.6″ |