Hawke Endurance 30 WA SF 6-24x50 Etched Glass LRC 24x Centerfire Hunter Rifle Scope 16362
You will earn
369
loyalty points with this purchase
Hawke Endurance 30 Wide Angle, Side Focus, 6-24x50 Etched Glass LRC 24x Centerfire Reticle Hunting Rifle Scope & 4" screw in sunshade - 16362
The Endurance 30 WA SF line of scopes feature chassis and reticle designs that have been explicitly engineered for centerfire hunting for everything from varmint to big game.

The latest Wide Angle optical system boasts a stunning field of view aimed to give you the best sight possible, while keeping an important 4 inch/102mm eye relief.

Built into a 30mm chassis the models feature a specialist erector system, maximizing internal stability.
The Endurance range is all calibre rated and supported by Hawkes Worldwide Warranty
Mount rings to fit it onto a rifle ARE NOT included
If you need .22 rimfire 3/8", airgun 11mm, 20mm weaver/picatinny mount rings you will need to purchase them in addition to the scope. See shop and look for high profile models for 30mm tube. Please ask if unsure.
We can also help with
picatinny adapter bases for rifles such as Tikka, SAKO, CZ, Ruger, Remington, Howa, Weatherby, Marlin etc (See Britannia Rails section for many picatinny adapter bases)


Key Features
Wide Angle optical system

Long 4″ Eye Relief

18 layer Fully Multi-Coated optics for exceptional clarity

Side Focus parallax distance from 14m / 15 yards to infinity

30mm mono-tube chassis for superior strength
Glass etched reticle with red illumination - Incredibly crisp and precise as well as immune to recoil. With 6 levels of brightness with off positions in-between
1⁄4 MOA exposed locking turrets

Fast focus eyebell and high torque zoom ring

Threaded objective for optional accessories such as Screw in flip up lens caps and honeycomb sunshade (Not included)
Feature Specification
Chassis: 30mm Mono-tube

Optical System: 6-24x

Objective: 50mm

Reticle: LRC 24x (Long Range Centerfire - preset 24x)

Illumination: Red - 6 Levels

Focus/Parallax: From 14m / 15 yards to infinity

Field of View: m @100m / ft @100yds 6.9 - 1.7m / 20.7 - 5.1ft

Eye relief: 102mm / 4″

Length: 369mm / 14.5″

Weight: 644g / 23oz
Waterproof, Shockproof, Nitrogen purged.
All calibre rated.
Glass Etched LRC 24x Reticle (Preset Correct 24x
)
Working with your bullet's trajectory the LRC reticle, exclusively from Hawke, provides usable aim points for Long Range Centerfire shooting and hunting.

The LRC is built specifically around the ballistics of centerfire cartridges, making holdover/under accuracy more possible than ever before.

The glass-etched LRC features an illuminated aim point with windage markers for better accuracy and a reticle that stands out against foliage and dark backgrounds.

The aim points of the reticle are designed with gaps increasing in size. This more closely represents the fall of a bullet's trajectory; the further the bullet travels, the faster the bullet falls. All you need to do is adjust the magnification setting to match your ballistics.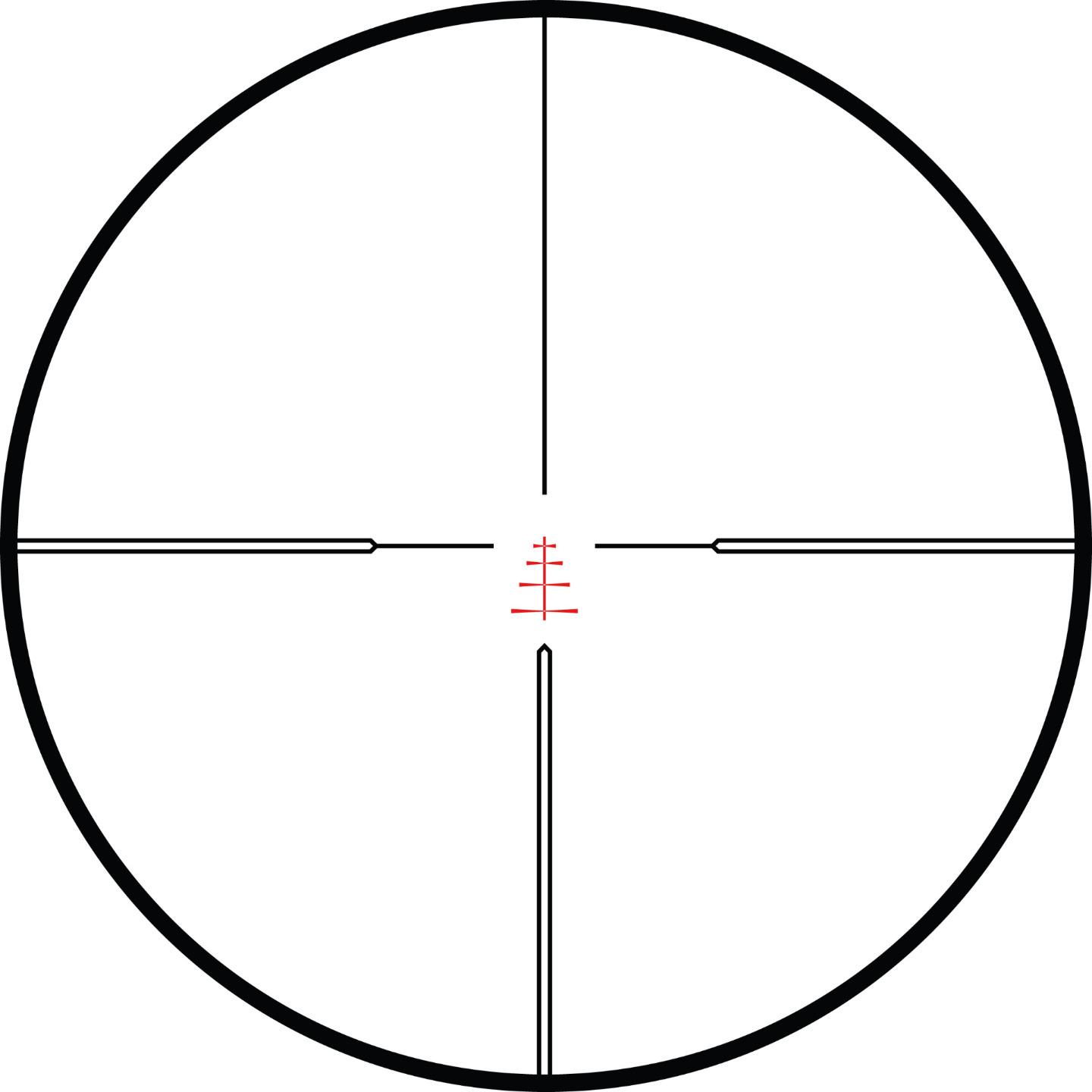 Preset Correct at 24x

The reticle can be used for yards or meters depending on magnification setting.
Zero the rifle at 200 yards/meters using the marker in the center of the reticle.

Adjust the magnification to match your cartridge based on the ballistic table

The holdover markers below center represent 300, 400 and 500.

The top of the post above center can be used for distances closer than 200.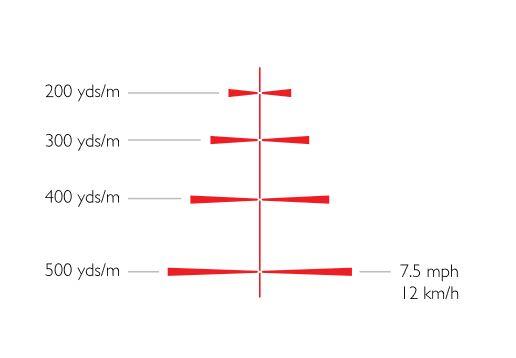 Technical Specification
Material: Aluminium

Exit Pupil: 8 - 2 mm / 0.3 - 0.1"

Ocular Type: Fast Focus

Lens Coating: Fully Multi-Coated - 18 Layers

Power Selector Style: Rubber Coated Posi-Grip

Focal Plane: Second Focal Plane (SFP)

Warranty: Hawke Worldwide Warranty

Elevation & Windage Increment: 1⁄4 MOA

Elevation & Windage Adjustment Range: 75 MOA

Turret Caps: No

Turret Type: Exposed, locking
SUPPLIED WITH

4" Screw-in Sunshade
Elasticated Lens Covers
Lens Cloth
CR2032 Battery

Expanded Info that may answer many questions
Side Focus & Illumination Rheostat
Precise Side Focus adjustment to infinity ensures accuracy is maintained. The rheostat operates brightness settings for the red reticle illumination. With off positions in between on levels. Useful when at a higher level and you want to flick on and off, no need to dial up and down all the time.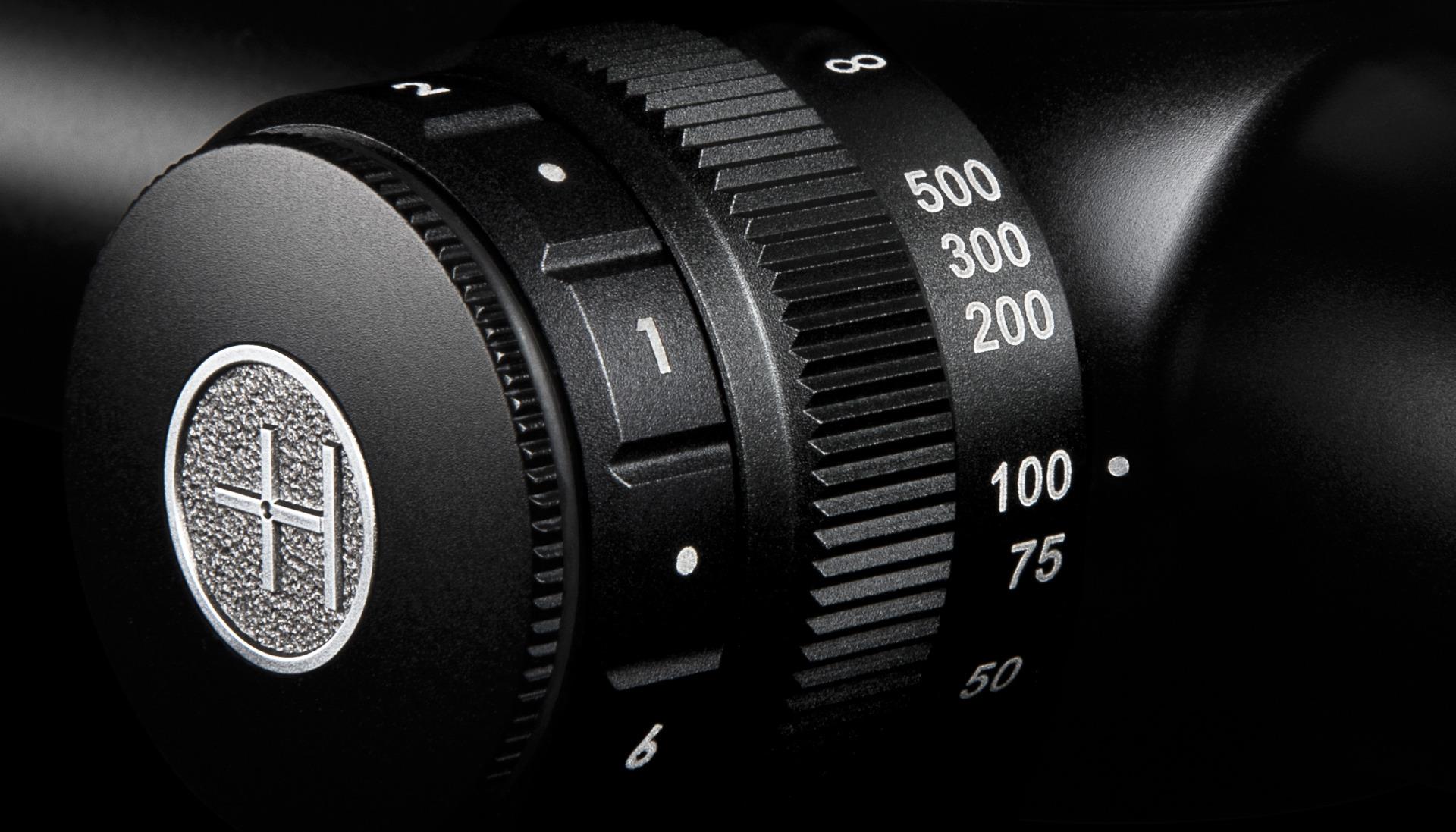 Wide Angle Optical System
Wider than ever before, the Endurance Wide Angle optical system creates a breathtaking image that gives full edge to edge clarity. Seeing is believing.

Fast Focus Ocular Adjustment with 4″ Eye Relief
The apparent field of view is complemented further by a fine outer ocular assembly, making the enlarged target image almost float in front of your eye.

Tactical Locking Turrets


Push-pull locking and resettable turrets with positive clicks. 1⁄4 MOA with 15 MOA per revolution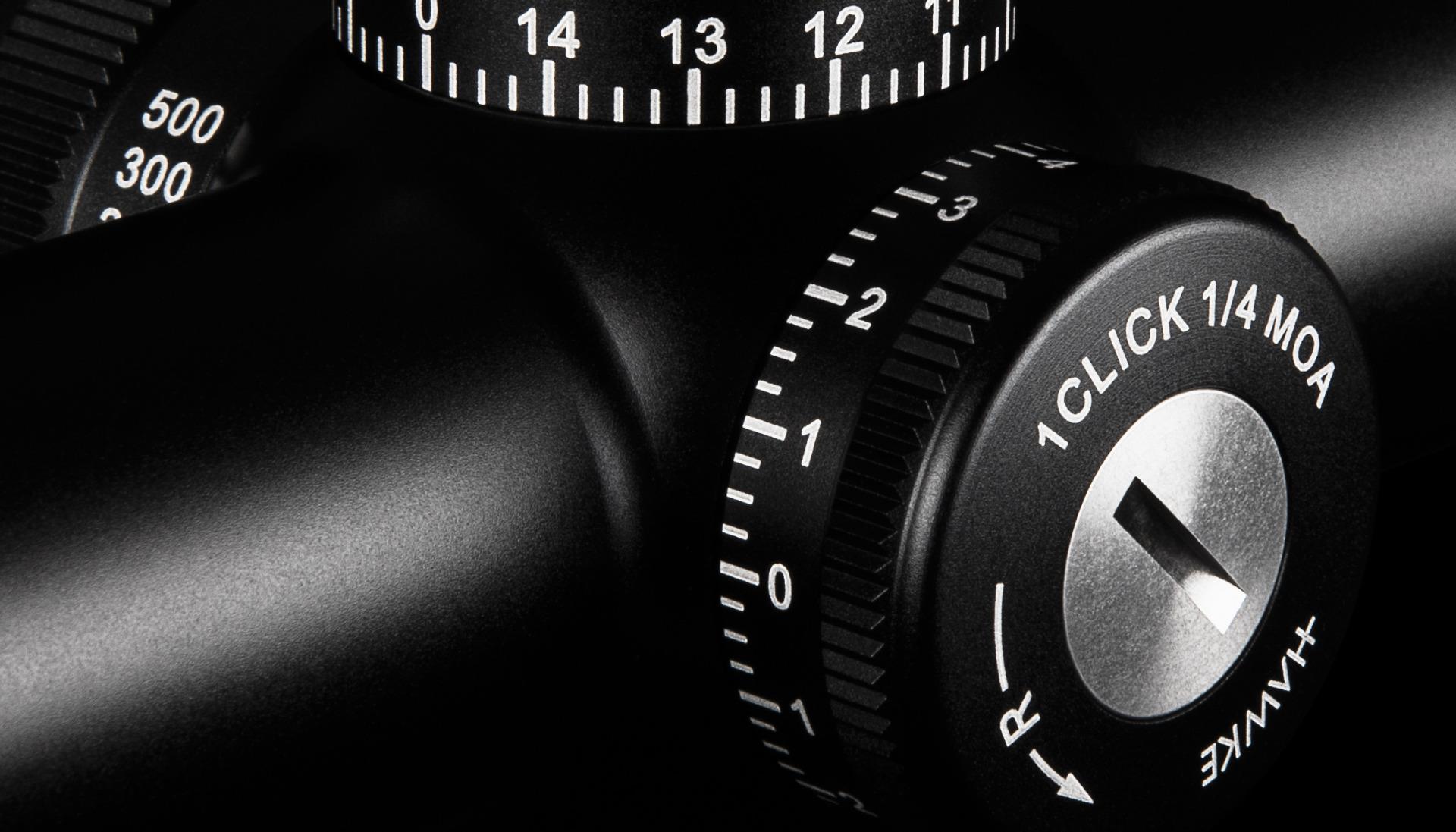 50mm Fully Multi Coated Lens:
18 layer fully multi coated for excellent clarity.

50mm diameter - Excellent large size. Excellent light capture.
6-24x variable magnification
Adjust from 6x to 24x.

A very good magnification range for medium to long range hunting

Easy & fast adjustment.

Ocular eyebell focus from 5 yards, parallax from 14m / 15 yards
Fast focus eyebell
Easy, effective ocular focus.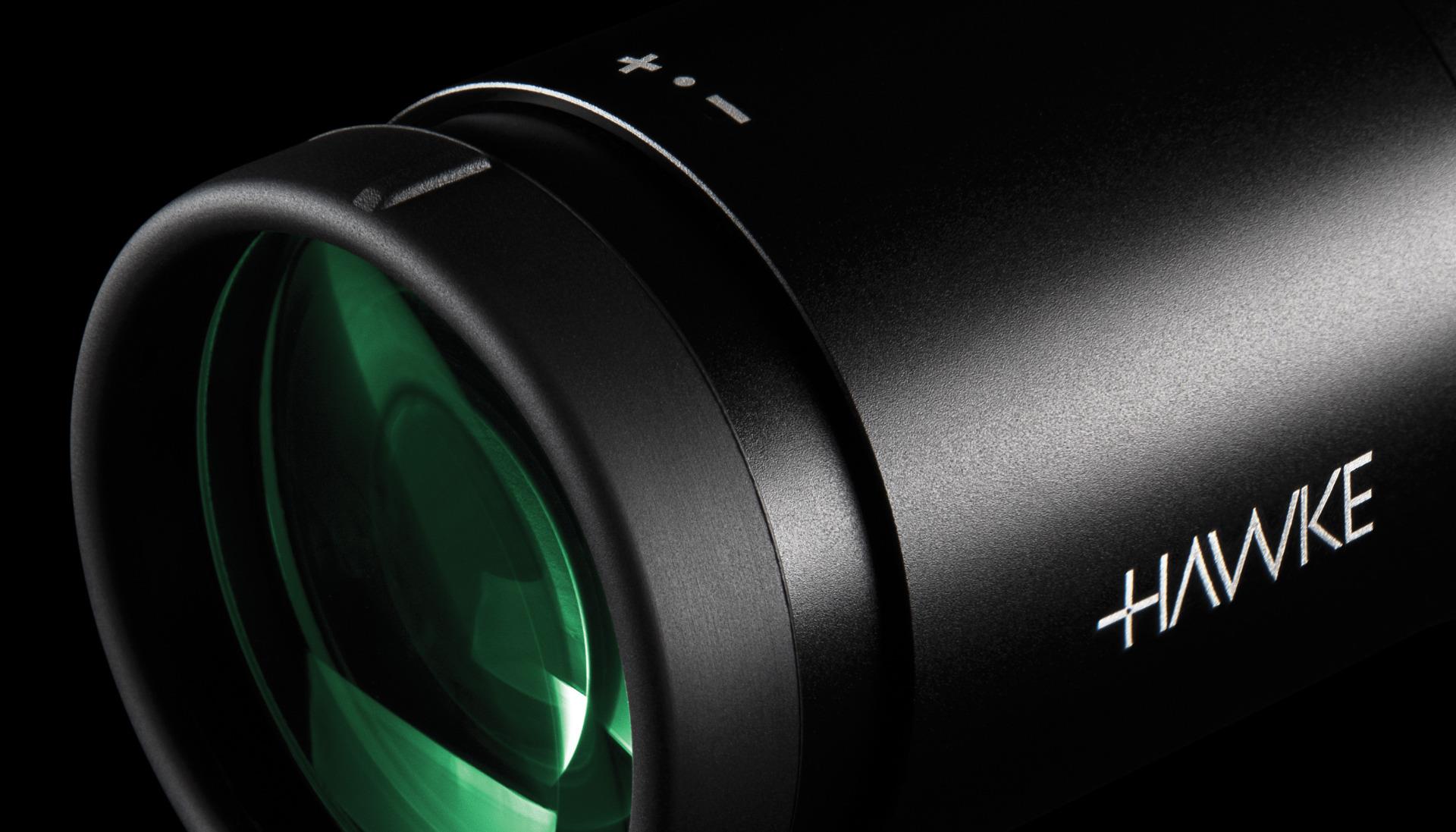 Benefits of Glass Etched Reticles and Illumination
Glass-etched reticles are superior to wire for several reasons, most notable is how much more crisp, fine and clean your view is when you look thorough the scope.
A glass etched reticle, also cannot be broken. Anyone who has shot enough has seen a wire reticle actually break within the reticle field. As the reticle design is etched into the reticle lens, it is static and cannot physically be broken.

All illuminated scopes with glass-etched reticles have the added benefit of zero internal light reflection which occurs to some extent in illuminated scopes with wire reticles.

This superior design requires an additional cost, but even if you don't plan to use the illumination, the glass-etched reticle is a feature with value to the shooter.
Illumination comes into its own when shooting targets that are either naturally dark or made dark by light conditions such as shadow, dawn dusk, very bright light or night shooting with lamps or night vision kit.

Without Illumination a black reticle can be very hard to make out against the target. Illumination fixes this problem and gives immediate contrast. Adjust intensity according to the light conditions.

| | |
| --- | --- |
| Brand | Hawke |
| Code | NW1667 |
| Weight | 1.33kg |
| EAN | 5054492163625 |
| MPN | 16362 |
| Length | 14.5" - 369mm |