Hawke Frontier 5-30x50 TMX etched glass reticle 30mm SF Hunting Rifle Scope - 18231
1/4 MOA clicks - 60 MOA range. 354mm / 13.9" V1 Frontier released 2016. V2 models are about £200+ more.
You will earn
539
loyalty points with this purchase
Hawke Frontier 5-30x50 TMX etched glass red illuminated reticle - 30mm tube, Side Focus parallax premium grade Hunting Rifle Scope
The very top of the Hawke range of rifle scopes with a precision optical system and glass that is truly exceptional. All Hawke scopes are excellent and the Frontier are as good as they get - and that is VERY good indeed.


>> If you can't afford one now get a quality budget scope (Hawke Vantage, Panorama or Nikko Panamax) and save up for a Frontier, it's worth the wait <<

21 layered optics produce brilliant clarity throughout the field of view with crisp genuine best in class image transmission.

6x optical system gives increased flexibility between short and long range shooting.

Glass etched, illuminated TMX reticle - a Hawke exclusive
See the Airgunner magazine review at

- http://www.airgunmagazine.co.uk/tests/a-new-frontier-the-frontier-30/
example comment on the review - ...I am honestly taken aback by the quality of the Frontier's lenses


Mount rings to fit it onto a rifle ARE NOT included
If you need .22 rimfire 3/8", airgun 11mm, 20mm weaver/picatinny mount rings you will need to purchase them in addition to the scope. See shop and look for high profile models for 30mm tube. Please ask if unsure. We can also help with picatinny adapter bases for rifles such as Tikka, SAKO, CZ, Ruger, Remington, Howa, Weatherby, Marlin etc (See Britannia Rails section for many picatinny adapter bases)

Main Features
6x ratio precision engineered optical system: 5-30x range for superb range and target flexibility.

21 layer fully multi-coated optics for ultimate clarity - one of the crispest sight pictures you will ever see.

Side focus control for parallax adjustment from 30 yards to infinity

30mm mono-tube chassis for superior strength
Long eye relief for high recoil and magnum calibers - all caliber suited and rated
Glass etched reticle with red illumination - crisp, clear view, immune to recoil.

Rheostat on saddle offers 11 levels of brightness

¼" @100yd low profile 'no-snag' fingertip turrets

Fast focus eyebell and high torque zoom ring
Each scope is factory recoil tested before being nitrogen purged to make them fully waterproof, shock proof and fogproof.

Low profile fingertip turrets - Highly accurate click-sound matched turrets with a click value of 1/4" per 100 yards per click with a total value of 15" for each revolution.
Once zeroed the turret scales can be reset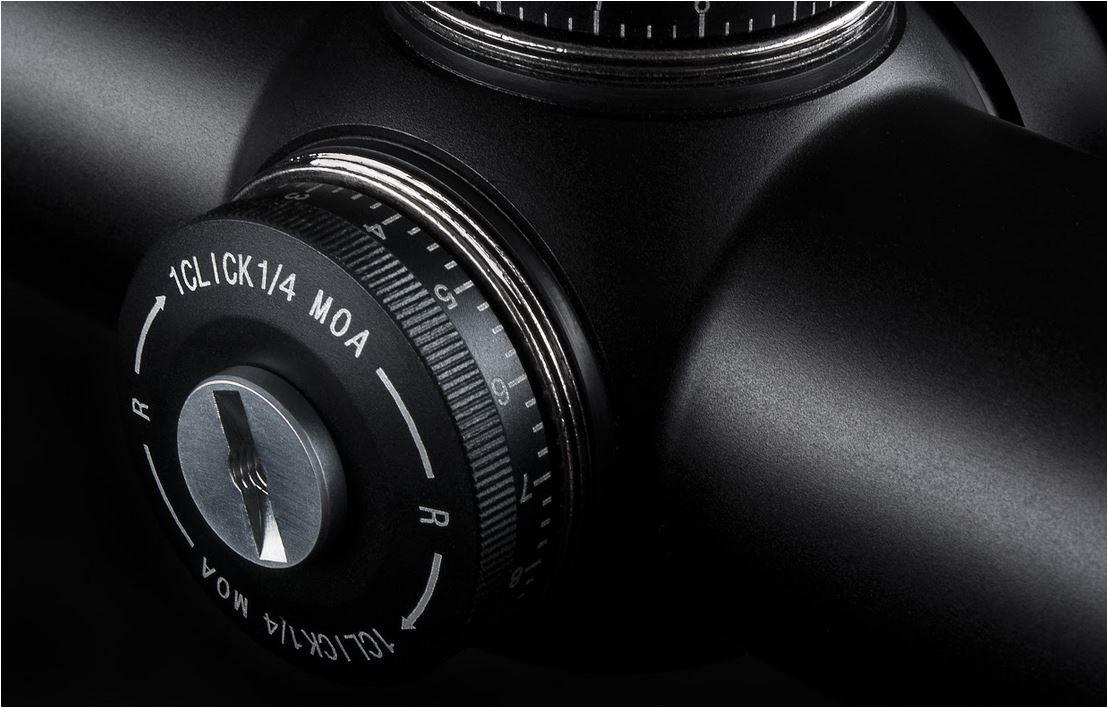 Etched glass TMX Reticle with
red
il
lumination
Allowing for 8x mil spacing of holdover to the outer edge of the field of view along with 3 mil spacing of windage in erach direction.

The TMX is a versatile reticle that provides aim points no matter how extreme the conditions. It is also very good for lamping.

The reticle features etched reference numbers for ease of use and offers a clear target view due to the use of fine dots. Each cross has a see through gap, allowing an unobstructed view of the target.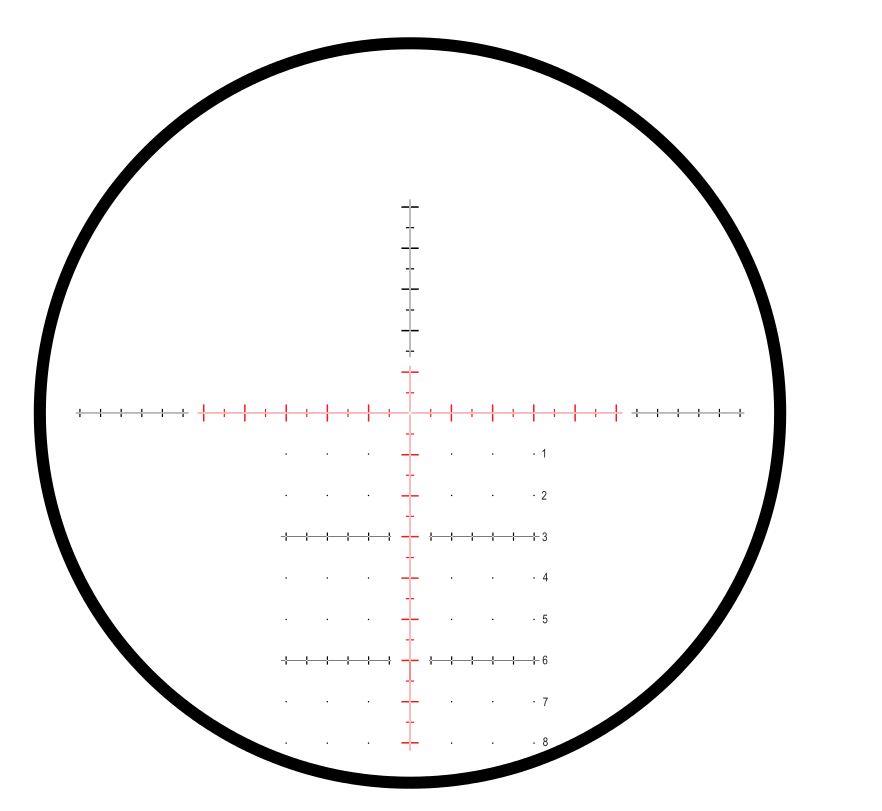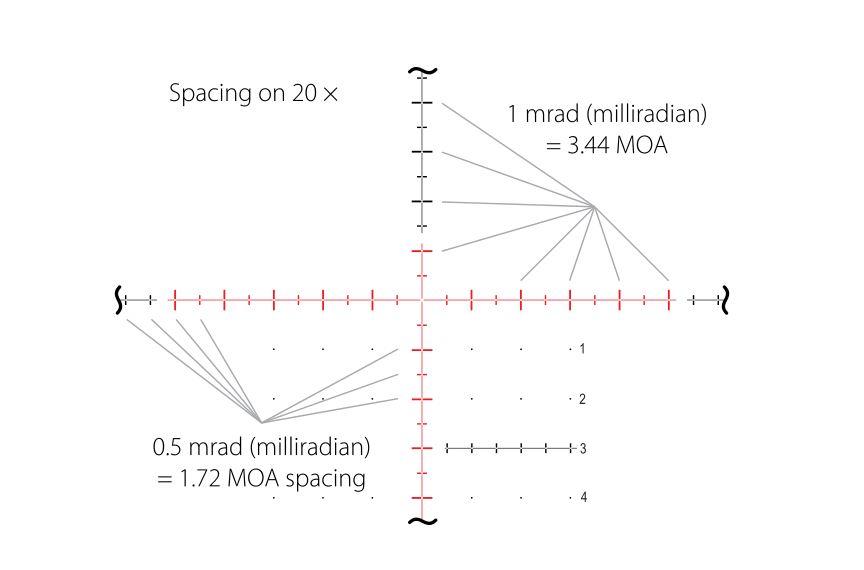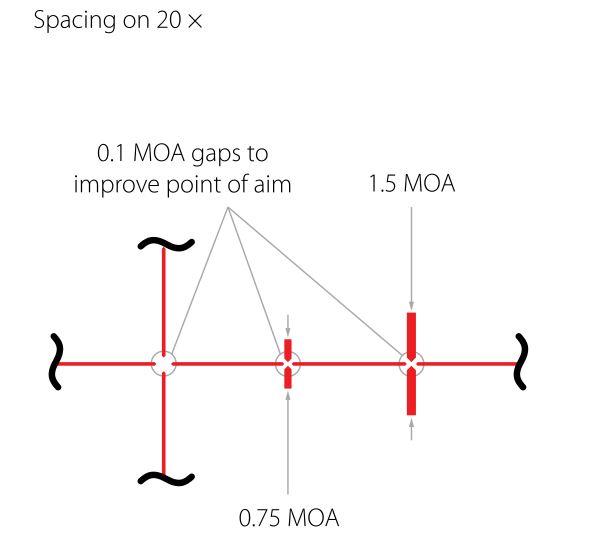 Illumination Rheostat and Parallax Side Focus Sidewheel - 11 step illumination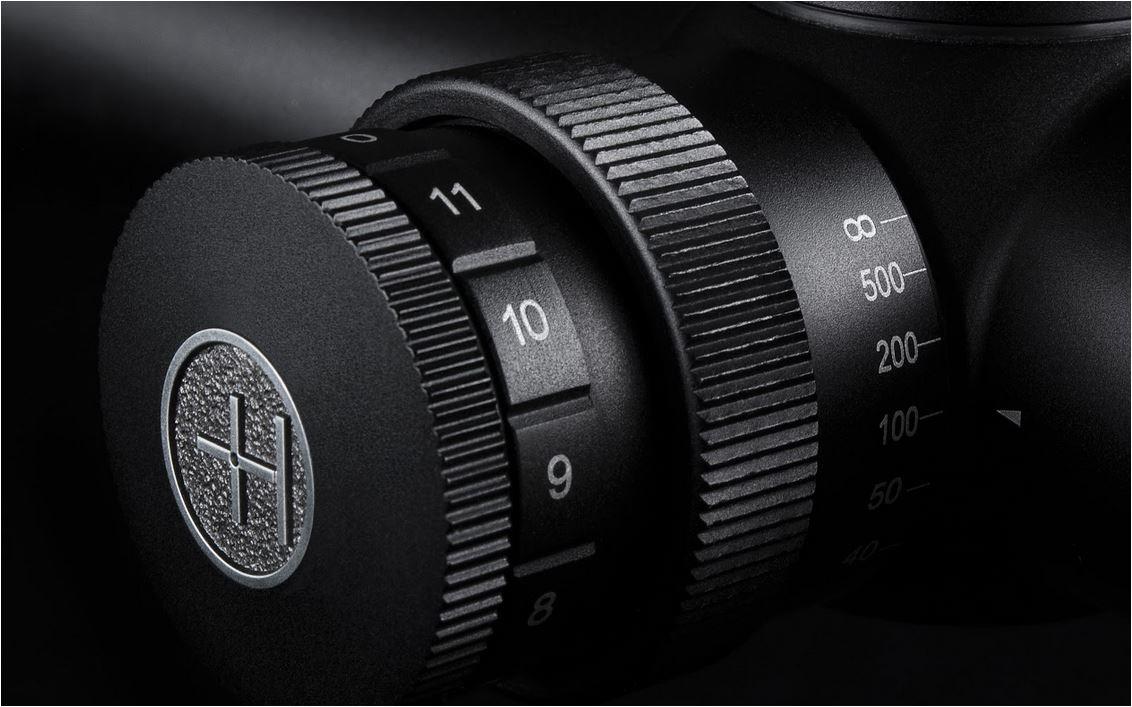 Benefits of Glass Etched Reticles and IR
Glass-etched reticles are way superior to wire for several reasons, most notably is how much finer and cleaner they are when viewed through the scope.

A glass etched reticle, also cannot be broken. Anyone who has shot enough has seen a wire reticle actually break within the reticle field. As the reticle design is etched into the reticle lens, it is static and cannot physically be broken.

As an added benefit there is zero internal light reflection when using IR which occurs to some extent in illuminated scopes with wire reticles.

This superior design requires an additional cost, but even if you don't plan to use the illumination, the glass-etched reticle is a feature with value to the shooter.
Illumination comes into its own when shooting targets that are either naturally dark or made dark by light conditions such as shadow, dawn dusk, very bright light or night shooting with lamps or night vision kit.

Without Illumination a black reticle can be very hard to make out against the target. Illumination fixes this problem and gives immediate contrast. Adjust intensity according to the light conditions.
Parallax Focus Adjustment - SF - Adjustable Side Focus Turret
Parallax effect is the term that describes the difference in angles between objects that are seen up close and those seen far away. When you look at telephone poles passing by on the side of the road, those closest to your car seem to pass very fast, while the ones far away seem to go very slow. That difference is due to the parallax effect.
The reticle in your scope is like a telephone pole that's very close. If you move your head on the stock while watching the target through the scope the reticle may seem to move, wobble or blur against the target. That affects where you perceive the aim point to be, and that affects your accuracy. Parallax focus correction adjustment reduces this phenomenon to the greatest extent possible.
Parallax focus correction therefore is a must for anyone attempting to use either a high magnification scope, shooting drastically different yardages with the same scope or anyone attempting to shoot at extremely close ranges or extremely long ranges. Especially so if it is a combination of these factors.
This scope features Parallax focus correction by the Side Focus turret.
Important note on parallax focus versus regular ocular focus
A common mistake is to use the parallax adjustment in an attempt to focus the reticle. The ocular end (eye piece) has a focus for the reticle. That is the sole purpose of the ocular focus. Returns have been caused by users attempting to use the reticle focus as an image focus and or using the parallax adjustment as a reticle focus. If you get both of them so far out of whack bad things will happen.
Only use the ocular focus to focus the reticle and only focus the reticle while looking through the scope at the sky. This will keep you from trying to focus an object instead of the reticle.
Ocular Focus (eyepiece) adjusts the scope to the individual shooter's eye... this is a one time adjustment. (For wearers of prescription lenses this could be a multiple procedure event if new prescription arrive.) The purpose of this adjustment is to adjust the scope so that the image of the reticle (crosshairs) is properly aligned with the back of the shooters eye.
Parallax focus adjusts the target to the reticle (crosshair). The target image and the reticle must be on the same focal plane within the scope or there is room for apparent movement of the reticle on the target when the shooters eye moves (or is positioned differently at the scope).

Specifications
Chassis: 30mm Mono-tube

Optical System: 5-30x

Objective: 50mm

Reticle: TMX - etched glass

Illumination: Red - 11 levels

Focus/Parallax: Side Focus Turret - 27m / 30yds to Infinity

Field of View: m @100m / ft @100yds 7.6 - 1.3m / 22.8 - 3.9ft

Eye relief: 102mm / 4"

Length: 354mm / 13.9"

Weight: 694g / 24.5oz
Factory Recoil, Waterproof, Fogproof Shockproof then Nitrogen purged.

All calibre rated.
Material: Aluminium

Exit Pupil: 10 - 2mm / 0.4 - 0.1"

Ocular Type: Fast Focus

Lens Coating: Fully Multi-Coated - 21 Layers

Power Selector Style: Rubber Coated Posi-Grip

Warranty: Hawke Worldwide Warranty

Elevation and Windage Increment: ¼ at 100 yards

Elevation and Windage adjustment Range: 60 MOA

Turret Caps: YES

Turret Type: Low Profile
SUPPLIED WITH
Screw in sunshade

Elasticated Lens Covers

Lens Cloth

CR2032 Battery
Hawke Frontier Review - http://www.airgunmagazine.co.uk/tests/a-new-frontier-the-frontier-30/
| | |
| --- | --- |
| Brand | Hawke |
| Code | NW1224 |
| Weight | 1kg |
| MPN | 18231 |
| EAN | 5054492182312 |
| Length | 354mm / 13.9" |
| Click value | 1/4 MOA |