Sidewinder 30 & FFP scopes
Hawke Sidewinder ED 10-50x60 SF TMX Rifle scope + Lens Caps, Sidewheel, Sunshade - 17370
Out of stock
1/4 & 1/8 MOA and 1/10 Mil interchangeable turrets included. 45 MOA range. Length: 458mm / 18"
You will earn
749
loyalty points with this purchase
Hawke Sidewinder ED 10-50x60 Side Focus red IR TMX reticle Rifle scope + Flip up Lens Caps, 100mm Sidewheel, Screw in Sunshade

Plus 1/4 & 1/8 MOA / 1/10 Mil Interchangeable Turrets
Designed for full bore target and FT shooting - The new top of the range Hawke scope

10-50x60 High Power Zoom
High magnification with integrated soft contact rubber zoom with smooth and precise operation.

Amazing Reticle and ED Glass
High magnification side focus to meet the demands of target shooters with precision engineered components, a unique illuminated (red) glass etched reticle and chromatic aberation reducing extra low dispersion glass. (basically means a great view on very high magnification without the milkiness commonly associated with lower priced very high magnification scopes.





Patented exposed, locking and interchangeable turrets give you the option to customise the click value from 1/4 MOA to either 1/8 MOA or 1/10 MRAD

Amazing Lens
18 layer fully multi coated optics. Each lens is coated throughout the optical system with microscopic layers of magnesium fluoride - guaranteeing sharpness, clarify, reduced flare and high light transmission.

>>> Suitable for any caliber - Centerfire, Rimfire, any air rifle
>>> Supplied with 1/4, 1/8 & 1/10 Interchangeable turrets, metal flip up lens caps, pointer, 4"/100mm screw in sunshade and 4"/100mm sidewheel
Mounts to fit it onto a rifle ARE NOT included
See mount rings section of shop for rings. Requires 30mm diameter rings High profile height. Be sure to choose the correct base for your rifle type such as 9-11mm airgun/rimfire or 20mm weaver/picatinny. Please ask if unsure. We can also help with picatinny adapter bases for rifles such as Tikka, SAKO, CZ, Ruger, Remington, Howa, Weatherby, Marlin etc (See Britannia Rails section for many picatinny adapter bases)
Key Features:
High magnification precision optical system.

Extra-low Dispersion (ED) glass for optimum clarity.

Interchangeable, locking and resettable turrets.

Supplied with 1/4, 1/8 MOA & 1/10 MRAD Turrets
Side focus control for parallax adjustment to infinity. (Patented removable side wheel, with different sizes available)
30mm mono-tube chassis for superior strength.

Glass etched reticle with red illumination.

Stepless IR rheostat offers total brightness control.

Locking ocular and high torque zoom ring.

Includes screw-in metal flip-up lens covers and sunshade.
Etched glass TMX Reticle with Red illumination

Developed for long range target shooting and around the general principles of MilDot spacing when magnification is set to 20x.

As with Mil-Dot spacing, the series of larger hash marks represent a unit of angle called an mrad (milliradian) or mil for short.

This is equal to a gap of 3.6 inches at 100 yards, or 3 feet at 1000 yards.

Allowing for 8x mil spacing of holdover to the outer edge of the field of view along with 3 mil spacing of windage in each direction.

The TMX is a versatile reticle that provides aim points no matter how extreme the conditions. The reticle features etched reference numbers for ease of use and offers a clear target view due to the use of fine dots. Each cross has a see through gap, allowing an unobstructed view of the target.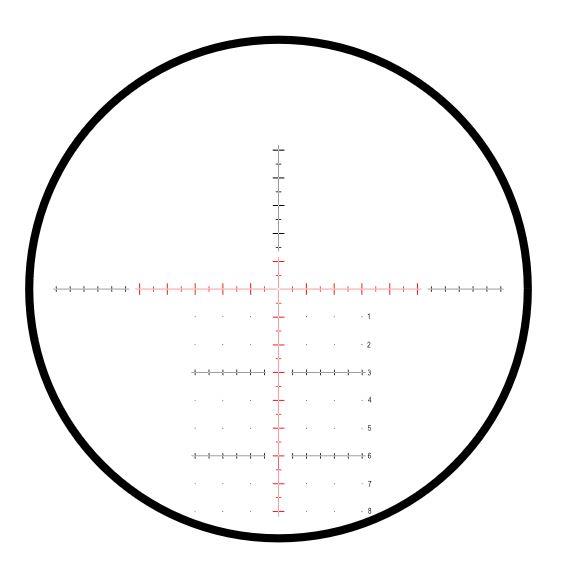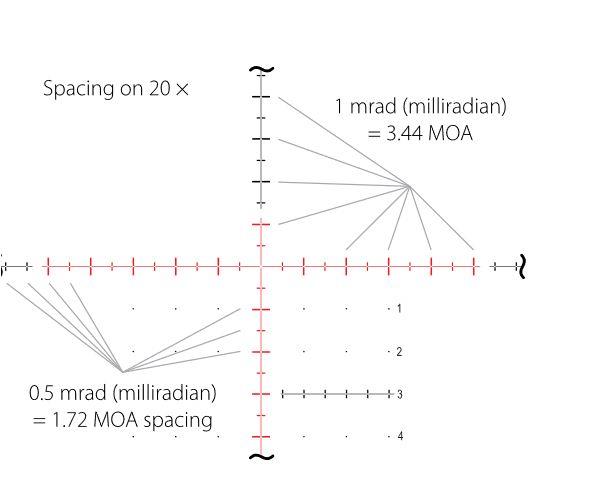 Illumination Rheostat
Precise control helped by stepless rheostat positioned at 45 degrees on the ocular. Levels from bright to ultra low.

Locking fast focus ocular
Set and forget. Quickly find your ideal sharp reticle focus and lock it down to avoid accidentally moving your dioptre settings

Benefits of Glass Etched Reticles and Illumination

Glass-etched reticles are way superior to wire for several reasons, most notably is how much finer and cleaner they are when viewed through the scope.

A glass etched reticle, also cannot be broken. Anyone who has shot enough has seen a wire reticle actually break within the reticle field. As the reticle design is etched into the reticle lens, it is static and cannot physically be broken.

An added benefit is zero internal light reflection which occurs to some extent in illuminated scopes with wire reticles.

This superior design requires an additional cost, but even if you don't plan to use the illumination, the glass-etched reticle is a feature with value to the shooter.
Illumination comes into its own when shooting targets that are either naturally dark or made dark by light conditions such as shadow, dawn dusk, very bright light or night shooting with lamps or night vision kit.

Without Illumination a black reticle can be very hard to make out against the target. Illumination fixes this problem and gives immediate contrast. Adjust intensity according to the light conditions.

60mm Fully multi Coated Lens
Optimum performance in low light conditions, while offering excellent range finding properties.

Big 60mm lens coupled with a 30mm diameter tube and etched glass reticle give amazing light capture, light transfer, big field of view, fast target acquisition and above all a beautiful crisp view.

Side Turret Parallax Focus
Side focusing system designed to parallax from 10yds to infinity.
Parallax effect is the term that describes the difference in angles between objects that are seen up close and those seen far away. When you look at telephone poles passing by on the side of the road, those closest to your car seem to pass very fast, while the ones far away seem to go very slow. That difference is due to the parallax effect.
The reticle in your scope is like a telephone pole that's very close. If you move your head on the stock while watching the target through the scope the reticle may seem to move, wobble or blur against the target. That affects where you perceive the aim point to be, and that affects your accuracy. Parallax focus correction adjustment reduces this phenomenon to the greatest extent possible.
Parallax focus correction therefore is a must for anyone attempting to use either a high magnification scope, shooting drastically different yardages with the same scope or anyone attempting to shoot at extremely close ranges or extremely long ranges. Especially so if it is a combination of these factors.
This scope features Parallax focus correction by way of the left side turret which can be sued on its own or with larger sidewheel which allows for finer adjustment. Sidewheel is included in the box.

Interchangeable, Locking and Resettable Turrets
Hawke's patented interchangeable turrets allow for changing between ¼ MOA to either 1/8 MOA or 1/10 MRAD to suit your shooting preference.


1/8 MOA & 1/10 MRAD Turrets ARE included in the box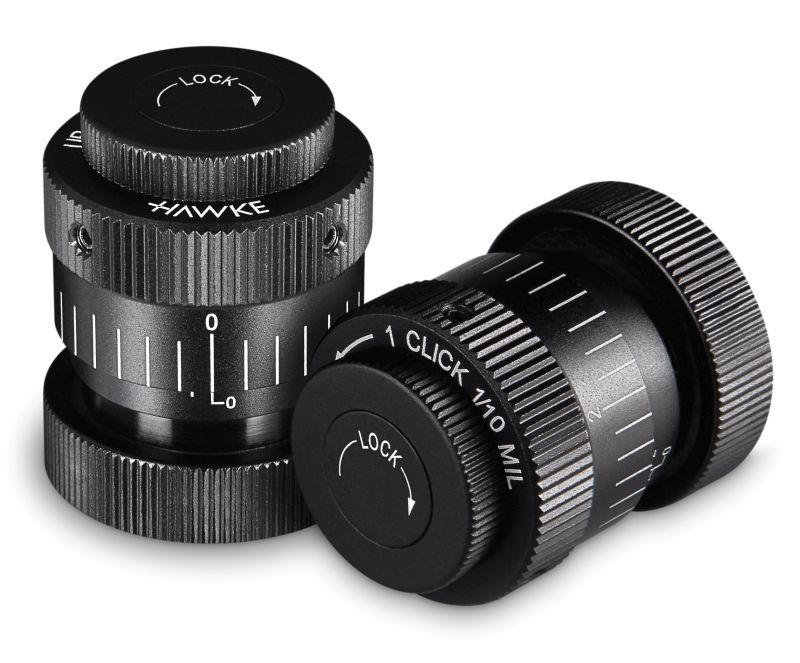 By simply unscrewing the locking collar the turret can be lifted off and removed from the scope. Each turret has indexed teeth to ensure that the location and alignment are kept during installation. Push down on the turret, screw the locking collar back down and the scope is ready for use.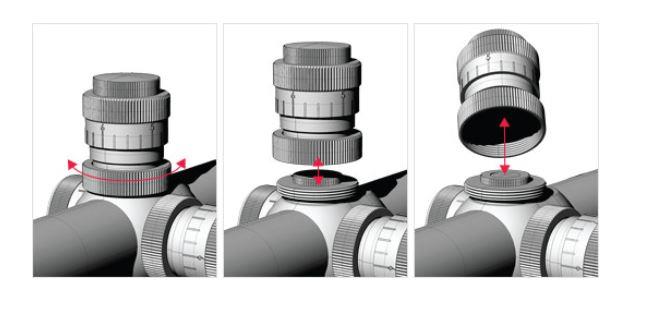 Data
Chassis: 30mm Mono-tube

Optical System: 10-50x

Objective: 60mm

Reticle: TMX etched glass

Illumination: Red - Stepless

Focus/Parallax: Side Focus - 9m / 10yds to Infinity

Field of View: m @100m / ft @100yds - 3.9 - 0.8m / 11.7 - 2.4ft

Eye relief: 95mm / 3.7"

Length: 458mm / 18"

Weight: 980g / 34.6oz
Waterproof, Shockproof, Nitrogen purged.

All calibre rated.
Material: Aluminium

Exit Pupil: 6 - 1.2mm / 0.25 - 0.05"

Ocular Type: Locking Fast Focus

Lens Coating: Fully Multi-Coated - 18 Layers

Power Selector Style: Rubber coated Posi-Grip

Warranty: Hawke Worldwide Warranty

Elevation and Windage Adjustment Range: 45 MOA

Increment: 1/4, 1/8 MOA and 1/10 Mil

Turret Caps: NA

Turret Type: Interchangeable Exposed
SUPPLIED WITH
1/4 MOA Interchangeable turrets

4" (100mm) Side Wheel

4" (100mm) Screw-in Sunshade

Pointer

Metal Flip up lens caps

Lens Cloth

CR2032 Battery
| | |
| --- | --- |
| Brand | Hawke |
| Code | NW1327 |
| Weight | 2.1kg |
| MPN | 17370 |
| EAN | 5054492173709 |
| Length | Length: 458mm / 18" |