Konus Pro F30 4-16x52 SF parallax Red-Blue Illuminated Etched Glass Ballistic 50 reticle First Focal Plane Rifle Scope
Out of stock
1/4 MOA per click. 365m/14.3" Reticle features built in anti cant bubble level
You will earn
294
loyalty points with this purchase
Konus Pro F30 4-16x52 Side Focus parallax - Red-Blue Illuminated Etched Glass Ballistic 550 reticle First Focal Plane Rifle Scope
The Konus Pro F30 FFP offers first focal plane technology.

The big advantage of FFP is the fact that the image and reticle increase/decrease always in the same proportion. This allows fast and easy drop compensation and range finding.
The Konus F30 FFP features an illuminated glass etched 550 Ballistic reticle with illuminated circle and side turret focus parallax and illumination turret offset on the eyebell.

Well sized tactical turrets offer a precise 1/4 MOA adjustment (7.25mm) at 100 yards

Zero Resettable Locking Turrets allow for quick, repeatable adjustment of your point of impact.

Rugged built, up to date design and knurlings which fit for handling with gloves offers secure and easy use in the field.

The Konus Pro F30 FFP is made of a solid 1 piece 30mm high grade aluminium main tube with fully multi coated lenses.
Mount rings to fit it onto a rifle ARE NOT included
If you need .22 rimfire 3/8", airgun 11mm, 20mm weaver/picatinny mount rings you will need to purchase them in addition to the scope. See shop and related items and look for high profile models for 30mm tube. Please ask if unsure. We can also help with picatinny adapter bases for rifles such as Tikka, SAKO, CZ, Ruger, Remington, Howa, Weatherby, Marlin etc (See Britannia Rails section for many picatinny adapter bases)


Key Features
First focal plane
Image and reticle increase in same proportion

1/4 MOA - 7.25mm at 100 yards adjustment

Excellent Field of view
Side Parallax focus turret - 40mm - and lock and reset tactical type windage and elevation turrets
Parallax adjustment starting from 10yds/9.1m

Rugged all caliber proof design

Zero Resettable Locking Turrets allow for quick, repeatable adjustment of your point of impact.
Glass etched illuminated ballistic 550 reticle with built in anti canting bubble system
Fully multi-coated lenses

Well sized target turrets

Konus Worldwide Warranty

Waterproof, shockproof, dry nitrogen purged
Konus Ballistic 550 Reticle - Blue and Red Illuminated - Etched Glass - First Focal Plane with bubble level anti-canting system

When a reticle is placed on the first focal plane, on the contrary, the target-to-reticle ratio never changes and you can therefore utilize your riflescope at any magnification while determining your distance from the target.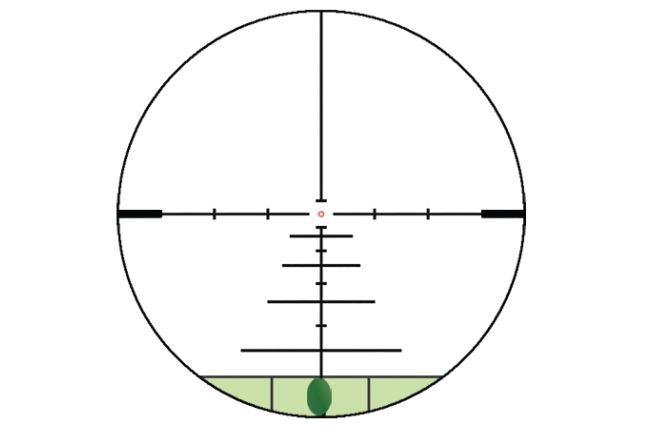 The 550 reticle provides several aiming points out to 550 yards to extend your range and improve your accuracy, while taking even the most difficult shots.

The addition of an illuminated dot allows for fast and accurate target acquisition, as well as being an excellent choice for low light conditions or for shooting against a very dark target.

The intensity of the illumination can be adjusted up or down for any lighting conditions.

The 550 is designed for use with centerfire rifles for long range. The reticle corresponds with the most popular loads on the market.

Lateral hash marks provide compensation for strong crosswinds to further enhance the marksmanship of the hunter.

For optimum precision, the riflescope should be set to its highest magnification during the zeroing process.

Anti Canting Bubble System
Precision at long range requires a tilt free (anti canted) position of the gun. The KonusPro F30 series features an anti-canting level bubble built into the scope to provide instant correction of a canted rifle. While looking through the eyepiece, simply align the bubble through the centre lines of the tube, and your level. The bubble system can be used with or without illumination
Benefits of Glass Etched Reticles and Illumination

Glass-etched reticles are superior to wire for several reasons, most notable is how much more crisp, fine and clean your view is when you look thorough the scope.
A glass etched reticle, also cannot be broken. Anyone who has shot enough has seen a wire reticle actually break within the reticle field. As the reticle design is etched into the reticle lens, it is static and cannot physically be broken.

All illuminated scopes with glass-etched reticles have the added benefit of zero internal light reflection which occurs to some extent in illuminated scopes with wire reticles.

This superior design requires an additional cost, but even if you don't plan to use the illumination, the glass-etched reticle is a feature with value to the shooter.
Illumination comes into its own when shooting targets that are either naturally dark or made dark by light conditions such as shadow, dawn dusk, very bright light or night shooting with lamps or night vision kit.

Without Illumination a black reticle can be very hard to make out against the target. Illumination fixes this problem and gives immediate contrast. Adjust intensity according to the light conditions.
52mm Fully Multi Coated Lens:
Fully multi coated for excellent clarity.

52mm diameter - Excellent all round Large size

Combined with 30mm tube offers supeb light transmission for a crisp, clear view.
4-16x variable magnification
Adjust from 4x to 16x.

A great magnification range for all ranges hunting and targets.

Ocular eyebell focus from 6 yards. Parallax from 10 yards.

Alloy magnification ring, slotted for grip

Fast focus eyebell
Easy, fast magnification dial adjustment - easy to use with gloves on
Parallax Focus control
Parallax effect is the term that describes the difference in angles between objects that are seen up close and those seen far away. When you look at telephone poles passing by on the side of the road, those closest to your car seem to pass very fast, while the ones far away seem to go very slow. That difference is due to the parallax effect.
The reticle in your scope is like a telephone pole that's very close. If you move your head on the stock while watching the target through the scope the reticle may seem to move, wobble or blur against the target. That affects where you perceive the aim point to be, and that affects your accuracy.

Parallax focus correction adjustment reduces this phenomenon to the greatest extent possible.
Parallax focus correction therefore is a must for anyone attempting to use either a high magnification scope, shooting drastically different yardages with the same scope or anyone attempting to shoot at extremely close ranges or extremely long ranges. Especially so if it is a combination of these factors.
This scope features Parallax focus correction by 40mm side turret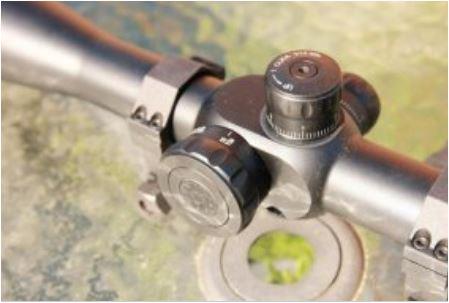 Note - Compatible with the large 135mm Konus sidewheel - optional extra. See Konus section in shop for it.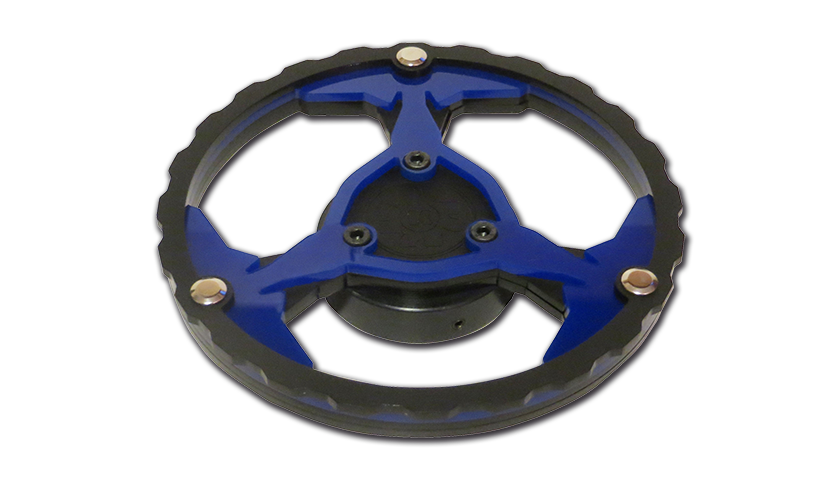 Specifications
Chassis: 1 piece 30mm Mono-tube

Magnification range: 4-16x

Objective: 52mm
Reticle: First Focal Plane Ballistic 500 reticle - etched glass with anti canting bubble level system
Illumination:

Red and blue - 5 brightness levels each

Focus/Parallax: 9.1m / 10 yards to infinity by 40mm side focus turret

Field of View at

100 yards/meters: 23.1ft/7.1m at 4x - 6.5ft/1.9m at 16x

Exit Pupil: 12.5mm at 4x - 3.1mm at 16x

Eye relief: 89mm

Mounting Length: 6.5" - 165mm

Click Value @ 100 Yards: 1/4 MOA (7,25mm)

Max Internal Adjustment: 1.7m / 67"

Length:

365mm/14.3"

Weight:

27.5oz / 780gr
Other Specification
Waterproof, Fogproof, Shockproof

Reticle placed in the first focal plane

Dry Nitrogen Filled

Heavy Caliber Recoil Proof Reticle as well as Airgun approved

Fully Multi-Coated Optics

Locking Tactical Turrets Resettable to Zero

45 degree Offset Illuminator Switch with 5 Intensities (Blue and Red)

Built-in Anti Canting Bubble System

Accessories included
Flip up Lens Covers

Lens Cloth

Battery: Coin Style CR2032 (included)
| | |
| --- | --- |
| Brand | Konus |
| Code | NW1379 |
| Weight | 1.2kg |
| MPN | 7299 |
| EAN | 8002620072995 |
| Length | 365mm/14.3" |
| Click value | 1/4 MOA |