Konus Pro T30 3-12x44 Compact 30mm Etched Red-Blue Illuminated Ballistic 550 Reticle Scope - 7291
Length: 10.4"/265mm. This is NOT the airgun mod version with magnification varied parallax.
You will earn
159
loyalty points with this purchase
Konus Pro T30 3-12x44 Compact 30mm Etched Red-Blue Illuminated Ballistic 550 Reticle Rifle Scope - Konus product code 7291
Overview

The KonusPro T30 shares the same 30mm, one-piece tube construction, and all of the optical quality as the acclaimed M30 series, but in a much more compact design.


T30 compact rifle scopes are ideal for the demanding tactical shooter. This is NOT the airgun mod version with magnification varied parallax.

The 3-12x44 includes an unbreakable glass engraved, 550 ballistic reticle for accurate targeting out to 550 yards.

Dual illuminated in blue or red allows for clear view of the reticle against different lighting conditions.

The fully multi-coated optics are clear and bright, while providing the shooter with 3.5"/90mm eye relief.

>>> 30mm tube with fully multi coated lenses for excellent light transmission and visual clarity
>>> For all types of rifle from airgun to .50 cal
Compact 1 piece 30mm tube - 264mm long, mounting length 90mm
Etched glass engraved illuminated reticle
Waterproof - Shockproof - Fogproof - Exceptionally Recoil proof

Nitrogen filled and sealed tube

Exceptional focus clarity at all ranges
With flip up lens caps and lens cleaning cloth..
Genuine Konus rifle scope. UK importer supplied with UK based warranty.
550 Ballistic Etched glass Red-Blue illuminated Reticle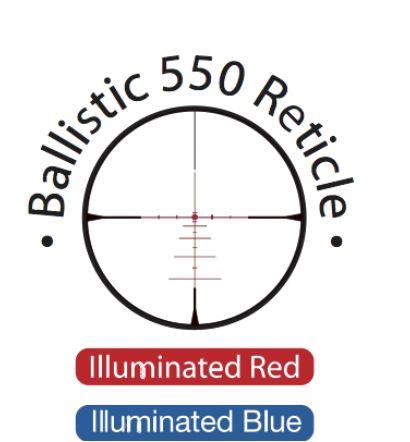 This unique reticle provides aim points out to 550 yards and takes the guess work out of hold over angles for even the most difficult of shots.

The addition of an fully illuminated allows for fast and accurate target acquisition, as well as being an excellent choice for low light conditions or for shooting against a very dark target.

The intensity of the illumination can be adjusted up or down for any lighting conditions.

The 550 is designed for use with centerfire rifles for long range.

The reticle corresponds with the most popular loads on the market.

Lateral hash marks provide compensation for strong crosswinds to further enhance the marksmanship of the hunter.

For optimum precision, the riflescope should be set to its highest magnification during the zeroing process.

Red and Blue with 5 intensity levels on each colour and turned off for plain black.
Side turret Illuminator Turret Dial with 5 Intensities (Blue and Red)

IR is very useful in low and bright light where it allows you to get better contrast of the reticle against dark backgrounds.
Benefits of Glass Etched Reticles and Illumination

Glass-etched reticles are superior to wire for several reasons, most notable is how much more crisp, fine and clean your view is when you look thorough the scope.
A glass etched reticle, also cannot be broken. Anyone who has shot enough has seen a wire reticle actually break within the reticle field. As the reticle design is etched into the reticle lens, it is static and cannot physically be broken.

All illuminated scopes with glass-etched reticles have the added benefit of zero internal light reflection which occurs to some extent in illuminated scopes with wire reticles.

This superior design requires an additional cost, but even if you don't plan to use the illumination, the glass-etched reticle is a feature with value to the shooter.
Illumination comes into its own when shooting targets that are either naturally dark or made dark by light conditions such as shadow, dawn dusk, very bright light or night shooting with lamps or night vision kit.

Without Illumination a black reticle can be very hard to make out against the target. Illumination fixes this problem and gives immediate contrast. Adjust intensity according to the light conditions.
44mm Fully Multi Coated Lens:
A great larger size lens that gives you superb light capture and transmission resulting in a truly excellent view.

Fast target acquisition and moving target tracking.

Fully multi coated with emerald to protect and limit glare and reflections
3-12x variable magnification
A popular all round variable magnification for most hunting ranges

Easy, fast dial adjustment.

Exceptional clarity through premium A grade camera quality lens.
Ocular focus at 4-5 yards. Parallax fixed 100 yards/91m
Technical

Summary
Magnification:3-12x variable

Objective lens: 44mm

Tube Diameter: 30mm

Reticle: Engraved Dual Illuminated Ballistic 550

Exit Pupil: 9.4mm at 3x; 3.7mm at 12x

Eye Relief: 3.5"/90mm

F.O.V. @ 100 yards: 36.7ft/11.1m at 3x; 9.1ft/2.7m at 12x

Click Value @ 100 Yards: 1/4 MOA - 7.25mm

Max Internal Adjustment: 100"/2.54m

Parallax Setting: 100 Yards/91m fixed

Length: 10.4"/265mm

Weight: 21.1oz/598gr

Mounting Length: 3.5"/90mm
Feature Summary
Waterproof, Fogproof, Shockproof

Dry Nitrogen Filled

Airgun Approved

Heavy Caliber Recoil Proof Reticle

Fully Multi-Coated Optics

Engraved Reticle in the Second Focal Plane

Includes Flip-up Lens Covers and Lens Cleaning Cloth.

1 Piece Tube Construction

Battery: Coin Style CR2032 (included)
Konus Warranty
All Konus riflescopes and pistol scopes carry a Lifetime Replacement Warranty. That's replacement, not repair! It's simply the best warranty in the industry. If you encounter a manufacturer's defect on any of these products, simply send it back to the retailer or Konus and we will replace it for the life of the original owner.
3 stars based on 1 review
Ed Russell
from colchester
"
konus pro T30 3-12x44 performance and optical quality
purchased this scope on strength of reviews and have now unboxed it and given a quick comparison with a vortex diamondback tactical 3-9x40 VMR-1...first impression of the konus is its weighty which maybe the illuminated ret. gubbins that the vortex does not have,the fine focus and zoom ring are very smooth,the objective lens does not come threaded for a sunshade which is not high lighted in sales techno babble purchased here on tactical scope for around the £150 mark but have seen it elsewhere for £195...i purchased the vortex on offer for £205 ....now for optical comparison, the vortex is like blu-ray compared to the konus which i would compare to standard DVD....its not bad for the money its bright enough and i prefer the larger hash marks on the reticle than the very fine ones on the vortex(which is why i bought it)....i have just finished viewing a tree around 40yds away with both scopes and if i didnt have the vortex id be none the wiser to be honest...but i do and can see every detail pin sharp whereas the konus admittedly in the price bracket below unless you have a good shop around doesnt seem able to match it....summing up though if you budget for this scope and keep your eye well away from more expensive models i believe this will do the job
"
| | |
| --- | --- |
| Brand | Konus |
| Code | NW1380 |
| Weight | 0.8kg |
| MPN | 7291 |
| EAN | 8002620072919 |
| Length | Length: 10.4"/265mm |