Leapers UTG 1 Piece 1" QD High Weaver/Picatinny Tactical Mount Ring M1C56100R2
Suits upto 56mm 1" tube scopes on weaver/picatinny base
You will earn
39
loyalty points with this purchase
Leapers UTG 1 Piece 1"/25mm tube Quick Detch (QD) High profile (upto 56mm scopes) Weaver/Picatinny Tactical Top Base Scope Mount Ring - M1C56100R2
Heavy Duty - Heavy Action QD (Quick Detach) LE Grade Precision Machined 1 piece Scope Mount Ring for 1 inch /25mm scope tubes with lens size upto 56mm - Base to bottom of ring is 20mm
Base fitting - 20-21mm width picatinny rails. May not fit some irregular spaced weaver bases.
High Profile Height
20mm from base to bottom of rings (saddle height) suits upto approx. 56mm lens scopes on a flat base. If rail is raised then larger scopes can be accommodated.
Extensively field tested under extreme operations and well received by field experts and law enforcement personnel -
eBay Trust and Safety please note - while these products are approved for LE use they are a general public market product so do not represent the sale of police products.
Super strong and Secure Mounting
Clever posi-lock crossbar design and spring tension controlled locking plate with steel insert guarantees most secured installation

High quality synthetic protective tape applied on rings internal surface
Tactical Top Slot Base
Ring tops have integral 1-slot picatinny rail for flexible mounting of alternate quick-aim sights such as laser or dot sight or other accessories such as torches and angle bases
Precision machined from aircraft-grade aluminium alloy with anodized black matte finish

Mil spec Type III class 2 hardcoat anodizing for scratch and wear resistance
QD - Quick Detach and Fit Lever Lock
Patented, user friendly ergonomic quick detach/lock lever fully adjustable to fit on any picatinny rail

Tight tolerance control and repeatable positive locking for optimal re-zero performance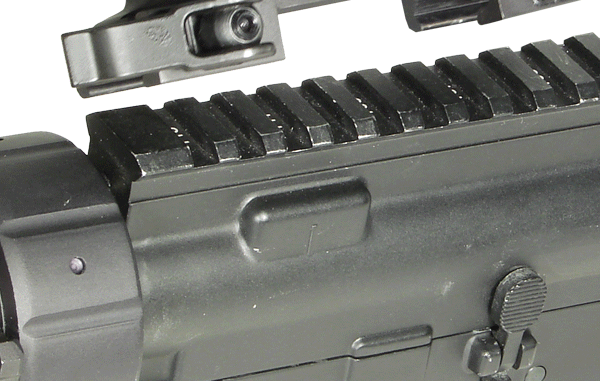 Calculating scope to rifle body clearance
The way you calculate the clearance is by halving the overall OUTSIDE diameter of your rifle scopes objective lens and then deducting half the rifle scopes body tube diameter.

For scopes with a 1" diameter body tube diameter this would mean deducting 12.7mm and 15mm for scopes with a 30mm diameter body tube.

Note we say OUTSIDE diameter - this means NOT the lens diameter, you need to measure the whole outer casing diameter.

The result gives you the minimum "saddle" dimension - the measure from base of mount to bottom of the ring - the 'C' dimension that is shown above (20mm)

The amount the 'C' dimension is greater than the figure you have calculated is the amount of clearance your scopes objective will be clear of your rifles body.


About Leapers - see www.leapers.com for more information and if you see products on there you would like contact me to ask if we can order them in for you.
Leapers, Inc., headquartered in Michigan, U.S.A., has been in the business of supplying shooting, hunting and outdoor gear since 1991. The Accushot, UTG and 5th Gen ranges of scopes and mounts are finding an ever greater following in both the USA and Europe due to an ever increasing reputation for great quality as well as very reasonable prices.
The scope ranges I sell at Nickwake are all of the True Strength platform which is tested on the most demanding air rifle AND firearms and can take repeated very heavy recoil shock both Back AND Front.
The mounts range from top quality air rifle to LE and military grade.
Leapers do manufacture some products in the USA but most are still made in China yet to a very exacting and precise USA quality standard and all products are shipped to the US for checking and onward sale or export. So you can be sure that what you are getting is top quality and essentially "made in USA" quality and carry a lifetime warranty for manufacturing quality.
Do beware of cheap copies though, the China/Far east direct sales market is full of cheap copies, that, credit to them, look very good but are not made to the same quality standard and do not have any warranty. As a rule, if the Leapers product you are looking at is too cheap to be true then it is probably IS to cheap to be true - so be wary.
| | |
| --- | --- |
| Brand | Leapers UTG |
| Code | NW1023 |
| Weight | 0.28kg |
| MPN | M1C56100R2 |
| EAN | 4712274527942 |