Leapers UTG lever lock QD Picatinny/Weaver 30mm High scope Mount Rings - RQ2W3224
Out of stock
You will earn
27
loyalty points with this purchase
Leapers UTG Law Enforcement Grade Quick Detach

Picatinny Weaver (20mm base) Scope Mount Rings

High profile for 30mm Tube Scopes
Heavy Duty - Heavy Action QD (Quick Detach) Law Enforcement Grade Precision
See Clearance Guide below to learn how to assess if they are the right height for you and if so how much clearance you will have over the base

For 30mm Tube scopes and 20mm wide weaver/picatinny base - NOT airgun 9-11mm dovetail.

To fit to 9-11mm rail an adapter is required. See Related products at bottom of page
Machined Mounts
Precision machined from aircraft-grade aluminum alloy with anodized black matte finish.

Robust and user friendly ergonomic Quick Detach/Lock lever.

Fully adjustable to fit on any Picatinny rail.

High quality synthetic protective tape applied on rings internal surface to protect scope body.
Tight tolerance control and repeatable positive locking for optimal re-zero performance.
Extensively field tested under extreme operations and well received by field experts and law enforcement personnel.
Details:

QD Quick Detach type: Leapers UTG Quick Detach Rings are among the most durable and versatile quick detachable mounting system available.
Model: RQ2W3224 High profile (matte black)

Material: Aluminum with steel fittings for huge strength.

Base Fitting: Weaver or Picatinny 20-22mm.
See http://www.tacticalscope.co.uk/blog/?p=50 if unsure how to determine what you have.
Tube Size: To fit 30mm diameter body tube scopes.

Typically suit upto 60mm+ lens scopes

Base to ring bottom (saddle) = 22mm

Weight - approx. 190 grams (6.7oz)
Quick Detach and Lock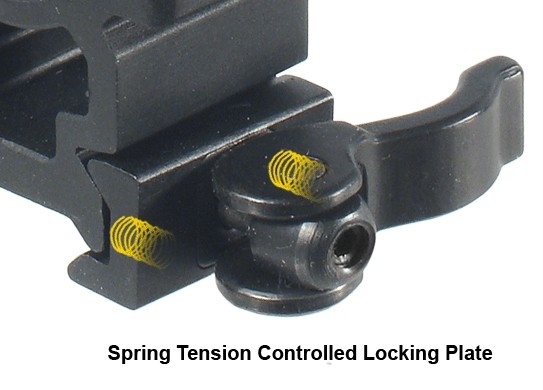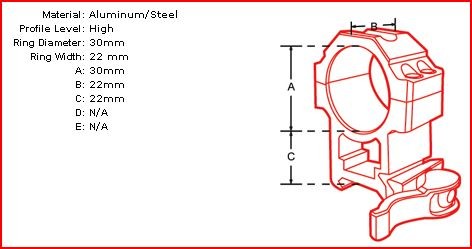 Calculating scope to rifle body clearance

The way you calculate the clearance is by halving the overall OUTSIDE diameter of your rifle scopes objective lens and then deducting half the rifle scopes body tube diameter.

For scopes with a 30mm diameter body tube this means deducting 15mm.

Note we say OUTSIDE diameter - this means NOT the lens diameter, you need to measure the whole outer casing diameter.

The result gives you the minimum "saddle" dimension - the measure from base of mount to bottom of the ring - the 22mm 'C' dimension that is shown above.

The amount the saddle dimension is greater than the figure you have calculated is the amount of clearance your scopes objective will be clear of your rifles body.

Example -
A scope has an outer case measurement of 58mm

58 divided by 2 = 29

29 minus 15mm =

14mm

So the mount must have a saddle measure (base of mount to bottom of the ring) greater than 14mm or else it will ground out on the rifle body.
These mounts at 22mm have plenty of room, maybe too much though other factors may apply such as -

Calculating your rifle scopes clearance in this way does assume your dovetail or base is not raised above or below your rifles barrel. Note some rifles with high or adjustable cheek pieces may require higher scope mounts or risers so that your eye is in line with the rifle scope and your head is kept in an upright comfortable position.
| | |
| --- | --- |
| Brand | Leapers UTG |
| Code | NW243 |
| Weight | 0.25kg |
| MPN | RQ2W3224 |
| EAN | 4712274527225 |