Leapers UTG Pro High Profile 30mm Picatinny Rifle Scope Mounts Rings RWU013022
Out of stock
37mm base to center ring height, 22mm base to ring bottom (saddle), Fit up to 73mm outer objective
You will earn
55
loyalty points with this purchase
Leapers UTG Pro, High Profile, 30mm ring, Picatinny base, Rifle Scope Mounts Rings - Leapers UTG code - RWU013022
Designed and Made in USA - Very strong, rated for use on all calibers

Pair or rings (2) supplied

Innovative High profile P.O.I (Precision Optics Interface) rifle scope mount rings for Picatinny base rails
37mm base to center ring height

22mm base to ring bottom (saddle)

To fit optics with a 30mm tube
Fit up to a 73mm outer objective (not lens size, by this we mean the whole outer case)

See Clearance Guide below to learn how to assess if they are the right height for you and if so how much clearance you will have over the base.

UTG PRO P.O.I addresses 3 of the most critical areas in scope rings -
Precision machined for a precise inner ring surface to achieve a seamless ring-to-scope interaction.




Low profile and flush-fitting locking side plate controlled by dual spring loaded guide rods interfacing with the rail with Torx Screw locking to ensure secure and repeatable Zero Hold.




Square-shaped integral recoil stop interfacing with a Picatinny slot via complete surface contact to eliminate the possibility of forward and back movement from recoil vibrations.
2 piece ring set, each equipped with 4 top Torx Screws designed with a 22mm ring width

Designed to fit on Mil-Spec 1913 Picatinny rail platforms - see definition below. Will not fit many older weaver base rails as recoil stop is too wide.

Machined from 6061-T6 aluminum alloy and 4605 steel with matte black hard coat anodize

UTG PRO original snag-free contoured profile with reduced weight and size

The Picatinny base rail - what is it and how does if differ from a weaver base rail
Also known as a MIL-STD-1913 rail, Standardization Agreement 2324 rail, or tactical rail, is a bracket on some firearms that provides a standard mounting platform for accessories and attachments, similar to the Weaver rail mount.

The rail consists of a series of ridges with a T-shaped cross-section interspersed with flat "spacing slots." Accessories are mounted either by sliding them on from one end or the other; by means of a Picatinny/Weaver mount which is clamped to the rail with bolts, thumbscrews or levers; or onto the slots between the raised sections.

The Picatinny locking slot width is 0.206 in (5.23 mm). The spacing of slot centers is 0.394 in (10.01 mm) and the slot depth is 0.118 in (3.00 mm).

The only differences between the Picatinny rail and the similar Weaver rail are the size of these slots and the fact that they are standardized. Weaver rails have a slot width of 0.180 in (4.57 mm), but are not necessarily consistent in the spacing of slot centers.

Some accessories are designed to fit on both Weaver and Picatinny rails; but most Picatinny devices will not fit on older Weaver rails. As of May 2012, however, most mounting rails are cut to Picatinny standards, and many accessories come with the recoil pin cut to the Weaver-compatible diameter. Many rail-mounted accessories come with only a single recoil pin, avoiding the issue of differing slot spacing. See https://en.wikipedia.org/wiki/Picatinny_rail for the full article

Calculating scope to rifle body clearance
The way you calculate the clearance is by halving the overall OUTSIDE diameter of your rifle scopes objective lens and then deducting half the rifle scopes body tube diameter.

For scopes with a 30mm diameter body tube this means deducting 15mm.

Note we say OUTSIDE diameter - this means NOT the lens diameter, you need to measure the whole outer casing diameter.

The result gives you the minimum "saddle" dimension required - the measure from base of mount to bottom of the ring - the 'C' dimension of 22mm that is shown below.

The amount the saddle dimension is greater than the figure you have calculated is the amount of clearance your scopes objective will be clear of your rifles body. The saddle on these mounts is -

Worked Example -
A scope has an outer case measurement of 58mm.

58 divided by 2 = 29.

29 minus 15 = 14mm

So the mount must have a saddle measure (base of mount to bottom of the ring) greater than 14mm or else it will ground out on the rifle body.

So this mount with 22mm will give 8mm - maybe too high unless...
Calculating your rifle scopes clearance in this way does assume your base is not raised above or below your rifles barrel and many picatinny bases are raised so take this into account.

Allternatively some rifles with high or adjustable cheek pieces may require higher scope mounts or risers so that your eye is in line with the rifle scope and your head is kept in an upright comfortable position.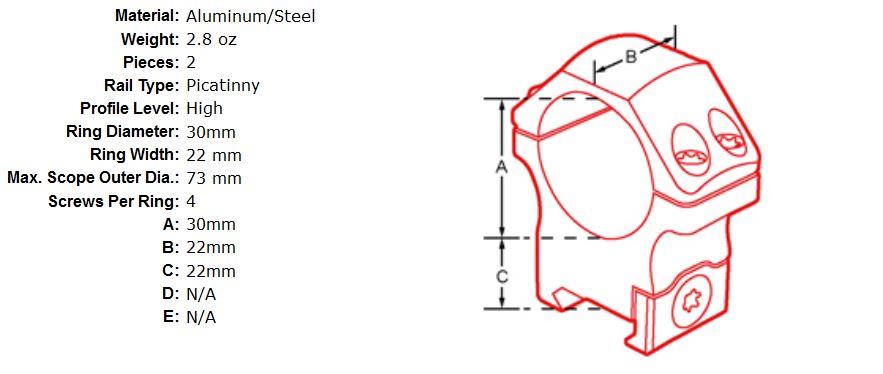 | | |
| --- | --- |
| Brand | Leapers UTG Pro |
| Code | NW1390 |
| Weight | 0.23kg |
| MPN | RWU013022 |
| EAN | 4717385551725 |