Leapers UTG QD Picatinny Weaver Mounts Low 30mm Scope RQ2W3104
Low weaver/picatinny base mount rings with QD lever action for 30mm tube scopes, suit 20-44mm lens scopes.
You will earn
26
loyalty points with this purchase
Leapers UTG Heavy Duty - Heavy Action QD (Quick Detach) Law Enforcement Grade Precision Machined Mounts

For 30mm Tube scopes for attachment of 20-44mm Lens scopes to 20mm width weaver/picatinny/tactical base rails
Leapers UTG "Tiger" Quick Detach Rings are among the most durable and versatile quick detachable mounting system available.
Model: RQ2W3104 Low profile (matte black)

Material: Aluminum with steel fittings for huge strength.

Base Fitting: Weaver or Picatinny 20mm.
See http://www.tacticalscope.co.uk/blog/?p=50 if unsure how to determine what you have.
Tube Size: To fit 30mm diameter body tube scopes.

Suit 20-40mm objective lens scopes in general - Outer objective casing maximum 50mm - See Clearance gudie below

Base to ring bottom (saddle) = 10mm

Weight - approx. 160 grams (5.7oz)
Easy to use spring tensioned design and fine adjustment mechanism that means they can be used on even low quality or worn rails.

Wear Resistance
Mil spec Type III class 2 hardcoat anodizing for scratch and wear resistance

Cross Bolt

Milled steel cross bolts to ensure the tightest possible tolerance and super firm grip on any weaver/picatinny rail.
Precision machined from aircraft-grade aluminum alloy with anodized black matte finish.

Robust and user friendly ergonomic Quick Detach/Lock lever.

Fully adjustable to fit on any Picatinny rail.

High quality synthetic protective tape applied on rings internal surface to protect scope body.

Tight tolerance control and repeatable positive locking for optimal re-zero performance.
Field tested in operational conditions and well received by field experts and law enforcement personnel.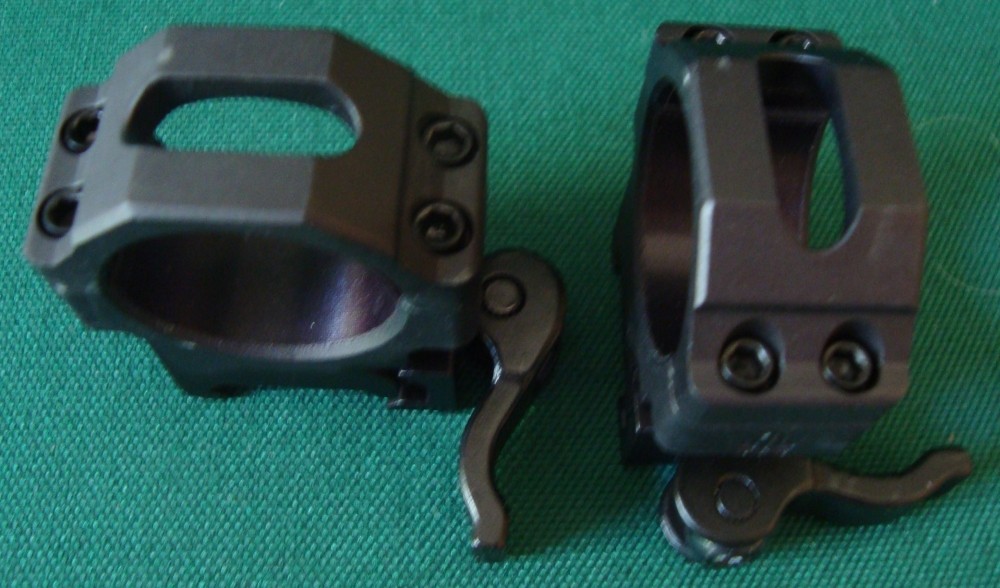 With lock bar underneath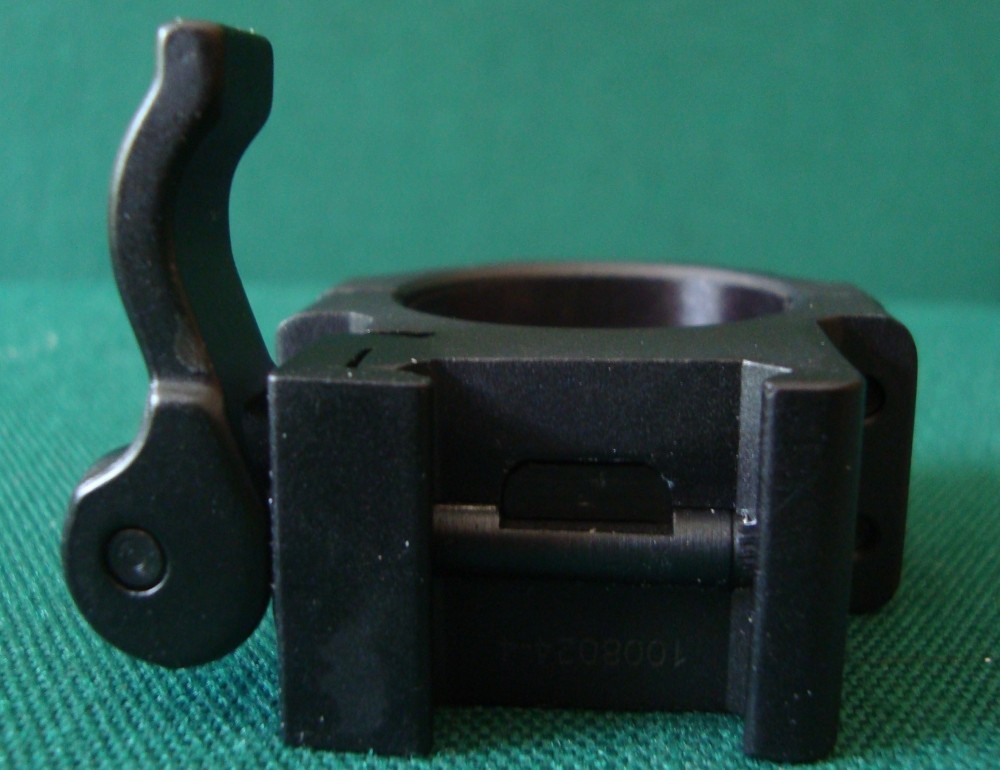 Quick Detach and Lock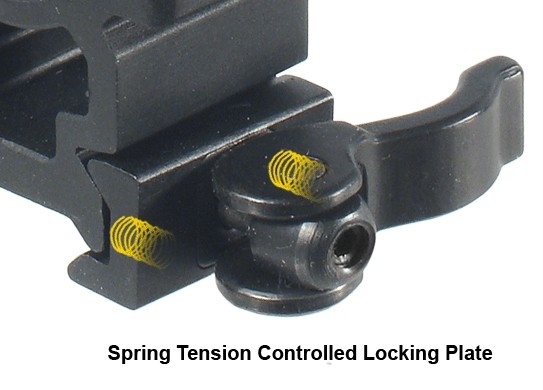 Calculating scope to rifle body clearance

The way you calculate the clearance is by halving the overall OUTSIDE diameter of your rifle scopes objective lens and then deducting half the rifle scopes body tube diameter.
For scopes with a 30mm diameter body tube this means deducting 15mm.

Note we say OUTSIDE diameter - this means NOT the lens diameter, you need to measure the whole outer casing diameter.

The result gives you the minimum "saddle" dimension required - the measure from base of mount to bottom of the ring - the 'C' dimension that is shown above.

The amount the saddle dimension is greater than the figure you have calculated is the amount of clearance your scopes objective will be clear of your rifles body. The saddle on these mounts is 10mm

Example -
A scope has an outer case measurement of 48mm

48 divided by 2 = 24mm.

30mm scope so deduct 15mm from 24mm = 9mm

So the mount must have a saddle measure (base of mount to bottom of the ring) greater than 9mm or else it will ground out on the rifle body.

So in this case with 10mm it will JUST fit but be very tight. If in doubt go up to a medium model.
Calculating your rifle scopes clearance in this way does assume your dovetail or base is not raised above or below your rifles barrel. Many weaver bases are raised to some degree which may well affect the sizing consideration.

Note some rifles with high or adjustable cheek pieces may require higher scope mounts or risers so that your eye is in line with the rifle scope and your head is kept in an upright comfortable position.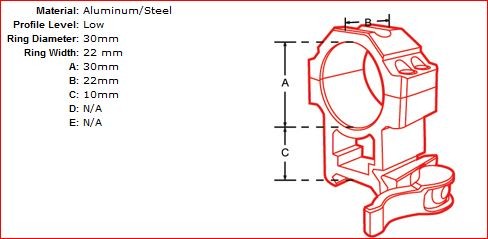 | | |
| --- | --- |
| Brand | Leapers UTG |
| Code | NW294 |
| Weight | 0.21kg |
| MPN | RQ2W3104 |
| EAN | 4712274527324 |