Nikko Mountmaster 3-9x40 Parallax AO Half Mil Dot Rifle Scope with 9-11mm Mount Rings
Superb Nikko quality at a budget price, parallax adjust with 3/8" 9-11mm mount rings, a great all rounder scope
You will earn
56
loyalty points with this purchase
Nikko Stirling Mountmaster 3-9x40 Half mil dot Parallax AO Rifle Scope with 9-11mm Mount Rings - NMM3940AO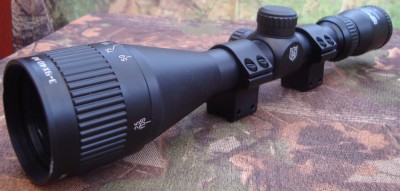 Mounts to fit it onto a standard air rifle base are included
Nikko Match Rings to fit 3/8" (9-11mm) width dovetail grooved air gun type base are supplied. They are factory fitted so can't be swapped out for another type. If you need, for example, 20mm weaver/picatinny mounts then you will need to buy them in addition to the scope.
See bottom of page for suggestions.
This is a superb top manufacturer scope - Premium quality rifle scope at a budget price.
>>> Mil Dot reticule for reliable and effective range estimating.
>>> 25mm/1 inch tube with multi coated lenses giving you huge light transmission and wonderful visual clarity
>>> For all air rifle and rimfire. Not centerfire and we suggets not rifles with super hard recoil.
Full size 1 piece 25mm tube

Waterproof - Shockproof - Fogproof - Recoil proof

Nitrogen filled and sealed tube

Crystal clear vision through fully multi emerald coated camera quality lenses

Exceptional focus clarity at all ranges

Parallax adjustable from 10 yards to infinity gives you much easier and faster focus at a variery of ranges.
Genuine Nikko Stirling rifle scope. UK importer supplied with UK warranty.

Half Mil Dot Reticle cross-hairs
Diagram below is a standard mil dot. The Half mil dot adds a dot in the middle to make the reticle even more precise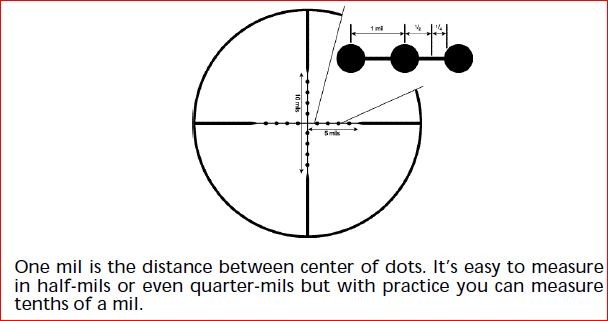 Developed by US Marine snipers in the 1970's the mil dot is one of the most popular all round hunting cross hairs types.
Mil dot is very popular in all areas of shooting, once you get the hang of it you can easily and quickly estimate ranges to targets and set aim points.
40mm Fully Multi Coated Lens:
A great medium size lens that gives you superb light capture and transmission resulting in a truly excellent view.

Fast target acquisition and moving target tracking.

Fully multi coated with emerald to protect and limit glare and reflections (looks) the business too.
3-9x variable magnification
A popular all round variable magnification that is especially well suited to air rifle shooting ranges.

Very easy and very fast dial adjustment.

Exceptional clarity through premium A grade camera quality lens.
You'll get crystal clear ocular focus at 5 yards. Parallax from 10 yards.
Zero it with Windage and Elevation Turrets:
Windage/elevation target turrets with finger click adjustment.
140 click range (1/4 MOA) 7mm at 100m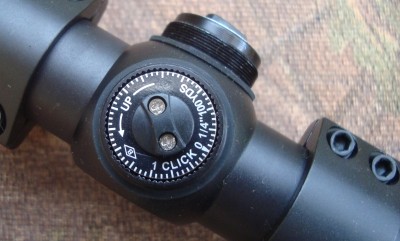 Parallax Adjustment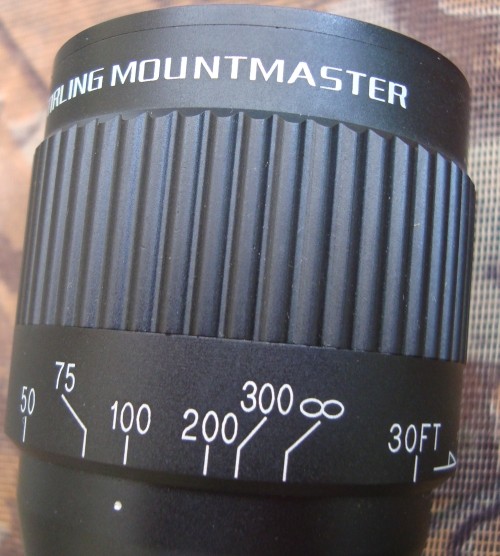 Parallax Focus Adjustment - AO - Adjustable Objective (front lens casing)
Parallax effect is the term that describes the difference in angles between objects that are seen up close and those seen far away. When you look at telephone poles passing by on the side of the road, those closest to your car seem to pass very fast, while the ones far away seem to go very slow. That difference is due to the parallax effect.
The reticle in your scope is like a telephone pole that's very close. If you move your head on the stock while watching the target through the scope the reticle may seem to move, wobble or blur against the target. That affects where you perceive the aim point to be, and that affects your accuracy. Parallax focus correction adjustment reduces this phenomenon to the greatest extent possible.
Parallax focus correction therefore is a must for anyone attempting to use either a high magnification scope, shooting drastically different yardages with the same scope or anyone attempting to shoot at extremely close ranges or extremely long ranges. Especially so if it is a combination of these factors.
This scope features Parallax focus correction
Important note on parallax focus versus regular ocular focus
A common mistake is to use the parallax adjustment in an attempt to focus the reticle. The ocular end (eye piece) has a focus for the reticle. That is the sole purpose of the ocular focus. Returns have been caused by users attempting to use the reticle focus as an image focus and or using the parallax adjustment as a reticle focus. If you get both of them so far out of whack bad things will happen.
Only use the ocular focus to focus the reticle and only focus the reticle while looking through the scope at the sky. This will keep you from trying to focus an object instead of the reticle.
Ocular Focus (eyepiece) adjusts the scope to the individual shooter's eye... this is a one time adjustment. (For wearers of prescription lenses this could be a multiple procedure event if new prescription arrive.) The purpose of this adjustment is to adjust the scope so that the image of the reticle (crosshairs) is properly aligned with the back of the shooters eye.
Parallax focus adjusts the target to the reticle (crosshair). The target image and the reticle must be on the same focal plane within the scope or there is room for apparent movement of the reticle on the target when the shooters eye moves (or is positioned differently at the scope).
Parallax yard settings: 30 feet, 50 feet then in yards - 25, 50, 75, 100, 200, 300 and infinity.
Dimensions
Length: 32cm

Weight: 536 grams with mounts fitted

Exit pupil: 10mm

Colour and finish: Matte black

FOV 4.0-11.9 m at 100m

Click value 7mm at 100m

Eye relief - 85mm
5 stars based on 1 review
Ian Skeldon
from Cheshire
"
I thought I would try this scope as my other rifles have a different make fitted and I wanted to try something without a big outlay.
Wow, the clarity is amazing, make no bones about it, the viewing is laser sharp and not too fussy with relief. Works well from about 7 yards out to as far as I can shoot. If this scope will do a full year of shooting (I shoot a lot) and remain this good throughout, I will change my other scopes for these.
****
Thanks Ian, much appreciated and always good to hear :) We sell a lot of these, very popular especially in some overseas remote places where there is no or little gunsmith support as they are so solid and flexible, a real AK47 of a scope
"
| | |
| --- | --- |
| Brand | Nikko Stirling |
| Code | NW332 |
| Weight | 0.85kg |