Nikko Nighteater 30mm 8-32x60 Mil Dot IR Reticle Scope + Sidewheel
Out of stock
Massive pro hunters scope. Huge 8-32x magnification and 60mm lens. Illuminated Mil dot reticle. With sidewheel, flip up caps and screw in sniper shade
You will earn
219
loyalty points with this purchase
Nikko Stirling Nighteater 30mm 8-32x60 Mil Dot IR Reticle Scope + Sidewheel, flip up lens caps and sunshade


International NON UK customers please read

- There are special UK export rules for sales of telescopic scopes 10x or over maximum magnification. You are very welcome to buy but we might have to apply for an export permit before the product can be shipped.
Please read this page BEFORE buying

(opens in new window)

Mounts to fit it onto a rifle are NOT included
See products at bottom of page or shop - needs high or extra high mounts for 30mm tube or lower height mounts plus riser
This is a heavy hitting Nikko Nighteater premium quality rifle scope.
>>> Nikko extended Mil Dot reticule for reliable and effective range estimating and, for advanced shooters, holdover ballistic drop compensation estimation.
>>> 30mm Tube with Best in Class Fully Multi Emerald Coated Lenses to Achieve Maximum Light Transmission for Best Clarity
>>> With flip up lens covers and 9cm (3.5") sniper sunshade (makes total scope length 49cm)
>>> For All Types and Power of Rifle from air rifle to high powered hunter and FT shooters.
>>> Red Illuminated crosshair controlled by "EZ Tap" style on-off and intensity control pad at rear of scope.
Full size 1 piece 30mm tube
Waterproof - Shockproof - Fogproof - Exceptionally Recoil proof
Nitrogen filled and sealed tube
Crystal clear vision through fully multi emerald coated camera quality lenses
Exceptional focus clarity at all ranges
Parallax from 10 yards > Infinity, by SWAT turret and optional large Nikko Sidewheel. Large sidewheel is INCLUDED in this sale.
Genuine Nikko Stirling rifle scope sourced direct from sole UK importer. NOT a cheap clone copy as commonly offered by many eBay sellers from the Far East. If you see prices too low to be true is because they ARE too good to be true! You will not be getting a real Nikko constructed and warranty covered by Nikko. These clone scopes may look the same and come in the right box but they will not be the same inside or use the same grade optics.
This seriously rugged, reliable premium quality scope will last you a lifetime.
Now lets check out the features:
Mil Dot Reticle with 12 power Red Illumination option

When and why to use Red illumination
Ideal for contrasting the reticule against target and background in low light and dusk and at night when lamping or if using night vision.
That is because in low light targets and backgrounds appear dark. If you are using a black reticle it becomes a lot harder to pick your aim point effectively. Thus being able to illuminate the reticle is very useful.
Controlled by "Ez Tap" control pad to turn on and off and vary intensity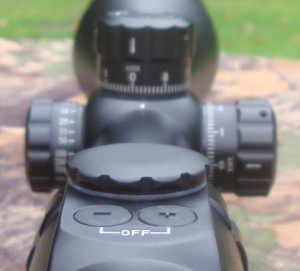 60mm Fully Multi Emerald Coated Lens:
A massive lens which, combined with a 30mm tube gives you superb light capture and transmission resulting in a truly incredible view.
The x-large size also gives you very very fast target acquisition and moving target tracking.
Especially good in lower light.
Fully multi coated with emerald to protect and limit glare and reflections (looks) the business too.
Scope lens don't go much bigger than this, much larger and you're into telescope territory!
8-32x variable magnification
Adjust anywhere from 8x to 32x.
A true medium to extreme long range hunters scope with a huge range of variable magnification settings.
Very Easy and very fast dial adjustment.
Exceptional clarity through premium A grade camera quality lens.
You'll get crystal clear focus on 8x at 10 yards.

Lock and reset Windage and Elevation Turrets:
Windage/elevation target turret with side screw to control zero locking, zeroing and zero resetting functions.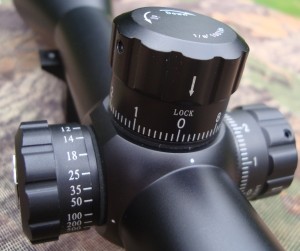 Meaning it's very easy to get it set so that your shot falls where the cross-hair says it will - and does the next time you go out as well! How?
Windage and elevation is how you set the scope so that your shot falls where the cross-hair says it will. AKA - zeroing.
It can be annoying at times that after you set it perfectly you drop your rifle and it gets knocked off. Not so with this scope as you can lock your settings in place.
Simply unlock the turret with supplied allen key and adjust with easy finger clicks.
Then lock again and you're all set.
180 click range (1/8 MOA)
Flip up-down covers and 3.5" Sniper sunshade included
Tough hinged covers fitted front and back to protect the scope while in transit AND use.
Covers are easily detachable.
Can be used with sunshade.
3.5" (9cm) sniper sunshade, Screws in and out easily. Perfect for very bright days where it eliminates all glare and stops position giving away reflections (which is why it's called a sniper sunshade)
Clear hinged flipup caps front and rear
Sniper sunshade - screw in and out (can also have flip up caps attached)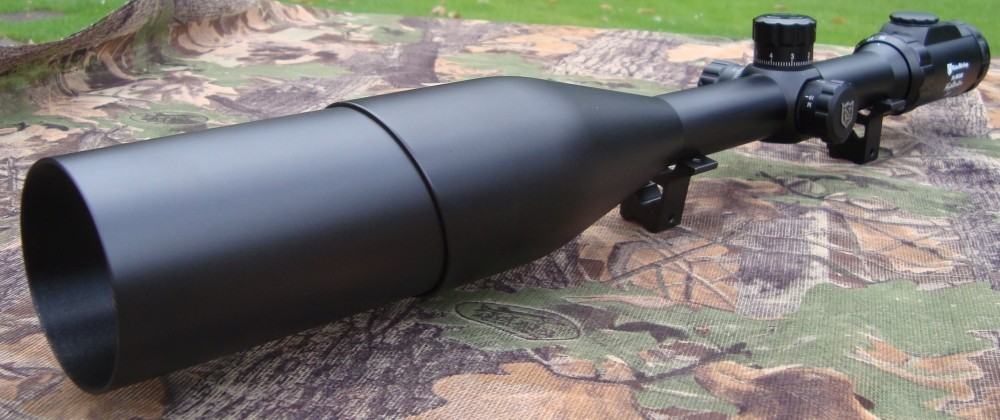 Parallax Explained
At longer distances targets will often "seem" to drift or wobble against their background making locking on them very difficult. This effect is known as parallax. If accurate shots at distance are important to you - small prey head shots, target shooting comps etc then being able to get rid of this problem is critical to your success.
Scopes such as this have Parallax adjustment which basically means you are able to adjust the scope using SWAT (Side Wheel Adjust Turret) to factor it out of the equation and give you rock solid target lock at any distance.
The effect varies in intensity and effect at different ranges so the scope features a range of adjustment settings.
Parallax yard settings:
Adjusted by the sidewheel i.e., it is a SWAT scope (Side Wheel Adjust Turret)
Standard sidewheel px settings are: 10 12 14 18 25 35 50 100 200 500 infinity - metres
Large wheel Sidewheel included - For finer px adjustment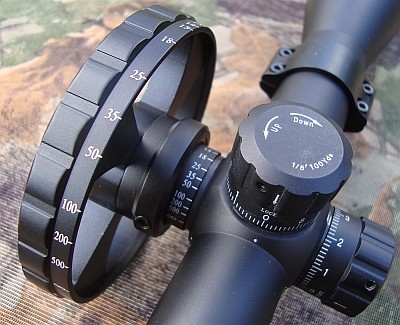 It is optional to use this so just take it off when not needed.
Summary of scope specification
Nikko model code - NPT83260AGIR
Reticle - Mil dot
Magnification adjustment range - 8-32x
Lens objective side (mm) - 60
FOV 100 yards - 10.06 - 2.74
Adjustment MOA at 100 yards - 1/8
Eye relief - 3.5"
Tube diameter - 30mm
Length - 16.4" (41.9cm)
Weight - 794 grams (28.3oz) (without flip up caps and sunshade fitted)
Summary of your purchase:
Nikko Stirling Platinum Nighteater 30mm rifle scope Mil dot reticule - model code NPT83260AGIR
Flip up caps for front and rear lens.
3.5" Sniper sunshade.
Big Parallax sidewheel
| | |
| --- | --- |
| Brand | Nikko Stirling |
| Code | NW389 |
| Weight | 1.9kg |
| MPN | NPT83260AGIR |