Nikko Stirling Diamond 30mm 34mm and FFP
Nikko Stirling Diamond 1.5-6x44 no4 Red Green Illuminated Reticle 30mm Scope
Length: 297mm - 11.7" 30mm Etched IR red-green No4 dot, perfect for close to medium range dense brush and driven hunts. 1/2 MOA clicks
You will earn
169
loyalty points with this purchase
Nikko Stirling Diamond 1.5-6x44 no4

Red

-

Green

-Black Illuminated Reticle 30mm Scope
The new Diamond 30mm Illuminated Series are 100% designed in Japan for fast shooting in low light conditions where an Illuminated reticle combined with precise Microlux ETE coated lenses ensures excellent clarity.
Suitable for all airgun, rimfire and centerfire calibers. Idea in woodland, dense brush and for driven hunts
A great scope for all round hunting and targets. With a premium grade lens which, combined with a 30mm tube gives superb light transmission and clarity of vision and a big field of view.
>>> Faster shooting in Low light and dense brush where you may only get a quick glimpse of the prey.
>>> Top Grade A Microlux ETE emerald lens coatings developed for low light use, plus you see the target faster, clearer and with more contrast.
>>> Hard Alloy 30mm tube for high strength and superior light transmission
>>> Windage and Elevation adjustments use low profile hunter style turrets with finger click adjust. Low profile ideal for forests and stalking. Less chance of them getting snagged on obstructions.
Waterproof - Shockproof - Fogproof - Recoil proof

Dry Nitrogen filled and sealed tube


Genuine Nikko product from UK importer NOT a cheap clone copy such as many of those sold by Far East sellers.
44mm Multi Coated Lens:
An excellent medium-large lens size.

Outstanding light capture coupled with 30mm tube = fast target acquisition and moving target tracking.

Great for all light conditions especially good in lower light.

Fast-Focus Eyepiece with graduated settings for precise setting
1.5-6x variable magnification
Adjust anywhere from 1.5x to 6x.

Excellent for all ranges from 3 yards

The low minimum magnification on this scope of 1.5x makes it especially suited for dense brush and driven hunts for potentially dangerous prey such as elk and boar.

Very Easy and very fast dial adjustment.
Illuminated European No4 Dot Reticle - Etched Glass
Designed for fast shooting in low light conditions where the precise dot Illuminated reticle combined with Microlux ETE coated lenses gives you superb clarity of vision and rapid target acquisition.
Controlled by saddle switch with graduated intensity control.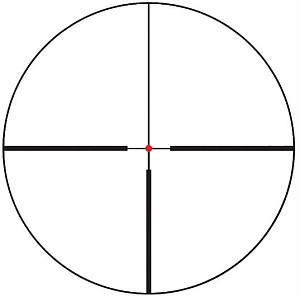 Only centre No4 lights up
Red illumination

helps a lot in low light, shadows etc (very good in woodland)

Green

is good in very bright light.

In both cases the illumination removes the problem of a black reticle against a black/shadowed target which makes shots very hard to place precisely.

With the IR turned on you can see your dot clearly against a dark background and shoot with confidence.
Technical Specification
Main tube Diameter : 30mm

Windage and Elevation Adjustments : MOA low profile hunter turrets. MOA: 1/2" = 15mm at 100m

Elevation/Windage adjustment range 80 MOA

Reticle : No 4 Dot - Etched glass

Parallax focus: Set at 100 yards (91m)

Illumination : Red or green dot (or turn off for black) Saddle switch control.

Eye relief: 3.3-3.9" 85-100mm

Weight: 567g - 20oz

Length: 297mm - 11.7"
Dimensions - cm / inches
A - 29.84 / 11.7

B - 13.85 / 5.4

C - 4.4 / 1.7

D - 5.75 / 2.3

E - 8.8 / 3.5

F - 7.19 / 2.8

G - 5.1 / 2

H - 4.32 / 1.7

I - 3 / 1.18
| | |
| --- | --- |
| Brand | Nikko Stirling |
| Code | NW982 |
| Weight | 0.8kg |
| MPN | NDSI15644 |
| EAN | 9420008994476 |
| Length | 297mm - 11.7" |
| Click value | 1/2 MOA |