Nikko Stirling Diamond Metor 1-4x24 30mm Glass No4 Centre Dot Illuminated Reticle WA FOV scope
Out of stock
1/2 MOA per click. 259mm / 10.2″
You will earn
169
loyalty points with this purchase
Nikko Stirling Diamond Metor 1-4x24 30mm tube, Glass etched No4 A centre dot Illuminated Reticle Big Field of view Hunting rifle scope
Nikko Stirling Metor scopes offer brilliant images with high-end resolution and perfect edge-to-edge clarity.

Excellent field of view (FOV) across the series allows quick target acquisition and provides excellent overview before and after the shot.

Fine-tuned illumination from high to low. This supports the hunter and shooter to avoid blinding by illumination during low light conditions.

Metor is a high quality yet budget hunting rifle scope, the latest version of the classic Diamond Hunting 30mm series

All calibre rated and supported by Nikko Stirling Warranty
Mount rings to fit it onto a rifle ARE NOT included
If you need mount rings you will need to purchase them in addition to the scope. See shop and look for extra low or low profile models for 30mm tube for whatever rifle base you have. Please ask if unsure
No4 Dot illuminated Glass Reticle

30mm monotube for superior strength and light transmission

¼ inch/MOA click (7mm@100m)

Low profile low snag capped Hunting turrets

Perfect edge to edge clarity

Fully multicoated lenses
Illuminated No4 centre dot reticle
Variation on the classic German No4 reticle with illuminated dot in the middle to help pinpoint the target in low light. Ideal for fast target acquisition and tracking with very little to get in the way. Ideal for short to medium ranges with all calibers especially in dense cover for dangerous prey such as boar/wild pig, elk/moose etc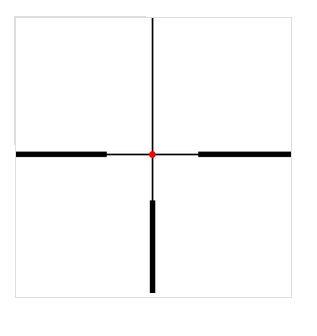 Benefits of Glass Etched Reticles and Illumination
Etched glass reticle
- The reticle is laser etched onto the lens glass giving a beautiful crisp and clear view, much more so than with a standard wire reticle.

The etching also makes it totally immune to recoil shock - it will never break or come loose as can happen with wire reticles.

In addition it eliminates all internal light reflection from use of the IR function, this again is a problem with wire reticle scopes.

Illuminated reticle function
In low light or very bright light targets can appear dark and shadowed.

The standard black reticle in such situations is very hard to contrast against the target, especially if you are taking a shot under pressure on a sudden target of opportunity and/or moving target.
Using illumination,
red in low light
helps you get sharp reticle over target contrast and massively improve the aim point and speed.
24mm Fully Multi Coated Lens:
Fully multi coated for excellent clarity.

24mm diameter - Small, low bulk, fast short range CQB
1-4x variable magnification
Adjust from 1x to 4x.

A great magnification range for close ranges, CQB

Easy and fast adjustment.

Ocular eyebell focus from 2-3 yards.

Parallax free at 100 yards/91m
Specifications
Chassis: 30mm Mono-tube

Magnification range: 1-4x

Objective: 24mm

Reticle: No4 A dot etched glass

Illumination: Red and off for black

Focus/Parallax: Fixed/free 100 yards / 91m

Field of View

at 100 yards 133.9 - 33 and at 100m 44.6 - 11

Eye relief: 85mm / 3"

Length: 259mm / 10.2″

Weight: 525g / 18.5oz
Other Specification
Material: Aluminum

Ocular Type: Fast Focus

Lens Coating: Fully Multi-Coated

Power Selector Style: Easy Grip

Elevation and Windage Increment: 1/2 MOA MOA

Elevation and Windage Adjustment Range: 200 MOA

Turret Caps: Yes

Turret Type: Low Profile low snag hunting
Accessories included
Elasticated Lens Covers

Lens Cloth

CR2032 battery
| | |
| --- | --- |
| Brand | Nikko Stirling |
| Code | NW1884 |
| Weight | 0.8kg |
| EAN | 9420001437659 |
| MPN | NSMED1424 |
| Length | 259mm / 10.2″ |
| Click value | 1/2 MOA |