Nikko Stirling Panamax 4-12x50 Wide Angle AO Parallax RG Illuminated ETCHED GLASS HALF MIL DOT Reticle scope
1/4 MOA clicks - 60 MOA range. 318mm - 12.5" length
You will earn
159
loyalty points with this purchase
Nikko Stirling Panamax 4-12x50 AO Parallax focus Wide angle FOV Etched Glass

red

-

green

-black illuminated Half Mil Dot Rifle Scope
Main Features
50mm lens - wide angle

4-12x variable magnification

1" /25mm tube

Etched Glass

Red

-

Green

-Black illuminated half mil dot

Parallax focus adjust from 10 yards/9.1m
Mount rings not included
Requires 1" ring diameter mounts of high profile to suit whatever base is on the rifle, for example, 9-11mm dovetail, 13mm BSA dovetail, weaver/picatinny or model specific. We can also help with picatinny adapter bases for rifles such as Tikka, SAKO, CZ, Ruger, Remington, Howa, Weatherby, Marlin etc (See

Britannia Rails section

for many picatinny adapter bases)
Wide Angle lens with huge field of view - approx. 20% more than standard 1" (25.4mm) tube scope

The added field of view gives you a larger sight picture and also helps in visually steadying the picture at higher magnifications

1-inch hard anodized one-piece aircraft grade aluminum main body tube

Fully Multi Coated lens - Each individual glass lens surface is fully multi coated with Nikko's new proprietary Low Dispersion ETE Microlux Gen 2 coating and polished to allow the maximum amount of transmitted ambient light into the main tube.

All caliber rates - airgun, rimfire and centerfire use - dual sealed and capable of handling the heaviest-recoiling magnum rifles
>>> Etched glass Half Mil dot reticle making precise hold-over and wind correction adjustments easy and effective
>>> AO parallax 10 yards to infinity
Waterproof - Shockproof - Fogproof

Nitrogen filled and sealed tube

Bikini lens caps included.
Etched glass Half Mil Reticle with red-green Iluminated Reticle
Glass etched for total recoil immunity and zero internal light reflection when illumination is in use.

Half mil dot adds dashes between the mil dots to give more aim and calculation points than standard mil dot - making precise hold-over and wind correction adjustments easy and effective
Note - Picture below exaggerates the mil sizes on the left just to contrast - main mils are the dots. Half mils are the lines.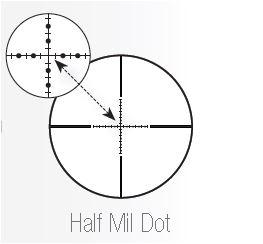 Red and green IR
Red and green with 5 intensity levels on each colour and turned off for plain black.
Side turret control.

IR is very useful in low and bright light where it allows you to get better contrast of the reticle against dark backgrounds.

Use levels 1-3 for low light and 4-5 in daylight.
Benefits of Glass Etched Reticles and IR
Glass-etched reticles are way superior to wire for several reasons, most notably is how much finer and cleaner they are when viewed through the scope.

A glass etched reticle, also cannot be broken. Anyone who has shot enough has seen a wire reticle actually break within the reticle field. As the reticle design is etched into the reticle lens, it is static and cannot physically be broken.

All Nikko Panamax scopes that are illuminated use the superior glass-etched reticles which as the added benefit of zero internal light reflection which occurs to some extent in illuminated scopes with wire reticles.

This superior design requires an additional cost, but even if you don't plan to use the illumination, the glass-etched reticle is a feature with value to the shooter.
Illumination comes into its own when shooting targets that are either naturally dark or made dark by light conditions such as shadow, dawn dusk, very bright light or night shooting with lamps or night vision kit.

Without Illumination a black reticle can be very hard to make out against the target. Illumination fixes this problem and gives immediate contrast. Adjust intensity according to the light conditions.
50mm Fully Multi Coated Lens:
Fully Multi Coated

Each individual glass lens surface is fully multi coated with Nikko's new proprietary Low Dispersion ETE Microlux Gen 2 coating and polished to allow the maximum amount of transmitted ambient light into the main tube.

Fast target acquisition and moving target tracking.
4-12x variable magnification
Adjust from 4x to 12x. The most popular all purpose magnification range.

Ideal for general purpose hunting.

Easy and fast dial adjustment.
Parallax Focus Adjustment - AO - Adjustable Objective (front lens casing)
Parallax effect is the term that describes the difference in angles between objects that are seen up close and those seen far away. When you look at telephone poles passing by on the side of the road, those closest to your car seem to pass very fast, while the ones far away seem to go very slow. That difference is due to the parallax effect.
The reticle in your scope is like a telephone pole that's very close. If you move your head on the stock while watching the target through the scope the reticle may seem to move, wobble or blur against the target. That affects where you perceive the aim point to be, and that affects your accuracy. Parallax focus correction adjustment reduces this phenomenon to the greatest extent possible.
Parallax focus correction therefore is a must for anyone attempting to use either a high magnification scope, shooting drastically different yardages with the same scope or anyone attempting to shoot at extremely close ranges or extremely long ranges. Especially so if it is a combination of these factors.
This scope features Parallax focus correction
Important note on parallax focus versus regular ocular focus
A common mistake is to use the parallax adjustment in an attempt to focus the reticle. The ocular end (eye piece) has a focus for the reticle. That is the sole purpose of the ocular focus. Returns have been caused by users attempting to use the reticle focus as an image focus and or using the parallax adjustment as a reticle focus. If you get both of them so far out of whack bad things will happen.
Only use the ocular focus to focus the reticle and only focus the reticle while looking through the scope at the sky. This will keep you from trying to focus an object instead of the reticle.
Ocular Focus (eyepiece) adjusts the scope to the individual shooter's eye... this is a one time adjustment. (For wearers of prescription lenses this could be a multiple procedure event if new prescription arrive.) The purpose of this adjustment is to adjust the scope so that the image of the reticle (crosshairs) is properly aligned with the back of the shooters eye.
Parallax focus adjusts the target to the reticle (crosshair). The target image and the reticle must be on the same focal plane within the scope or there is room for apparent movement of the reticle on the target when the shooters eye moves (or is positioned differently at the scope).

Specifications
Tube Diameter: 1 inch - 25.4mm

Lens Coating: Fully Multicoated

Warranty: Limited Lifetime for manufacture defect issues.

Sunshade Included: No

Lens Covers Included: Yes - bikini style - NOT flip up

Finish: Matte black

Water/Fog and shock Proof: Yes
Magnification and reticle
Fast Focus Eyepiece: Yes

Min Power magnification : 4x

Max Power magnification : 12x

Reticle Construction: Etched glass

Reticle: 1/2 Mil-Dot

Illuminated Reticle: Yes - 5 power each way red and green or off for black

Holdover Reticle: Yes

Reticle Focal Plane: 2nd
Adjustments, view and focus
Adjustment Click Value: 1/4 MOA - 60 MOA range

Turrets: Medium profile with screw on protective covers

Finger Adjustable Turrets: Yes

Click or Friction Adjustment: Click

Reset to Zero Turrets: No

Parallax Adjustment: 10 yards to infinity

FOV ft at 100 yards - 10.9-32.9

FOV m at 100m - 3.6-11

Eye Relief - 3.1" - 80mm

Click Value MOA - 1/4 with 30 full click range up/down and left/right

Length - 321mm / 12.7"

Weight: 600 grams / 21.2oz
5 stars based on 1 review
Teemu Soininen
from Kuopio, Finland
"
Absolutely love this product, awesome light transmittance and illumination is great also.
"
| | |
| --- | --- |
| Brand | Nikko Stirling |
| Code | NW1073 |
| Weight | 0.9kg |
| MPN | NPGI41250AO |
| EAN | 9420001433798 |
| Length | 318mm - 12.5" |
| Click value | 1/4 MOA |