Nikko Stirling Target Master
Nikko Stirling Target Master 30mm SF 10-50x60 Etched Glass Half Mil Dot
Out of stock
Lowest priced 10-50x50 FT scope
You will earn
323
loyalty points with this purchase
Nikko Target Master 30mm Side Focus parallax 10-50x60 etched glass Half Mil dot red illuminated Rifle scope with flip up lens caps and sunshade
Mounts to attach to your rifle are NOT included
If you need .22 rimfire 3/8", airgun 11mm, 20mm weaver/picatinny mount rings you will need to purchase them in addition to the scope. See shop and look for high profile models for 1"/25mm tube. Please ask if unsure or see my guide to mounts and bases at http://www.tacticalscope.co.uk/blog/?p=50 We can alshelp with adapter bases for rifles such as Crosman, Ruger, Remington, Howa, Weatherby etc
All caliber rated - air, rimfire, centrefire
Outside United Kingdom buyers please READ - There are special UK export rules for sales of telescopic scopes of 10x or more maximum magnification. You are very welcome to buy but we might have to get an export permit before the product can be shipped. Please read this page BEFORE buying (opens in new window)
User Comments - see Target Master 10-50x60 reviews and some more reviews here

A great "Budget" FT scope as well as being a pretty handy HFT and longer range hunter.
>>> Designed for Tactical or Competitive shooters - hunting, FT and HFT - Compatible with optional Nikko 100mm and 150mm sidewheels (Not included)
>>> Top Grade A Microlux ETE emerald lens coatings developed for low light use, plus you see the target faster, clearer and with more contrast.
>>> Etched glass reticle
>>> Hard Alloy 30mm tube for high strength and superior light transmission
>>> Adjustments are Target style, to adjust simply pull out gently and turn to the desired setting. Push down again to lock.
Waterproof - Shockproof - Fogproof - Recoil proof

Dry Nitrogen filled and sealed tube

Screw in sunshade and hinged flip up caps included
Genuine Nikko product from UK importer NOT a cheap clone copy such as many of those sold by Far East sellers.
60mm Multi Coated Lens:
An excellent very large lens size which gathers a lot of light combined with the 30mm tube.

ETE premium Multi-coated to protect and limit glare and reflections (looks) the business too.
10-50x variable magnification
Adjust anywhere from 10x to 50x.

Excellent for medium to long ranges

Very Easy and very fast dial adjustment.

Ocular Focus from 7 yards at 10x, parallax from 10 yards

Please note that as magnification increases you will find the view gets a little paler/milky. This is just a consequence of high magnification on what is essentially still a mid level budget very high power scope. It can be avoided by spending 2-3x as much on the Diamond 10-50 or Hawke ED!
Nikko Glass Etched Half Mil Dot Reticle with 11 power
Red Illumination option
Glass-etched reticles are way superior to wire for several reasons, most notable is how much more crisp, fine and clean your view is when you look thorough the scope - beautiful it is!
A glass etched reticle, also cannot be broken. Anyone who has shot enough has seen a wire reticle actually break within the reticle field. As the reticle design is etched into the reticle lens, it is static and cannot physically be broken.
When and why to use Red illumination
Illumination comes into its own when shooting targets that are either naturally dark or made dark by light conditions such as shadow, dawn dusk, very bright light or night shooting with lamps or night vision kit.

Without Illumination a black reticle can be very hard to make out against the target. Illumination fixes this problem and gives immediate contrast. Adjust intensity according to the light conditions.
Easy to use Target Windage and Elevation Turrets:
Adjustments are Target style, to adjust simply pull out gently and turn to the desired setting. Push down again to lock.
You can also return the dial setting to Zero with out special tools so you can be ready in the field to accurately compensate as required for both windage and elevation.
1/8 MOA 3.5mm at 100m 1/8 MOA with with 25 full up-down and left-right range of adjustment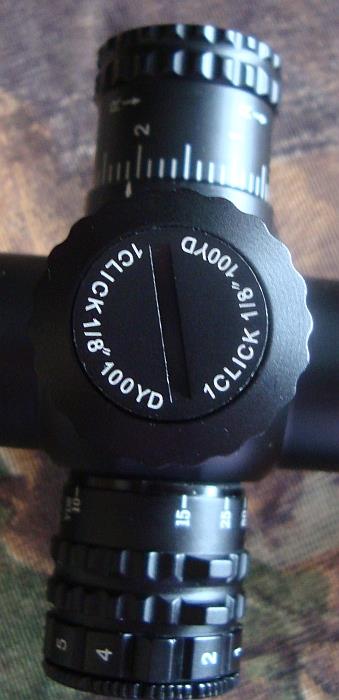 Flip up-down covers and 10cm Sunshade included
Tough hinged covers fitted front and back to protect the scope while in transit AND use.

Covers are easily detachable.

Can be used with sunshade.

10cm screw in sunshade, Screws in and out easily. Perfect for very bright days where it reduces glare and stops position giving away reflections
Clear hinged flipup caps front and rear
Parallax Adjustment
Parallax effect is the term that describes the difference in angles between objects that are seen up close and those seen far away. When you look at telephone poles passing by on the side of the road, those closest to your car seem to pass very fast, while the ones far away seem to go very slow. That difference is due to the parallax effect.
The reticle in your scope is like a telephone pole that's very close. If you move your head on the stock while watching the target through the scope the reticle may seem to move, wobble or blur against the target. That affects where you perceive the aim point to be, and that affects your accuracy. Parallax focus correction adjustment reduces this phenomenon to the greatest extent possible.
Parallax focus correction therefore is a must for anyone attempting to use either a high magnification scope, shooting drastically different yardages with the same scope or anyone attempting to shoot at extremely close ranges or extremely long ranges - Especially so if it is a combination of these factors.
Parallax focus with this scope is by side focus turret which is co-located with the illumination control.
Compatible with Nikko 100mm and 150mm sidewheels (NOT included) - Please check with us for price and availability.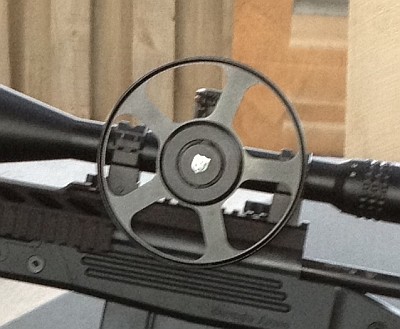 Important note on parallax focus versus regular ocular focus
A common mistake is to use the parallax adjustment in an attempt to focus the reticle. The ocular end (eye piece) has a focus for the reticle. That is the sole purpose of the ocular focus. Returns have been caused by users attempting to use the reticle focus as an image focus and or using the parallax adjustment as a reticle focus. If you get both of them so far out of whack bad things will happen.
Only use the ocular focus to focus the reticle and only focus the reticle while looking through the scope at the sky. This will keep you from trying to focus an object instead of the reticle.
Ocular Focus (eyepiece) adjusts the scope to the individual shooter's eye... this is a one time adjustment. (For wearers of prescription lenses this could be a multiple procedure event if new prescription arrive.) The purpose of this adjustment is to adjust the scope so that the image of the reticle (crosshairs) is properly aligned with the back of the shooters eye.
Parallax focus adjusts the target to the reticle (crosshair). The target image and the reticle must be on the same focal plane within the scope or there is room for apparent movement of the reticle on the target when the shooters eye moves (or is positioned differently at the scope).
Dimensions and Stats
Tube Diameter: 30mm

Magnification: 10-50 x

Objective lens diameter: 60 mm

Reticle: Half Mil Dot (etched glass)

Reticle Focal Plane Location: 2nd

Waterproof and Fogproof: Yes

Illuminated reticle: Yes Red, 11 levels - Battery: CR2032 3v (included)

Length: 44cm - 17.3 in

Weight: 860 g - 30.3oz

Finish: Matte Black
Windage and Elevation
Click value: MOA 1/8" 3.5mm @100yds

MOA range: 25 turns
Optical Stats
Field of View:

Ft at 100yds: 1.9 - 9.2

M at 100m: 0.6 - 3.1

Eye relief: 3.5-3.9"

Min parallax Focus: 10 yds/9.1m
Dimensions - cm / inches
A - 43.94 / 17.3

B - 19.05 / 7.5

C - 7.62 / 3

D - 7.62 / 3

E - 10.92 / 4.3

F - 13.72 / 5.4

G - 7.11 / 2.8

H - 4.32 / 1.7

I - 3 / 1.18
| | |
| --- | --- |
| Brand | Nikko Stirling |
| Code | NW462 |
| Weight | 1.9kg |