NiteSite Wolf Power Plus Infrared 300m range Night Vision Scope 911203
Out of stock
Extra power 5.5Ah stock mounted power pack edition
You will earn
588
loyalty points with this purchase
The NiteSite WOLF is a patented night vision system for hunting in zero light

The Wolf Power Plus differs to the regular NiteSite Wolf in that it is supplied with a more powerful 5.5Ah stock mounted power pack for much longer power duration.
It utilises infrared in a unique way making it more affordable, reliable and user friendly than traditional light amplification technologies.

Quick and easy to fit to any day scope
The true beauty of a NiteSite is that it converts any day scope (there's no need to remove it) into a powerful night vision system that is quick and simple to set up.
WOLF is designed to be the most affordable, high quality night vision system on the market for Medium-range distances. The WOLF is for the hunter who wants a product without limitations.
From opening the carry case to hunt ready status takes just 60 seconds once you are familiar with the set up.

All NiteSites are equipped with adaptable fittings that enable mounting onto virtually any make and size of scope and there is no need to re zero or adjust your scope in any way.

Just mount the unit, switch on and you're ready to shoot. Simple as that.
Performance -

Maximum versatility and advantage for the night hunter
The WOLF is the perfect night vision unit for any hunter, delivering high quality, clear night vision through any day vision rifle scope.

It achieves this using three powerful infrared illuminators (invisible to to people and animals) to literally illuminate the target area immediately in front of where the rifle scope is aiming, allowing clear target identification up to 300 metres (330 Yards) away.

The infrared image is then captured through the rifle scope by a compact video recording unit attached to the scope's eyepiece and then played back live to the hunter via the unit's integral 3.5 inch dimmable LCD screen.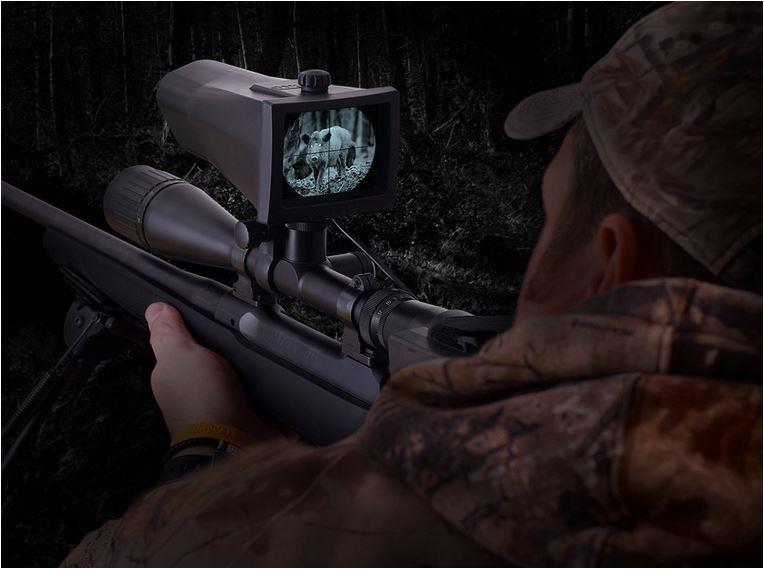 Technical
Identification range: 300 metres (330 Yards)*

Usable caliber: Any

Net weight (excluding battery): 440g

Operational run time: Upto 25 hours

IR Frequency: 850nM

IR LED's: 3

Display screen: 3.5 inch

Operating Temperature: -20ºC to 60ºC (-4ºF to 140ºF)

Video output: 3.5mm 4 pin jack

Water resistant
*Range subject to individual optics / weather conditions.

What's in the box
1 x Heavy duty field carry case

1 x Illuminator module and viewing screen

1 x IR camera module

1 x 5.5Ah stock mounted Lithium-ion battery

1 x 12 volt lithium-ion charger with charging indicator

2 x Multi diameter scope sleeves 35mm and 40mm

2 x Multi diameter scope clamps 25mm and 30mm

1 x Anti-recoil clamp

1 x pack of five Anti-glare filters

1 x Instruction booklet

1 x 24 month guarantee card. Note: Battery packs are guaranteed for 12 months
Lithium battery product - shipping destination restricted product
Shipping regulations prohibit shipping Lithium battery products by air transport. We are able to ship by DPD courier

by road only

to European mainland only. We cannot ship to any European islands or outside Europe at this time or anywhere else the DPD road network does not serve - so Canary islands, Azores, Corsica, Sardina, Greek islands etc, sorry, cannot do.
| | |
| --- | --- |
| Brand | NiteSite |
| Code | NW1407 |
| Weight | 2.2kg |