Sig Sauer Tango4 6-24x50 30mm SF IR Milling MOA Etched Reticle FFP Rifle Scope SOT46001
Out of stock
You will earn
895
loyalty points with this purchase
Enter your email to be informed when this item is back in stock.
Sig Sauer Tango4 6-24x50 30mm Side Focus - Illuminated Milling MOA Etched Glass Reticle - First Focal Plane Rifle Scope - SOT46001
Designed for MSR/AR and bolt action platforms, the TANGO4 6–24x50 mm riflescope is ideal solution for long range precision shooting, tactical engagements and long-range hunting
Outside United Kingdom buyers please READ - There are special UK export rules for sales of telescopic scopes of 10x or more maximum magnification. You are very welcome to buy but we might have to get an export permit before the product can be shipped. Please read this page BEFORE buying (opens in new window)


Feature summary
6-24x magnification -

Ideal for a medium to long range hunting and target situations with all calibers.

50mm lens -

excellent wide field of view and makes target acquisition and tracking easy.

Multiple illuminated reticle options in a 30mm 1 piece tube

Low dispersion glass provides industry leading optical clarity

First focal plane (FFP)

Side Focus turret parallax focus from 50 yards
"MOTAC" Motion Activated Illumination powers up when it senses motion and powers down when not
LockDown Zero System features re-settable zero, zero-stop and auto-locks down at zero

Dependable waterproof (IPX-7 rated for complete immersion up to 1 meter) and fog-proof performance

Magnification dial control with fibre optic power indicator

Free custom made SIG Ballistic Turret (SBT) laser-etched elevation dial
Technical summary
Reticle - MOA Milling 0.25 (1/4) MOA adjustment

Exit Pupil - 8.0-2.1

FOV ft at 100 yards 16.8-4.2 m at 100m 5.3-1.4

Eye Relief - 3.3" / 84mm

Windage and Elevation range - 65 MOA

Weight - 26.9oz / 764 grams

Objective filter thread - M52 x 0.75
Sig Sauer Milling MOA Reticle
0.25 (1/4) MOA
Etched glass for superior clarity and recoil immunity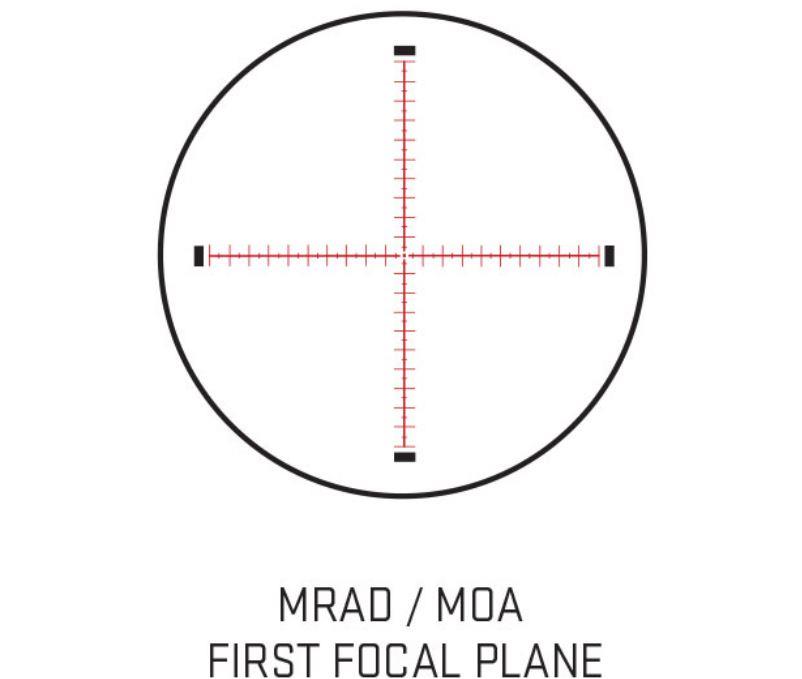 Benefits of Glass Etched Reticles and Illumination
Glass-etched reticles are superior to wire for several reasons, most notable is how much more crisp, fine and clean your view is when you look thorough the scope.
A glass etched reticle, also cannot be broken. Anyone who has shot enough has seen a wire reticle actually break within the reticle field. As the reticle design is etched into the reticle lens, it is static and cannot physically be broken.

All illuminated scopes with glass-etched reticles have the added benefit of zero internal light reflection which occurs to some extent in illuminated scopes with wire reticles.

This superior design requires an additional cost, but even if you don't plan to use the illumination, the glass-etched reticle is a feature with value to the shooter.
Illumination comes into its own when shooting targets that are either naturally dark or made dark by light conditions such as shadow, dawn dusk, very bright light or night shooting with lamps or night vision kit.

Without Illumination a black reticle can be very hard to make out against the target. Illumination fixes this problem and gives immediate contrast. Adjust intensity according to the light conditions.


Dimensions Specification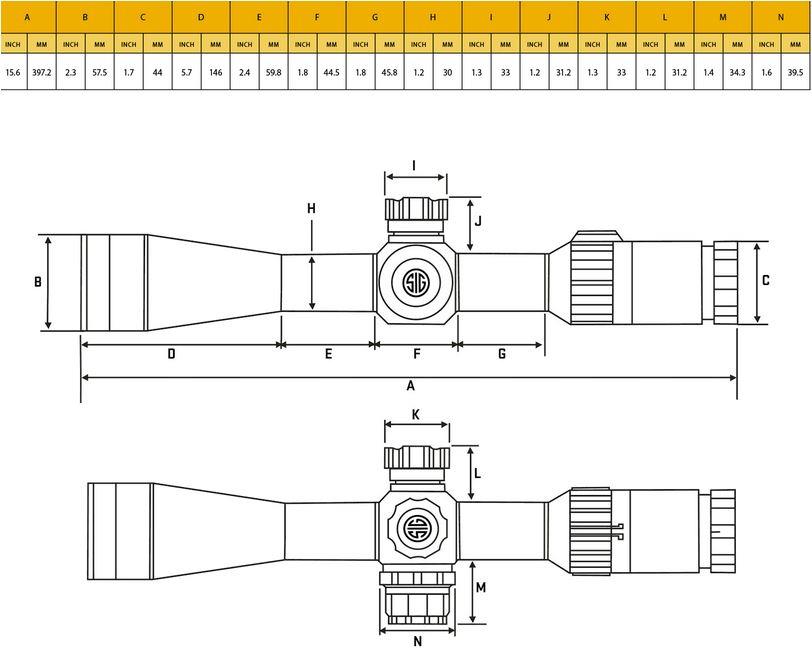 A - 15.6 - 397.2
B - 2.3 - 57.5
C - 1.7 - 44
D - 5.7 - 146
E - 2.4 - 59.8
F - 1.8 - 44.5
G - 1.8 - 44.5
H - 1.2 - 30
I - 1.3 - 33
J - 1.2 - 30
K - 1.3 - 33
L - 1.2 - 31.2
M - 1.4 - 34.3
N - 1.6 - 39.5
Features and Optics technology in more detail

Free custom SBT (Sig Ballistic Turret) with Tango4 purchases.

Perfectly matched to the ballistics of your shooting system, the SIG Ballistic Turret (SBT) is a custom laser-etched elevation dial for your SIG SAUER Electro-Optics riflescope.

Using inputs including bullet specifications, ballistic coefficient, muzzle velocity, elevation, and other environmental factors, the SBT system allows for the correct bullet drop compensation and pinpoint accuracy at any range

You can dial-in the exact shooting range of your target and hold the reticle directly on point-of-aim for unmatched accuracy on every shot you take. Pinpoint precision has never been so easy. If your target is at 300 yards, simply adjust the dial to "3" and know you are hitting the mark.

How you get the SBT - Instructions in the box

LockDown Zero System
The LockDown Zero System is a stop-locking turret that allows a rapid return to Zero. After dialing up elevation for a shot at extended range, the LockDown Zero System eliminates worry over how far to turn the elevation dial to return adjustment to zero. Turret not only stops at zero, it locks at zero.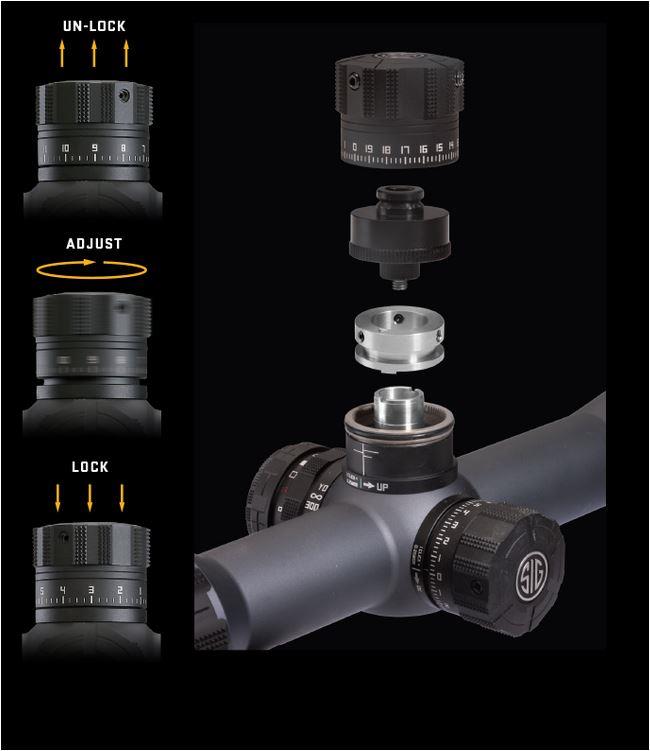 Stealth ID
Electro-Optics industrial design inspired by Sig Sauer firearms; deflection armor trapezoidal surfacing breaks up the shape and visibility of the optic along with pistol slide serrations and grip checkering to add function to the form of all SIG SAUER electro-optics.

SpectraCoat
Highly efficient, ultra-wide broadband, anti-reflection lens coatings reduce surface reflections to extremely low levels across the entire visible spectrum providing superior light transmission.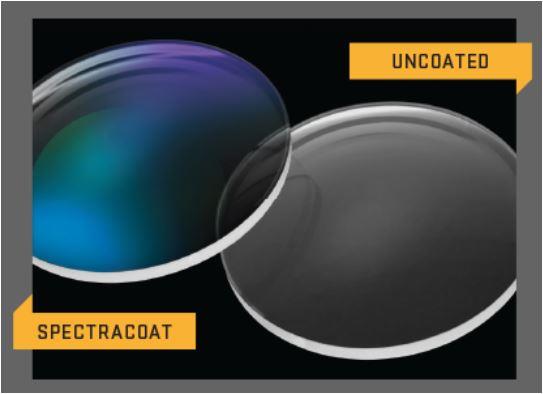 LensArmor
Abrasion-resistant lens coatings for extreme durability ensure the lenses on your scope will stay sharp, bright, and clear.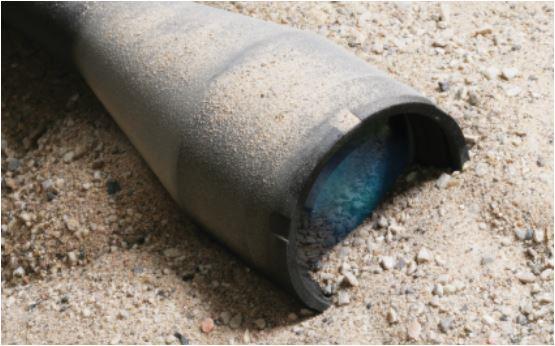 Infinite Guarantee
SIG SAUER Electro-Optics are guaranteed forever. It's an unlimited lifetime guarantee.
-Unlimited Lifetime Guarantee
-Fully Transferable
-No Warranty Card Required
-No Receipt Required
-No Time Limit Applies
-No Charge

5 YEAR WARRANTY
(Electronic Component Limited 5 Year Warranty) Covers any defects in materials and workmanship in the electronic and Tritium components of illuminated riflescopes/sights, pistol sights, electronic sights, flashlights, lasers, binoculars, spotting scopes and rangefinders for five years from date of manufacture.
Mount rings not included
If you need .22 rimfire 3/8", airgun 11mm, 20mm weaver/picatinny mount rings you will need to purchase them in addition to the scope. See shop and look for high profile models for 1"/25mm tube. Please ask if unsure or see my guide to mounts and bases at http://www.tacticalscope.co.uk/blog/?p=50 We can also help with adapter bases for rifles such as Crosman, Ruger, Remington, Howa, Weatherby etc
| | |
| --- | --- |
| Brand | Sig Sauer |
| Code | NW1426 |
| Weight | 1.5kg |
| MPN | SOT46001 |
| EAN | 798681521005 |