Sportsmatch ATP66 Elevation, Windage and Height Adjustable, 9-11mm dovetail Rifle Scope mount Rings
Out of stock
You will earn
94
loyalty points with this purchase
Ideal for long range shooting with high powered air rifles / rifles. Adjustable for elevation, windage and height.
30mm Diameter Body Tube

9-11mm dovetail airgun/rimfire type bases

Adjustable Extra High profile - Height adjustable saddle from 25-27.5mm

Elevation MOA adjustable upto 75 MOA

Lateral windage adjusts 40mm at 25m per 1/4 adjust screw turn. Perfect for dovetail centering

Suit scopes from 50mm to over 60mm lens (see clearance guide below)

Does not include arrestor pin
Locking screws include a anti vibration coating which locate into a hardened steel spigot to ensure no loss of zero. Absorbs even the hardest recoil. Development tested on a 25lb/ft springer shoulder buster.
With this mount, the scope can be virtually zeroed by adjusting the mounts alone, and only using the scope's own turrets to fine tweak at the end of the process.

This means that the optics can be 'centred' , which sees the turrets set to their mid point of adjustment, prior to the mounts being used to zero the impact point.

By centring the optics, the scopes internal mechanism is under minimal stress, rather than being wound too far in one direction.

A further benefit of this mount concerns the classic air rifle zeroing scenario where the scope has run out of adjustment on the turrets (usually too low), yet the impact point is still several inches from zero. Barrel droop can be a common problem, which leads to this predicament, as can scopes that simply have too limited a range of internal adjustment; requiring a near perfect set-up on the rifles action, to allow the zero to be set at all.

A crude 'fix' is to "shim" where you pack the rear mounts with a small layer of film negative, foil or plastic; this can work but is not at all ideal, as it can put stress on the scope body.

2 PIECE ADJUSTABLE
A = 25-27.5mm saddle (Height from where the ring base touches rail to bottom of scope ring)
B = 21mm long
Weight = 120g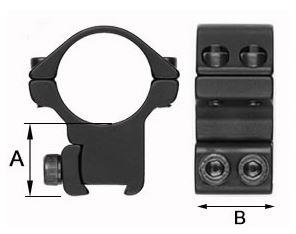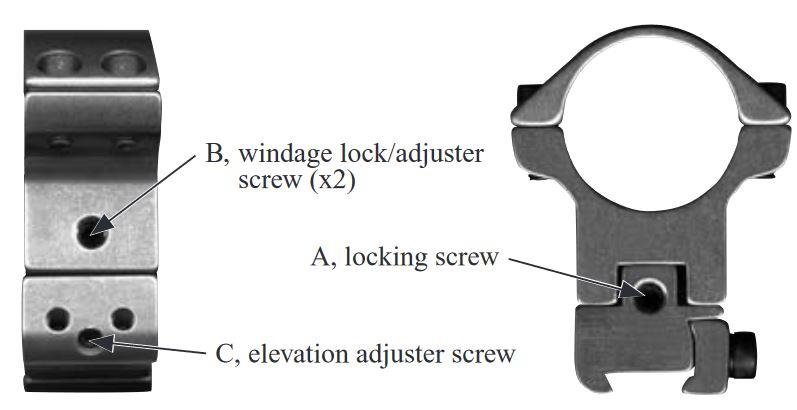 Each mount has a movable top half which can be adjusted within its base. The mounts are locked onto the guns rails, and the locking screws must then be slackened on BOTH mounts, to allow for slight movement of both when one is adjusted. The scope can then be gently set into position.

Elevation can be adjusted via a small screw in the foot of the (rear) mount, using a special ball-headed Allen key - so shaped as to allow for easier access into awkward areas. This elevation adjustment in the mount is apparently a unique feature; along with the fact that the scope sight line height can effectively be set as previously stated, when both mounts are simultaneously raised.

Windage is adjusted via the same slackening process, followed by the side screws. Once the zero is close (say within an inch, fine adjustment can obviously be set with the scope turrets if you prefer.
Clearance guide
The way you calculate the clearance is by halving the overall OUTSIDE diameter of your rifle scopes objective lens and then deducting half the rifle scopes body tube diameter.

For scopes with a 30mm diameter body tube diameter this would mean deducting 15mm.

Note we say OUTSIDE diameter - this means NOT the lens diameter, you need to measure the whole outer casing diameter.

The result gives you the minimum "saddle" dimension required - the measure from base of mount to bottom of the ring.

The amount the saddle dimension is greater than the figure you have calculated is the amount of clearance your scopes objective will be clear of your rifles body.

The saddle on these mounts is 25mm at lowest adjustment

Example -
A 60mm objective lens scope is measured and found to have an outer case measurement of 70mm.

70 divided by 2 = 35

30mm tube scope so deduct 15mm = 20mm

So the mount must have a measure (bottom of mount to bottom of the ring) greater than 20mm or else it will ground out on the rifle body.
So in this example, we have 25mm to use, so have a minimum clearance of 5mm
Calculating your rifle scopes clearance in this way assumes the base is a regular flat base. Some rifles with high or adjustable cheek pieces may require higher scope mounts or risers so that your eye is in line with the rifle scope and your head is kept in an upright comfortable position.
| | |
| --- | --- |
| Brand | Sportsmatch |
| Code | NW1931 |
| Weight | 0.16kg |
| MPN | ATP66 |
| Height | 25mm-27.5mm saddle |