Vortex Strike Eagle 30mm 1-8x24 Rifle Scope Etched IR AR BDC2 Reticle SE‐1824‐1
10 inches / 254mm
You will earn
424
loyalty points with this purchase
Vortex Strike Eagle 30mm 1-8x24 Rifle Scope - Glass Etched Illuminated AR BDC2 Reticle - SE‐1824‐1
Superb dual use for Shooting Tactical / Hunting scope - excellent CQB, dense brush and driven hunt scope
Video

- http://www.vortexoptics.com/video/strike_eagle_1-8_riflescope

Optimize the versatility, functionality and quick-handling attributes of your AR-15 with the Strike Eagle 1-8x24. (also suits other rifles and calibers)

A true 1X on the low end of its 8X zoom range, the Strike Eagle 1-8x24 intrinsically adapts to a wide range of scenarios, letting shooters engage targets from point-blank out to extended ranges.

Driven hunts, big game, dense brush, CQB competition, recreational shooting, pest "removal" and any task between, this scope is up for whatever you want to throw at it.

High quality, fully multi-coated lenses serve up a sharp image, impressive sight picture and optimal low-light performance. The illuminated, glass-etched BDC reticle subtends with popular .556 cartridges.

Center target dot with surrounding halo promotes instinctually fast target acquisition and shot execution.

Optical Features

Fully Multi-Coated
Increases light transmission with multiple anti-reflective coatings on all air-to-glass surfaces.

Second Focal Plane Reticle
Scale of reticle maintains the same ideally-sized appearance. Listed reticle subtensions used for estimating range, holdover and wind drift correction are accurate at the highest magnification.

Glass-etched Reticle
Protected between two layers of glass for optimum durability and reliability.
Glass etched give a superior crisp, fine view

Cannot be broken by any recoil

Zero internal light reflection when illumination in use
Illuminated Reticle
Provides precise aiming under low-light conditions. 11 Levels

Illumination comes into its own when shooting targets that are either naturally dark or made dark by light conditions such as shadow, dawn dusk, very bright light or night shooting with lamps or night vision kit.

Without Illumination a black reticle can be very hard to make out against the target. Illumination fixes this problem and gives immediate contrast. Adjust intensity according to the light conditions.

The Vortex AR-BDC2 Reticle
Facilitates rapid shooting at distances from 20 to 600 yards with popular .223/5.56mm and .308/7.62mm loads.

This versatile reticle provides bullet drop compensation holdover points at 100 yard increments as well as 5 and 10 mph cross wind hold reference points.

This versatile reticle can also be used effectively with a wide variety of other firearms and loads using the Precision BDC Technique outlined in the manual.

Reticle manual download at http://www.vortexoptics.com/uploads/man_reticle_ar-bdc2-web.pdf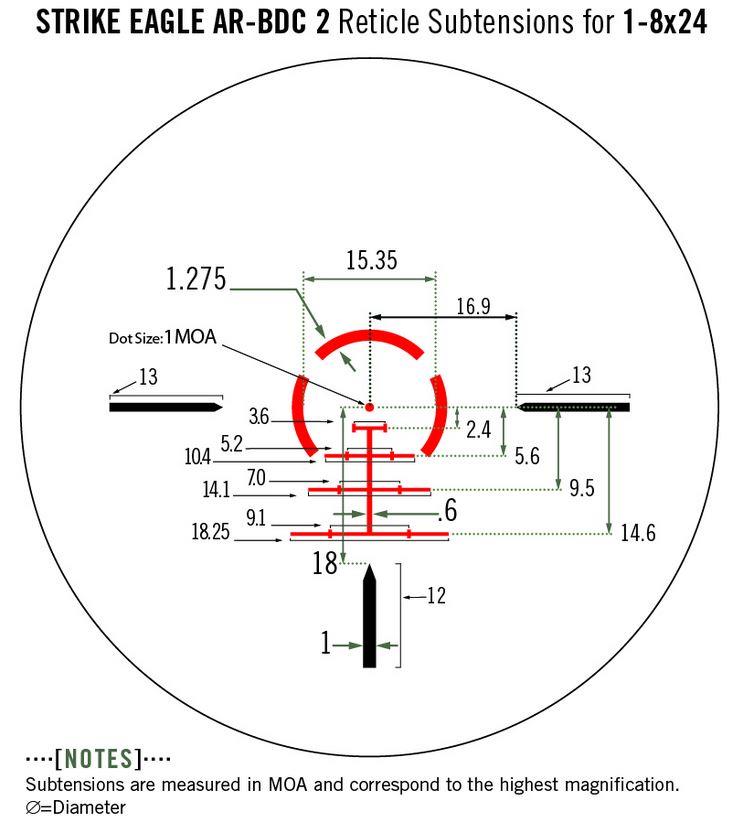 Key Construction Features
Tube Size: 30 mm diameter.

Single-Piece Tube: Maximizes alignment for improved accuracy and optimum visual performance, as well as ensures strength and waterproofness.

Aircraft-Grade Aluminum: Constructed from a solid block of aircraft-grade aluminum for strength and rigidity.

Waterproof: O-ring seals prevent moisture, dust and debris from penetrating the riflescope for reliable performance in all environments.

Fogproof: Nitrogen gas purging prevents internal fogging over a wide range of temperatures.

Shockproof: Rugged construction withstands recoil and impact.

Hard Anodized Finish: Highly durable low-glare matte finish helps camouflage the shooter's position.

Capped Reset Turrets: Allow re-indexing of the turret to zero after sighting in the riflescope. Caps provide external protection for turret.
Convenience Features
Fast Focus Eyepiece - Allows quick and easy reticle focusing.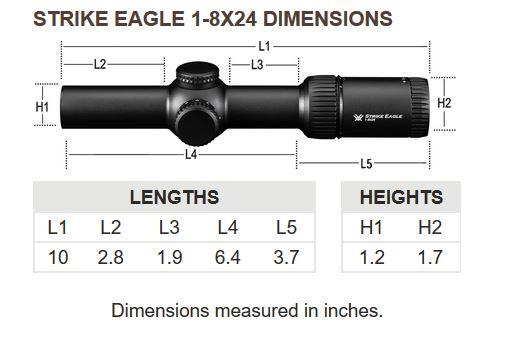 Technical Summary
Magnification: 1-8 x

Objective Lens Diameter: 24 mm

Eye Relief: 3.5 inches / 90mm

Field of View: 116.5-14.4 feet/100 yards

Tube Size: 30 mm

Turret Style: Capped

Adjustment Graduation: 1/2 MOA

Travel per Rotation: 44 MOA

Max Elevation Adjustment: 100 MOA

Max Windage Adjustment: 100 MOA

Parallax Setting: 100 yards/90m

Length: 10 inches / 254mm

Weight: 16.5 ounces / 462 grams
Important Technical Details - expanded
The clicks are scaled in ½ minute of angle measurements (MOAs) so each small click will move the point of impact ½ MOA.

½ MOA equals .53 inches for each 100 yards of distance (14.55 mm at 100 meters).

1 MOA (2 clicks) equals:
1.05 inches at 100 yards (29.1 mm at 100 meters)

2.1 inches at 200 yards (58.2 mm at 200 meters)

3.15 inches at 300 yards (87.3 mm at 300 meters)

4.2 inches at 400 yards (116.4 mm at 400 meters), etc.
Example: At a 50-yard sight-in distance, it will take ten clicks to move a bullet's point-of-impact 2.65 inches

Parallax Adjustment
The Strike Eagle 1-8x24 rifle scope is non-adjustable for parallax correction and is set from the factory to be parallax-free at 100 yards (90 meters).

When shooting at distances other than 100 yards, using good consistent shooting form and cheek weld will prevent most problems with parallax

VIP Warranty -
http://www.vortexoptics.com/content/vip_warranty

VIP stands for a Very Important Promise to you, our customer. We will repair or replace your Vortex product in the event it becomes damaged or defective - at no charge to you. If we cannot repair your product, we will replace it with a product in perfect working order of equal or better physical condition.

It doesn't matter how it happened, whose fault it was, or where you purchased it. You can count on the VIP Warranty for all Vortex Optics riflescopes, prism scopes, red dots, rangefinders, binoculars, spotting scopes, tripods, and monoculars.
Unlimited Lifetime Warranty

Fully transferable

No warranty card to fill out

No receipt needed to hang on to
If you ever have a problem, no matter the cause, we promise to take care of you.

Note
The VIP Warranty does not cover loss, theft, deliberate damage or cosmetic damage that does not hinder the performance of the product.
| | |
| --- | --- |
| Brand | Vortex |
| Code | NW1515 |
| Weight | 0.85kg |
| MPN | SE‐1824‐1 |
| EAN | 875874008496 |