Vortex Viper Gen II 1-6x24 VMR-2 mrad 30mm Hunting Tactical Rifle Scope PST-1607 - Pre-owned
Out of stock
Was with a customer for 3 weeks, returned as not suited to application. Used a few times so has some small marks where mounts were & under turrets. Otherwise very good, a 9 out of 10 condition so selling off at 90% of regular price (679.95)
You will earn
599
loyalty points with this purchase
Vortex Viper Gen II 1-6x24 VMR-2 mrad reticle - 30mm tube - Tactical and Hunting Rifle Scope PST-1607
This updated favorite hands an unfair advantage to shooters who seek to keep the upper hand in every situation from close quarters to long-range shots.

The illumination dial is cleanly integrated into the side focus adjustment knob for easy access and streamlined performance.

The reticle offers shooters highly functional, intuitive, and detailed hold points, yet remains uncluttered for optimal viewing and features 10 intensity levels with off positions between each setting.

Note - Pre-owned scope
Was with a customer for 3 weeks, returned as not suited to application. Used a few times so has some small marks where mounts were & under turrets. Otherwise very good, a 9 out of 10 condition so selling off at 90% of regular price (679.95)
Review examples - See Vortx website for more
Got this yesterday and mounted it on a 14.5" AR. Mounted in a 1.93 MI mount to clear a DBAL. In short, this scope is amazing. The clarity is unreal, edge to edge. The 1x is true. The illumination is more than daylight bright. I had the PST 1-4 and this blows it out of the water. In comparison to the Razor HD GenII the only difference I could note is a slight bit of clarity difference at 400 yards and out. Other than that it is right on par. At the price point it is going to be a winner for Vortex, yet again. Outstanding.

I have been using the Viper Gen 2 1-6 for months now and I have been extremely satisfied. I have used it in close environments effectively (5-50 meters) and also effectively gotten hits at distance (1000 meters). I am really picky when it comes to reticles as I use them a lot. I like them simple, but you also need enough in the glass to do work and make quick calculations with out dialing. Vortex has done it with the Viper Gen 2. It weighs a little more than I would like, but the construction seems very robust. I smashed it against the ground (not intentionally) and turned around moments later to engage past 700 meters with pinpoint confidence. This scope is the best glass I have ever bought for the money. I prefer it even to the razor as it is lighter. Do not hesitate to purchase if you are on the fence. You will not be disappointed.

VMR-2 reticle (MRAD)
Hash-marked ranging reticle using MRAD based subtension lines for ranging, holdover, and windage corrections.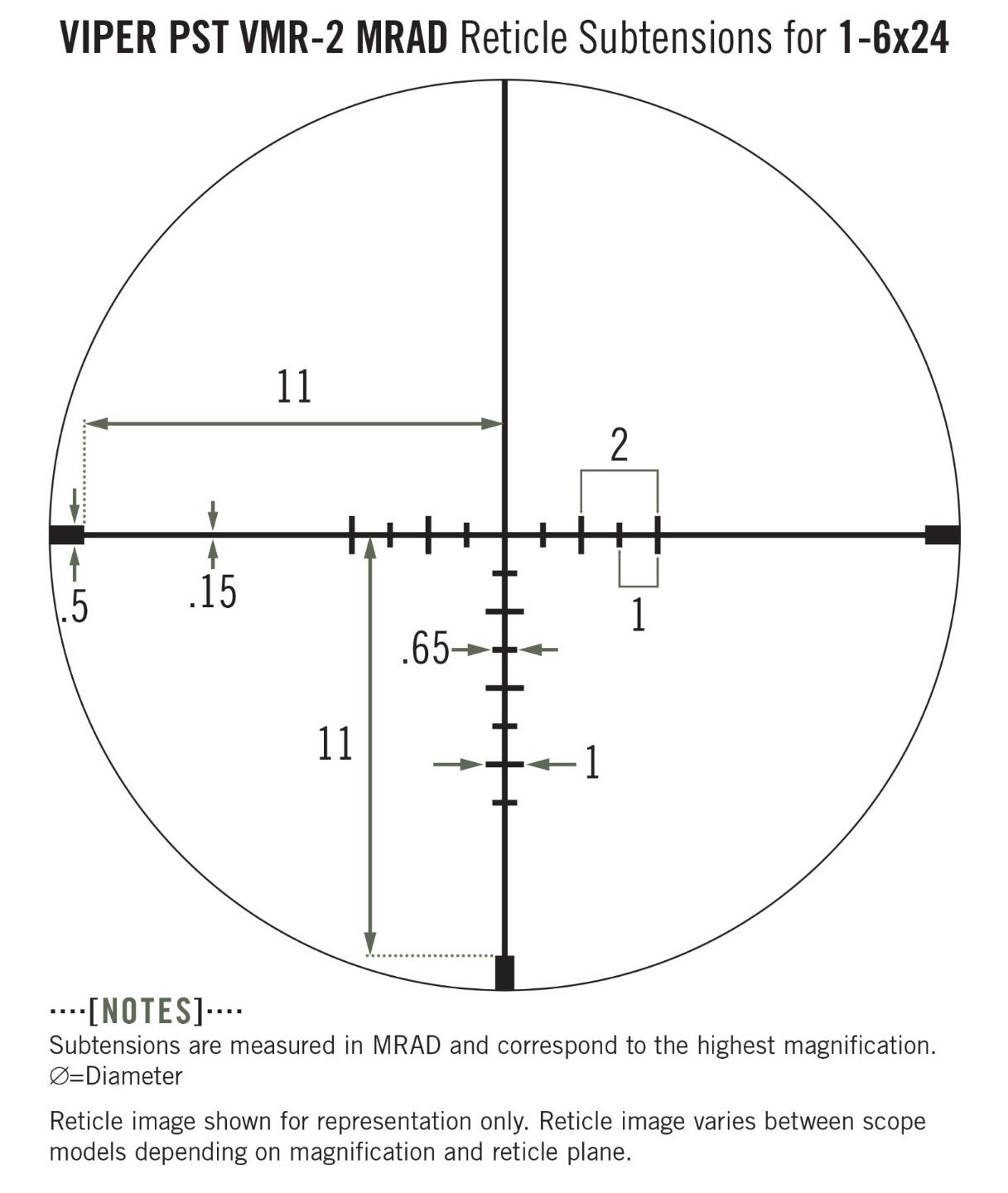 The VMR-2 MRAD reticle is based on the milliradian, or MRAD for short. MRAD unit of arc measurements are based on the radian. A radian is the angle subtended at the center of a circle by an arc that is equal in length to the radius of the circle. There are 6.283 radians in a circle and 1000 milliradians in a radian for a total of 6,283 milliradians (MRADs) in a circle. An MRAD will subtend 3.6 inches at a distance of 100 yards (10 cm at a 100 meters). Most riflescopes with MRAD adjustments use .2 MRAD clicks which subtend .72 inches at 100 yards (2 cm at a 100
meters).
Second Focal Plane Reticles
Second focal plane reticles are located near the scope's eyepiece behind the image erecting and magnifying lenses. This style of reticle does not visually change in size when you change the magnification. The advantage of an SFP reticle is that it always maintains the same ideally-sized appearance. When shooting with this SFP scope, be aware that the listed reticle subtensions used for estimating range, holdover, and wind drift correction are only accurate at the highest magnification
Optical Features

XD™ Lens Elements

Extra-low dispersion (XD) glass increases resolution and color fidelity, resulting in crisp, sharp images.




XR™ Fully Multi-Coated

Proprietary coatings increase light transmission with multiple anti-reflective coatings on all air-to-glass surfaces.




Second Focal Plane Reticle

Scale of reticle maintains the same ideally-sized appearance. Listed reticle subtensions used for estimating range, holdover and wind drift correction are accurate at the highest magnification




Illuminated Reticle

Provides precise aiming under low-light conditions.
Construction Features

Tube Size

30 mm diameter.




Single-Piece Tube

Maximizes alignment for improved accuracy and optimum visual performance, as well as ensures strength and waterproofness.




Aircraft-Grade Aluminum

Constructed from a solid block of aircraft-grade aluminum for strength and rigidity.




Waterproof

O-ring seals prevent moisture, dust and debris from penetrating the riflescope for reliable performance in all environments.




Fogproof

Argon gas purging prevents internal fogging over a wide range of temperatures
.

Shockproof

Rugged construction withstands recoil and impact.




Hard Anodized Finish




Highly durable low-glare matte finish helps camouflage the shooter's position.

ArmorTek

Ultra-hard, scratch-resistant coating protects exterior lenses from scratches, oil and dirt.



Internal Mechanism Design Features

Precision-Force Spring System




Uses premium components in the erector-spring system to ensure maximum repeatability and ease of adjustment.

Precision-Glide Erector System

Uses premium components in the zoom lens mechanism to ensure smooth magnification changes under the harshest conditions.



Convenience Features

Fast Focus Eyepiece




Allows quick and easy reticle focusing.

Built-In Accuracy Features

Matching (MRAD or MOA) turrets and reticles facilitate fast and accurate shooting at extended ranges. The patented fiber optic Radius Bar visually assists tracking turret rotations. US Patent 7,937,879
Specs
Magnification: 1-6x

Objective Lens Diameter: 32mm

Eye Relief: 3.8 in - 87mm

Field of View:

112.5-18.8 feet/100 yards

Tube Size: 30 mm

Turret Style: Tactical RZR Zero Stop

Adjustment Graduation: .2 MRAD

Travel per Rotation: 20 MRAD

Max Elevation Adjustment: 46 MRAD

Max Windage Adjustment; 46 MRAD

Parallax Setting: 100 yards

Length:

10.9 inches - 276mm

Weight:

22.7 - 635 grams

Product and Reticle use manuals available on Vortex website
In the box
CR2032 battery

Lens cloth
Does not include -
Flip up lens caps - get Vortex Eye 10 and Objective 24

Mount rings - Requires 30mm tube rings, in most cases, low or extra low profile, to match rifle base. Please ask if unsure or see the Vortex website Q&A section for this scope where this question is asked answered quite a lot for different types of rifle.
| | |
| --- | --- |
| Brand | Vortex |
| Code | NW1597-A |
| Weight | 0.9kg |