Schmidt & Bender and Zeiss
Zeiss Terra 2-7x32 Z-Plex Ret 20 Reticle Hunting Stalking Rifle Scope 522721
Out of stock
You will earn
329
loyalty points with this purchase
Simple and rugged – thats TERRA® from ZEISS in a nutshell. Experience the legendary ZEISS quality in a form focused on the essentials: ease of use, sturdiness and a functional design make the riflescopes of the ZEISS TERRA line an ideal doorway to the world of ZEISS.

This model the 2-7x32 is, has the name suggests:
2-7x magnification range

32mm objective lens.

1 inch / 25.4mm main tube

It is a fixed parallax scope (100 yards)
It is ideal for driven hunts, stalking and to a slightly lesser extent safari type hunts.

ZEISS TERRA riflescopes stand for maximum robustness and ease of use. The 3X models are perfectly at home in rough conditions on all rimfire and centerfire calibers

They combine proven optics and technology with a robust and functional design.

Typical of the ZEISS TERRA 3X models are the one inch centre tube diameter used in the USA and the ¼ MOA click adjustment.

ZEISS TERRA 3X riflescopes are excellent value for money and your perfect doorway to the world of ZEISS.

Precise
The click adjustment of the reticle corresponds to 0.7 cm per click at 100 m. This is referred to as 1/4 MOA.

Essential
In the ZEISS TERRA line, focusing on the essentials means easy and reliable operation.

Robust
The compact design and robust construction are a result of the one inch centre tube diameter of the TERRA riflescopes from ZEISS. 1 inch corresponds to 25.4 mm.

Proven
ZEISS TERRA optics deliver detailed, high-contrast images.

Z-Plex Reticle 20 - non-illuminated
The fine Reticle 20 sits in the 2nd image plane. It therefore offers particularly precise aiming for long-range shooting in daylight.

With the 20, the posts are in the shape of arrows pointing to the fine lines in the middle. This makes it possible to aim with great precision at particularly small targets.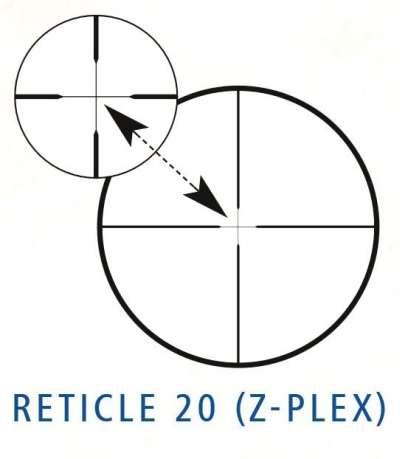 Magnification: 2.3-7 x

Effective Lens Diameter: 24.4-32 mm

Exit Pupil Diameter: 12.2-4.6 mm

Twilight Factors: 6.5-15

Field of View at 100m: 15.5-4.5 m

Subjective Viewing Angle: 8.7- 2.5°

Diopter Adjustment Range: -2.5 2.5 dpt

Eye Relief: 90 mm

Parallax-Free: 100yds 91m

Adjustment Square at 100m: 180 cm

Adjustment per Click at 100m: 0.7 cm

Tube Diameter: 25.4 mm

Eye Piece Tube Diameter : 41 mm

Objective Tube Diameter: 39.5 mm

LotuTec: No

Nitrogen Filling: yes

Water Resistance: 400 mbar

Functional Temperature in °C: -25 50 °C

Length: 292 mm / 11.5"

Weight: 375 grams / 13.4oz
| | |
| --- | --- |
| Brand | Zeiss |
| Code | NW1677 |
| Weight | 1kg |