Leapers UTG Pro POI 1" MEDIUM 9-11mm Dovetail Rifle Scope Mount Rings 15mm base to ring RDU012515
15mm base to ring bottom - 28mm base to ring center height to fit 1" tube optics with up to a 55mm outer objective diameter
You will earn
53
loyalty points with this purchase
Leapers UTG Pro 9-11mm Dovetail 1"/25mm tube, Medium height, POI Rifle Scope Mount Rings (Pair) 15mm base-ring saddle measure - RDU012515
Medium profile precision optics interface (P.O.Ii®) scope rings have a 15mm base to ring bottom - 28mm base to ring center height to fit 1" tube optics with up to a 55mm outer objective diameter
Material: Aluminum

Weight: 2.5 oz/70 grams per ring

Pieces: 2
Rail Type: Dovetail (9-11mm Airgun/Rimfire) Please ask if unsure on base fit or correct height for your scope.
Profile Level: Medium

Ring Diameter: 1 Inch/25.4mm

Ring Width: 22 mm

Max. Scope Outer Dia.: 55 mm

Screws Per Ring: 4
The innovative precision optics interface (P.O.Ii®) addresses 3 of the most critical areas in scope rings

A) Progressively machined and precise inner diameter to achieve a seamless interface between the scope ring and tube

B) Torx screw locking side plate controlled by dual spring loaded guide rods precisely clenches dovetail rail for a secure and repeatable zero hold

C) Removable threaded recoil stop-pin provides an additional interface point with the dovetail rail for added security against bidirectional recoil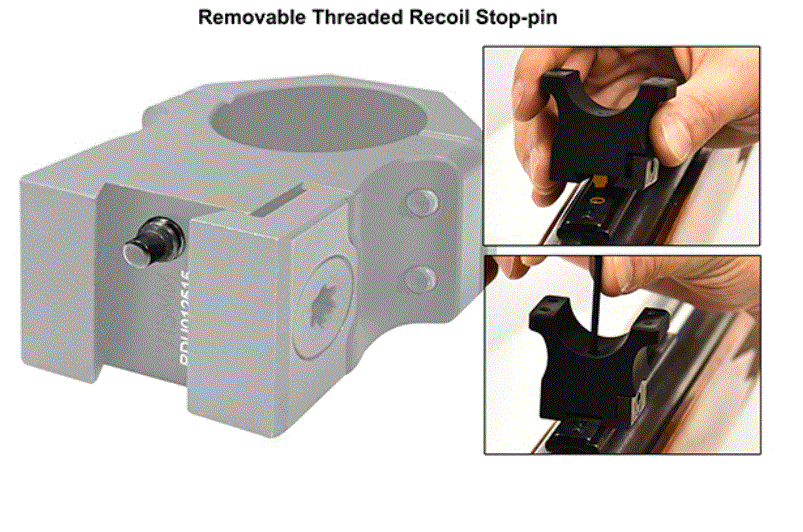 Original snag-free contoured profile with reduced weight and size

6061-T6 aircraft aluminum and steel construction with a matte black finish

2 piece ring set, each equipped with 4 top Torx screws, mounts onto most dovetail rails

Proudly Designed and Made in USA

NOTE: We recommend to tighten the ring top screws with a torque value of about 25 inch-lb and the side plate screw with torque value of about 45 inch-lb.
Scope size fitting considerations:

Suit scopes with outer objective casing diameter maximum size 55mm - That equals "about" a maximum 44mm lens size depending on the scope. If unsure please check measures before you order and see Clearance Guide below to learn how to assess if they are the right height for you and if so how much clearance you will have over the base
The Leapers stated measure is 55mm but that refers to the OUTER diameter of the lens where you must take the lens casing and, if you have them, things like flip up caps into account. If in doubt go up a size to high profile or ask me if unsure.

Calculating scope to rifle body clearance
The way you calculate the clearance is by halving the overall OUTSIDE diameter of your rifle scopes objective lens and then deducting half the rifle scopes body tube diameter.

For scopes with a 1 inch diameter body tube this means deducting 12.5mm.

Note we say OUTSIDE diameter - this means NOT the lens diameter, you need to measure the whole outer casing diameter.

The result gives you the minimum "saddle" dimension required - the measure from base of mount to bottom of the ring = the 15mm saddle.

The amount the saddle dimension is greater than the figure you have calculated is the amount of clearance your scopes objective will be clear of your rifles body. The saddle on these mounts is 15mm

Example -
A scope has an outer case measurement of 52mm

52 divided by 2 = 26mm.

1 inch tube scope so deduct 12.5mm from 26mm = 13.5mm

So the mount must have a saddle measure (base of mount to bottom of the ring) greater than 13.5mm or else it will ground out on the rifle body.

So in this case with a saddle of 15mm you will get 1.5mm clearance, a really nice fit.
Calculating your rifle scopes clearance in this way does assume your base is not raised above or below your rifles barrel. Many weaver bases are raised to some degree which may well affect the sizing consideration.

Note some rifles with high or adjustable cheek pieces may require higher scope mounts or risers so that your eye is in line with the rifle scope and your head is kept in an upright comfortable position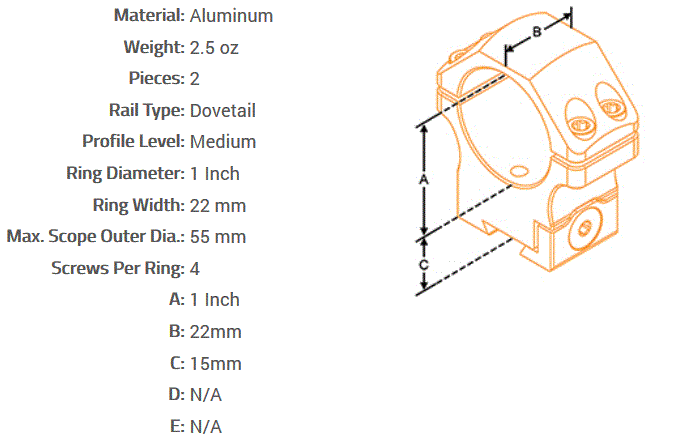 | | |
| --- | --- |
| Brand | Leapers UTG |
| Code | NW1688 |
| Weight | 0.2kg |