Vortex Viper 6.5‐20x50 Side Focus Parallax Mil Dot Hunting 30mm Rifle Scope - VPR-M-06MD
You will earn
399
loyalty points with this purchase
Vortex Viper 6.5‐20x50 PA Side Focus Parallax Mil Dot Hunting 30mm Rifle Scope - VPR-M-06MD

Effortlessly shrugging off recoil, moisture and darkness!


The Vortex Viper's status as a premium riflescope won't be as easy to shake. Discover a riflescope with incredible performance features like premium, fully multi-coated optics with 95 percent light transmission, heavy duty

Precision Force spring systems and the glass smooth Precision Glide erector system—delivering all this and more at a price that should have pulled a few more hundreds from your wallet than it did.
6.5-20x50 riflescope is ideal for tactical, long range, predator/varmint, and target applications.

Mil Dot reticle is useful for helping estimate range, windage and bullet hold-over.

Good for long distance shooters and hunters who need the ranging ability.

The Mil Dot subtensions are accurate at 14x.
Side turret parallax adjust allows quick and easy parallax adjustments with range numbers visible while in the shooting position.

30mm main tube offers improved windage and elevation adjustment along with greater strength.

Tall capped turrets allow quick and easy field adjustments.

Extra info links
Product with video and reviews and manuals for product and reticle

Sample review
Best Scope at an unbeatable price

I have the Viper 6.5-20x50 PA on my Remington SPS .300Rum with a 20MOA rail and rings. I use Barnes VOR-TX 300 Remington Ultra Magnum 180 Grain TTSX Polymer Tipped Spitzer factory ammo "until I start reloading". With this setup I have had phenomenal success down range. I have set this scope up with no issue shooting great groups with no scope adjustments after sight in. I don't have the upgraded turret system but I will shortly. I use this gun for hunting ELK and a little long range action. I am a second focal plane scope guy so this thing when shooting short or long range works for me! I will be trying a Viper PST next for my bench gun.

Wish
Nothing i love all of my Vortex Opt

Product Likes:
brightness,durable,features,precision,versatility,waterproof,easy adjustment,VIP warranty,fog proof

Optical Features

XD Lens Elements
Extra-low dispersion (XD) glass increases resolution and color fidelity, resulting in crisp, sharp images.

XR Fully Multi-Coated
Proprietary coatings increase light transmission with multiple anti-reflective coatings on all air-to-glass surfaces.

Second Focal Plane Mil Dot Reticle
Scale of reticle maintains the same ideally-sized appearance. Listed reticle subtensions used for estimating range, holdover and wind drift correction are accurate at a magnification of 14x.




Construction Features
Tube Size: 30 mm diameter.

Single-Piece Tube: Maximizes alignment for improved accuracy and optimum visual performance, as well as ensures strength and waterproofness.

Aircraft-Grade Aluminum: Constructed from a solid block of aircraft-grade aluminum for strength and rigidity.

Waterproof: O-ring seals prevent moisture, dust and debris from penetrating the riflescope for reliable performance in all environments.

Fogproof: Argon gas purging prevents internal fogging over a wide range of temperatures.

Shockproof: Rugged construction withstands recoil and impact.
Hard Anodized Finish: Highly durable low-glare matte finish helps camouflage the shooter's position.

ArmorTek: Ultra-hard, scratch-resistant coating protects exterior lenses from scratches, oil and dirt.
Capped Reset Turrets: Allow quick re-indexing of the turret (no tool needed) to zero after sighting in the riflescope. Caps provide external protection for turret.
Side Focus: Adjustment located on riflescope's left side and is easily accessible from shooting position. Provides optimal image focus and parallax removal.
Internal Mechanism Design Features
Precision-Force Spring System: Uses premium components in the erector-spring system to ensure maximum repeatability and ease of adjustment.

Precision-Glide Erector System: Uses premium components in the zoom lens mechanism to ensure smooth magnification changes under the harshest conditions.
Convenience Features
MAG-Bar: Allows rapid, easy changes in magnification.

Fast Focus Eyepiece: Allows quick and easy reticle focusing.
Accessories
Removable lens covers
Lens cloth

Warranty - Lifetime
https://vortexoptics.com/vip-warranty

Technical summary
Magnification: 6.5-20 x

Objective Lens Diameter: 50 mm

Eye Relief; 3.1 inches

Field of View: 17.4-6.2 feet/100 yards

Tube Size: 30 mm

Turret Style: Tall capped

Adjustment Graduation: 1/4 MOA

Travel per Rotation: 12 MOA

Max Windage and Elevation Adjustment: 65 MOA

Parallax Setting: 50 yards to Infinity

Length: 14.4 inches /354mm

Weight: 21.6 ounces / 604 grams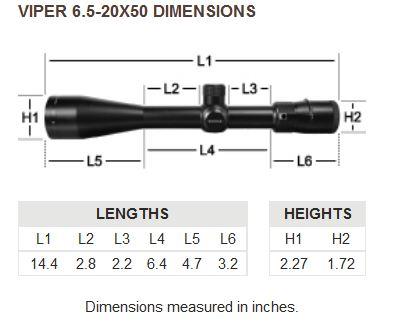 Side focus parallax adjustment
Parallax effect is the term that describes the difference in angles between objects that are seen up close and those seen far away. When you look at telephone poles passing by on the side of the road, those closest to your car seem to pass very fast, while the ones far away seem to go very slow. That difference is due to the parallax effect.
The reticle in your scope is like a telephone pole that's very close. If you move your head on the stock while watching the target through the scope the reticle may seem to move, wobble or blur against the target. That affects where you perceive the aim point to be, and that affects your accuracy. Parallax focus correction adjustment reduces this phenomenon to the greatest extent possible.
Parallax focus correction therefore is a must for anyone attempting to use either a high magnification scope, shooting drastically different yardages with the same scope or anyone attempting to shoot at extremely close ranges or extremely long ranges. Especially so if it is a combination of these factors.
This scope features Parallax focus correction by way of the side focus (SF) turret
| | |
| --- | --- |
| Brand | Vortex |
| Code | NW1438 |
| Weight | 1.1kg |
| MPN | VPR‐M‐06MD |
| EAN | 875874001848 |