ATN 4K PRO X-Sight 3-14x Ultra Digital Night Vision Day Scope DGWSXS3144KP
Out of stock
Now with Free Ignite X20 IR torch
You will earn
834
loyalty points with this purchase
ATN 4K PRO X-Sight 3-14x Ultra Digital Night Vision Day Scope DGWSXS3144KP
SPECIAL OFFER EXTRA POWER IR ILLUMINATOR, THE IGNITE X20 IR850nm THAT WILL SIGNIFICANTLY IMPROVE YOUR NV VIEW UPTO 400m
Outside United Kingdom buyers please READ - There are special UK export rules for sales of scopes with digital image processing. You are very welcome to buy but we might have to get an export permit before the product can be shipped. Please read this page BEFORE buying (opens in new window)
ULTRA HD SENSOR WITH ULTRA HD OPTICS
Enhanced HD Night Vision Mode. Don't let the darkness slow you down.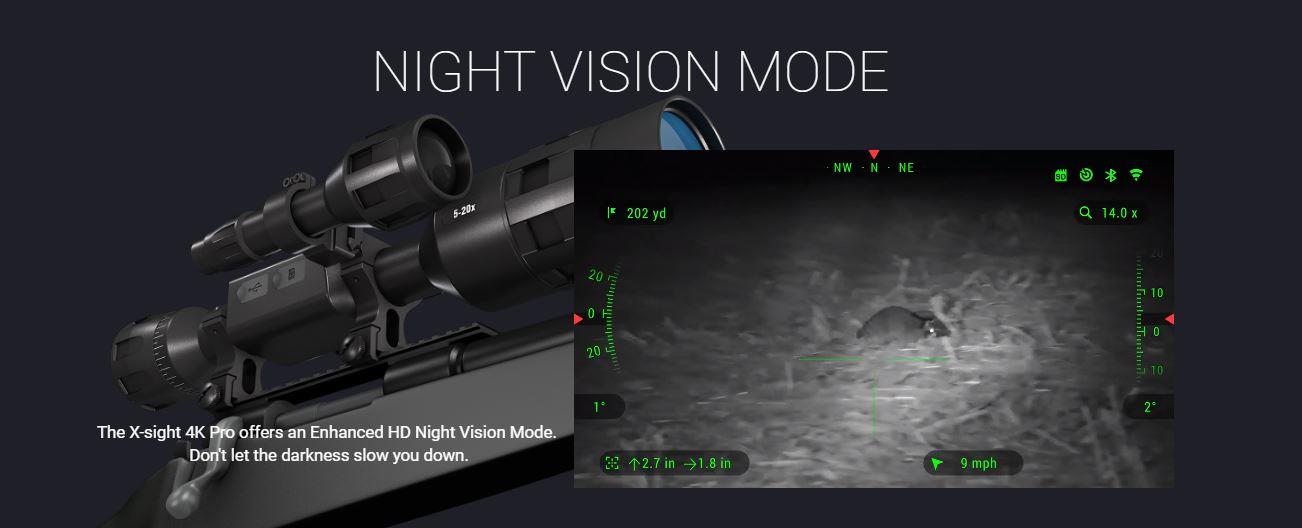 VIDEO RECORD
Don't miss another opportunity to capture that once in a lifetime moment. Record your Hunting Adventures in Full HD and take photos to bring adventures back home to share with friends, family and on social media.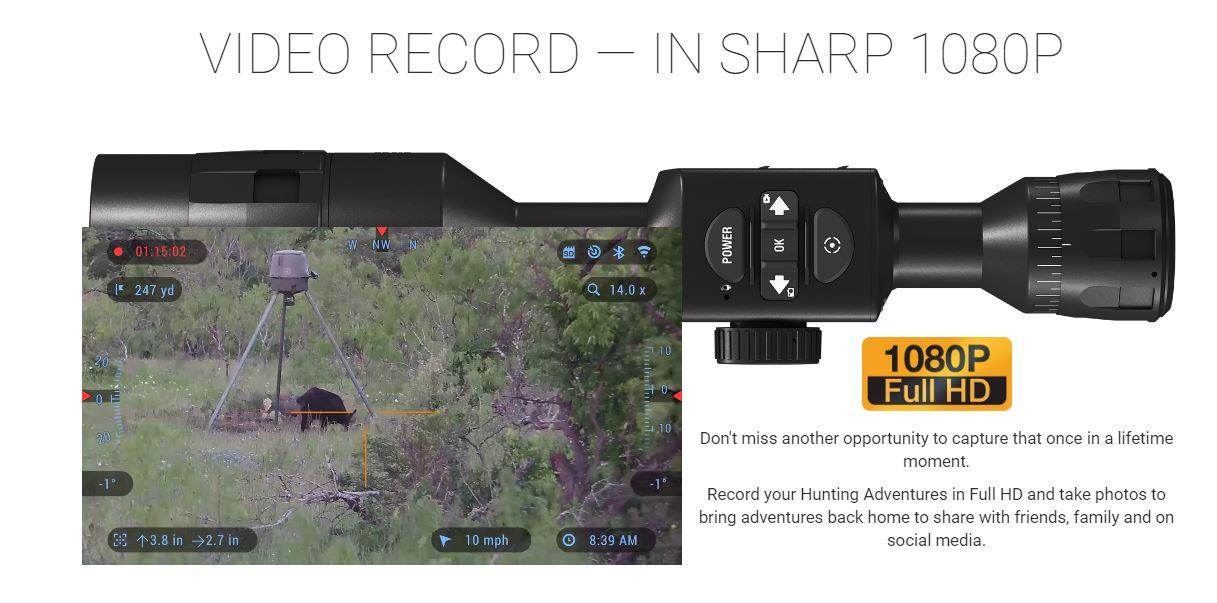 EASY TO MOUNT — EASY TO USE
New controls Spin to Zoom Wheel – what could be more Natural. While the new Tactile Buttons let you feel every click for optimal control. Included: 1. Standard ring 2. Ring with Picatinny rail 3. L-shape ring Classical Ergonomics 21st Century Technology designed to make your Shooting Experience easy and familiar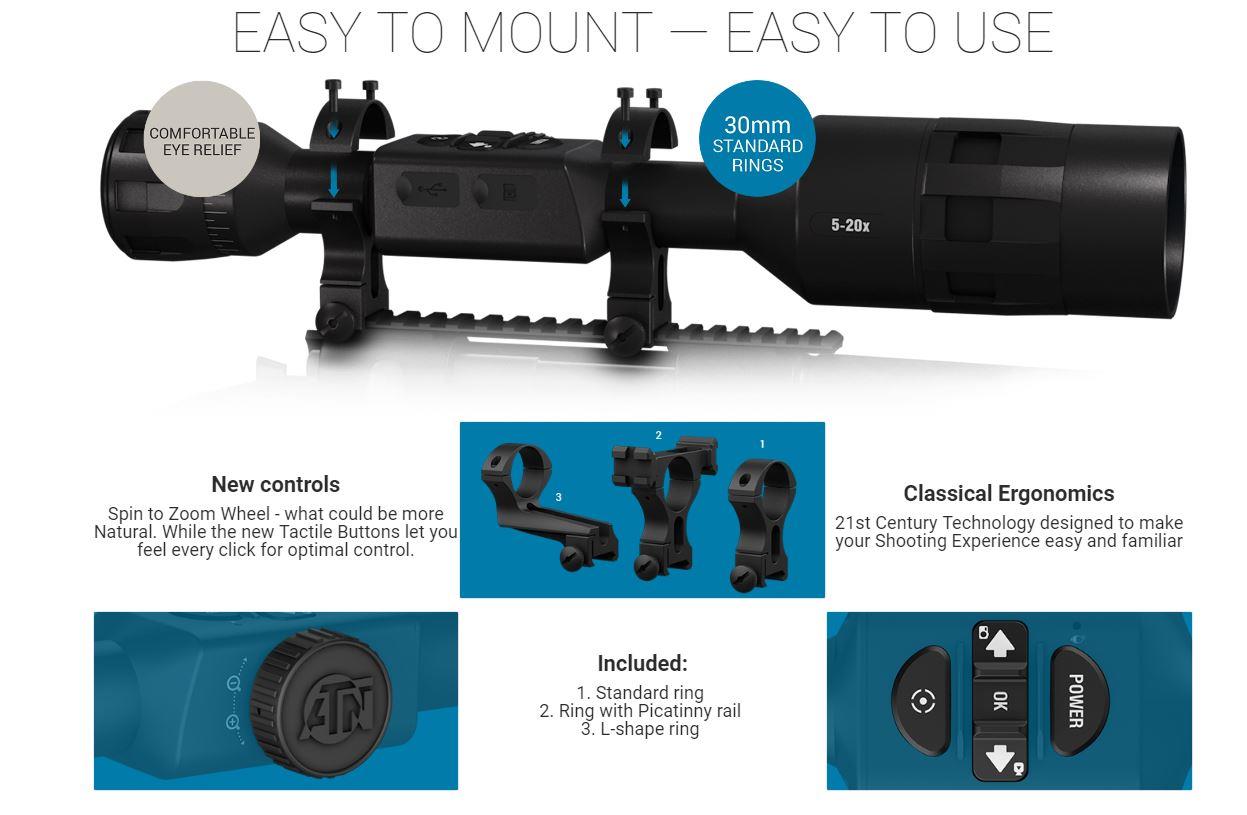 ONE SHOT ZERO - Brilliant
Sighting in has never been easier with One Shot Zero. Take a shot adjust your reticle and you are good to go.

SMART RANGE FINDER
Take two easy readings of your target and the scope will not only range in on your prey but adjust your reticle's Point of Impact instantaneously.

BALLISTIC CALCULATOR
Hunt responsibly by making sure your shot hits the target Each and Every time. Range, Wind, Multiple-Weapon Profiles, Angle to target, Temperature, Humidity, more…

PROFILES - Can be set to different rifle profiles, for example:
Rifle Type 223 Remington Drag Function G1 Ballistic Coefficient 0.371 Bullet Weight 55 gr Initial Velocity 2850 fps Zero Range 100 yd Sight Height 2.5 in Shooting Angle -2°

ENVIRONMENT
Get in tune with the environment to ensure you make that shot. For example: Relative Humidity 85% Wind Speed 12 mph Wind Direction -45° Temperature 59°F Barometric Pressure 29.92 hg Altitude 1800 ft

DUAL STREAM VIDEO
Obsidian 4 within the ATN 4K PRO X-Sight 3-14x not only Streams Video at HD resolution but can simultaneously Record to the SD card inside. AT THE SAME TIME!

Never miss that Excellent Hunting Moment. Turn on RAV and let the X-Sight Record directly to your SD card. Recoil Activated Video (RAV) takes care of all your worries. Just relax and focus on your game and let the Obsidian Core do the heavy lifting.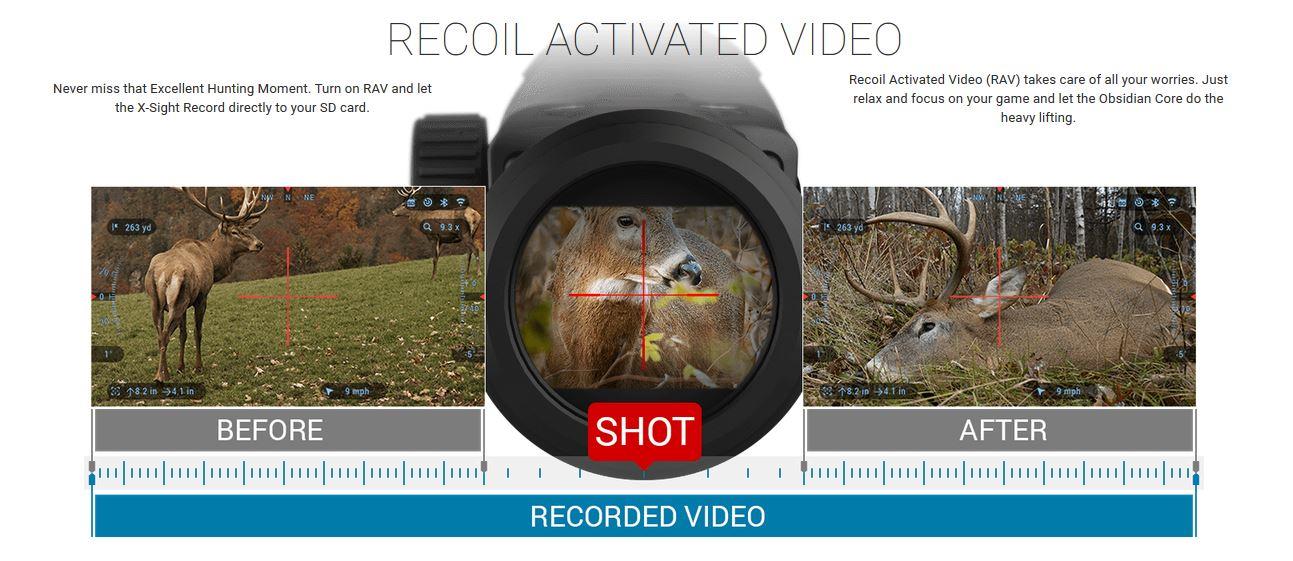 ULTRA LOW POWER CONSUMPTION
Our new Dual Core Processor not only runs fast but runs cool. 1st ever digital scope with over 18hrs of continuous battery power. 18+ HOURS OF

CONTINUOUS USE RECOIL RESISTANT
Designed to withstand the pressures of High Caliber weapons. The X-Sight 4K Pro is built out of Hardened Aluminium Alloy with Impact Resistant Electronics.
Technical Specification
Magnification 3-14x

Field of view at 1000 yds 460 ft (9°)

Sensor ATN 4K M265 Sensor, 3864 (H) x 2218 (V)

Core ATN Obsidian IV Dual Core

System Resolution 600 lp/mm

Micro Display 1280x720 HD Display

Eye relief 90 mm

Video Record Resolution 1080p @ 30/60/120** fps

Ballistic Calculator Yes

WiFi (Streaming, Gallery, & Controls) iOS & Android

Bluetooth Yes

3D Gyroscope Yes

3D Accelerometer Yes

E-Barometer Yes

Smart Range Finder Yes

RAV (Recoil Activated Video) Yes

Electronic Compass Yes

Smooth Zoom Yes

Night Vision Mode Yes

Reticles -

Multiple Patterns & Color Options

Microphone Yes

Micro SD card 4 to 256 Gb

Micro USB, type C Yes

Mount 30 mm Standard Rings and accessories are shown are included.

IR Illuminator Included

Battery life (Li-ion) 18 + hrs

Battery type Internal Lithium Ion Battery

Waterproof rating / IP rating Weather resistant

Dimensions (body only) 13.8"x3"x3" - 350x76x76 mm

Weight - 2.1 lb / 0.94 kg

Warranty - 2 years
Accessories included
Eyeclip

Sunshade

Standard rings

L shape ring

Ring with Picatinny rail

USB C cable

Scope cover

Lens tissue
Make sure you have the latest Firmware!

Due to ATN's advanced hardware,it is essential that you have the latest Firmware installed to ensure the maximum potential of any device that you own. This is a FREE process available to all registered owners that registered their device on the ATN website. This will ensure thatyou benefit from ATN's latest Firmware which will include the most up to date features and developments as they occur.

To download the firmware you must register on the manufacturer's website www.atncorp.comand select SMART HD FIRMWARE UPDATE

If you encounter any problems that cannot be fixed with a Firmware upgrade, please contact us for support contacts
| | |
| --- | --- |
| Brand | ATN |
| Code | NW2026 |
| Weight | 2.1kg |
| EAN | 658175115052 |
| MPN | DGWSXS3144KP |