BKL 463 1" scope tube Double Strap Dovetail Mount Rings for 14mm/BSA Maxigrip dovetail rails
Heavy duty 2pc double strap rings 14mm for tricky "just over 13mm" dovetailson older airguns + BSA Maxigrip as on BSA Lightning and some HWs
You will earn
43
loyalty points with this purchase
BKL 463 1" scope tube Double Strap Dovetail Mount Rings for 14mm dovetail rails
BKL Model 463s for 1" scope tubes are a heavy duty double strap set of rings designed for the target shooter who is looking for more dovetail clamping surface.

Designed to fit 14mm (0.55") dovetail rails, not many mounts that fit this width.

14mm is quite an unusual dovetail width, if unsure check that you have it as most airguns and rimfire bases are between 9-11mm. The 14mm are also good for those tricky "just over 13mm" dovetails often found on older airguns, BSA Maxigrip as on the BSA Lightning and HWs
Scope tube diameter: 1" (25mm)

Overall Length: 1" (25mm)

Clamp Length: 1" (25mm)

Ring Width: 1" (25mm)

Weight: 4.4 oz. (123g)
Bottom of Mount to bottom of Scope Tube: 0.774" - 19.5mm - i.e., they are a high profile mount best suited for scopes with 40-56mm objective lens

See Clearance guide below for specific fitting info

BKL - A superior mount ring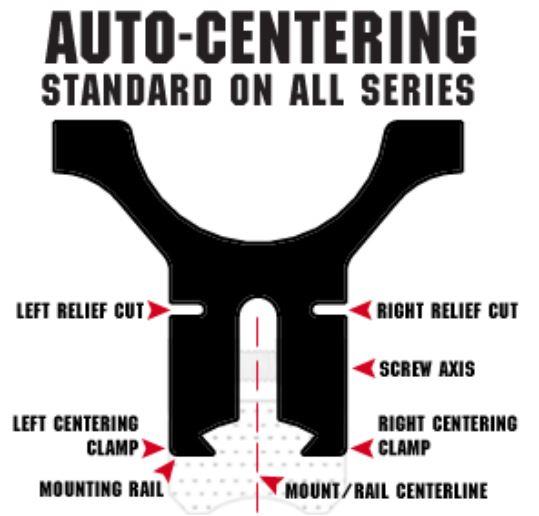 Strong One-Piece Clamping Base allows easy mounting of rifle or pistol scopes.

Patented Auto-Centering technology solves the problems created by varying mounting rail widths.

Clamping Legs move equally as the clamping screws are tightened keeping the scope centered on the rail.

Oversize mounting rails? No problem. Clamping screws can be switched to BKL's unique Spreader Holes to evenly push the clamping legs apart allowing the mount base to slide onto the dovetail.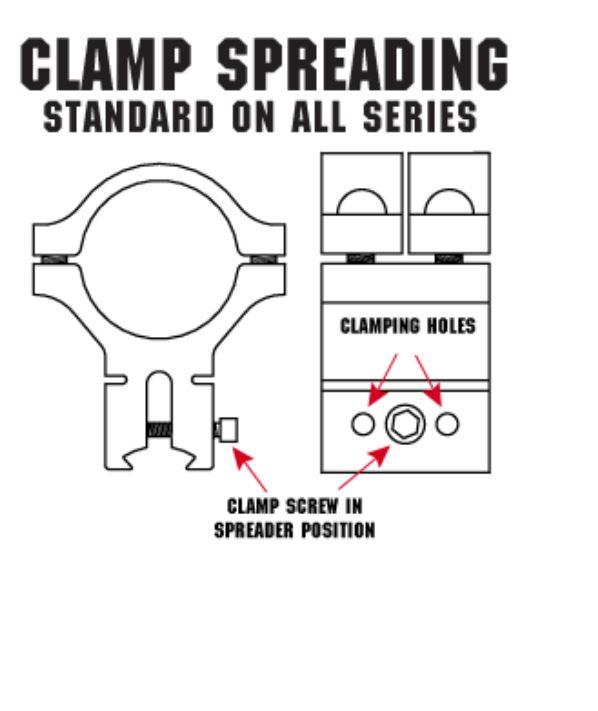 Calculating scope to rifle body clearance
The way you calculate the clearance is by halving the overall OUTSIDE diameter of your rifle scopes objective lens and then deducting half the rifle scopes body tube diameter.

For scopes with a 1" diameter body tube diameter this would mean deducting 12.7mm and 15mm for scopes with a 30mm diameter body tube.

Note we say OUTSIDE diameter - this means NOT the lens diameter, you need to measure the whole outer casing diameter.

The result gives you the minimum "saddle" dimension - the measure from base of mount to bottom of the ring - 19.5mm for this model

The amount the saddle dimension is greater than the figure you have calculated is the amount of clearance your scopes objective will be clear of your rifles body.

Example -
A Nikko Nighteater 1" 4-16x44 scope has an outer case measurement of 51mm.

51 divided by 2 = 25.5.

1" scope so deduct 12.7mm = 12.8mm

So the mount must have a saddle measure (base of mount to bottom of the ring) greater than 12.8mm or else it will ground out on the rifle body.
Calculating your rifle scopes clearance in this way does assume your dovetail or base is not raised above or below your rifles barrel. Note some rifles with high or adjustable cheek pieces may require higher scope mounts or risers so that your eye is in line with the rifle scope and your head is kept in an upright comfortable position.

BKL mounts are manufactured from aircraft-grade aluminum alloy on state of the art machinery in Texas.
About BKL - Made in Texas, USA
BKL Technologies, manufacturer of the largest selection of airgun and rimfire scope mounts in the U.S. Our competition-grade scope mounting system includes scope mounts, scope rings, dovetail to weaver adapters, and scope risers that utilize a quick-installing and self-aligning clamping system that fits both 11mm and 3/8" dovetails.
BKL mounts are compatible with popular rimfire manufacturers such as Anschutz, CZ, Feinwerkbau, Marlin, Remington, Savage, Suhl and air rifle manufacturers such as Air Arms, AirForce, Beeman, Benjamin, BSA, Crosman, Daystate, Diana, Gamo and Webley.
See http://www.bkltech.com/ and ask us about any other BKL products you'd like to get hold.
| | |
| --- | --- |
| Brand | BKL |
| Code | NW918 |
| Weight | 0.12kg |
| MPN | BKL-463-MB |
| EAN | 5054492392018 |