Eyesight Shooting Systems - Eyepal and EasyHit Fiber optic sights
Eyepal MASTER Kit - Glasses Target Shooting Golf Longsight Shortsight Astigmatism Focus Aid
Master kit - 1 rifle aperture and 1 for handguns, shotguns and bows. massively improves the focus and vision of anyone with Longsight, Shortsight, Astigmatism
You will earn
19
loyalty points with this purchase
Eyepal Focus Aid for Glasses Wearers, massively improves the focus and vision of anyone with Longsight, Shortsight, Astigmatism when using iron sights, scopes, playing golf (or any sport wearing glasses) hobbies, crafts, sewing - you name it.

Master kit edition - contains 1 aperture for rifle use and 1 for pistols/handgun and bow use.
The Eyepal is basically a pin hole diopter type sight that you stick on your glasses which then lets you simultaneously see the target, your front and rear sights — all in focus.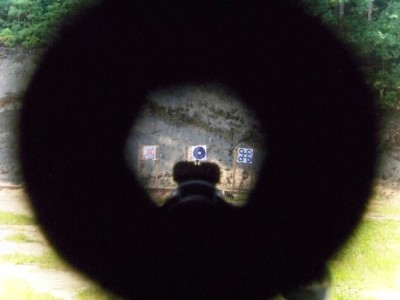 It's made out of a static cling material, it can be easily placed on and off of reading, prescription and safety glasses — without marring the surface or leaving any residue.

Compact, lightweight and virtually indestructible.

Who is it for?
Anyone who has trouble with "fuzzy"sight when aiming a rifle or handgun (or trying to sight on similarly small objects with accuracy such as, for example, when taking golf shots

The EyePal provides the open (iron) sight shooter with a small image where everything is in focus. This is particularly useful to shooters who have limited near vision but have good far vision.

Can the EyePal be used with reading glasses?
Yes, the EyePal is specifically designed for those affected with presbyopia (limited near vision). Being far-sighted, they can already resolve the target in the distance. Using the EyePal, they can now acquire the sights of the firearm at the same time.

What about persons with astigmatism?
Most shooters with astigmatism get a prescription that allows a focused front rifle sight, a slightly de-focused rear sight and a target with adequate resolution. While its impossible to account for every scenario, experience shows that most astigmatism issues are resolved when using the EyePal.

Here is a great "before and after" with astigmatism example:
In the shot on the left, (before) only the front sight is in focus. On the right Eyepal has been fitted and the results are amazing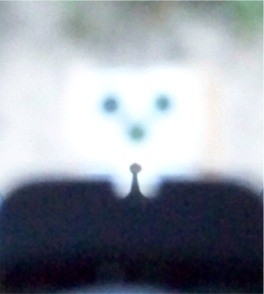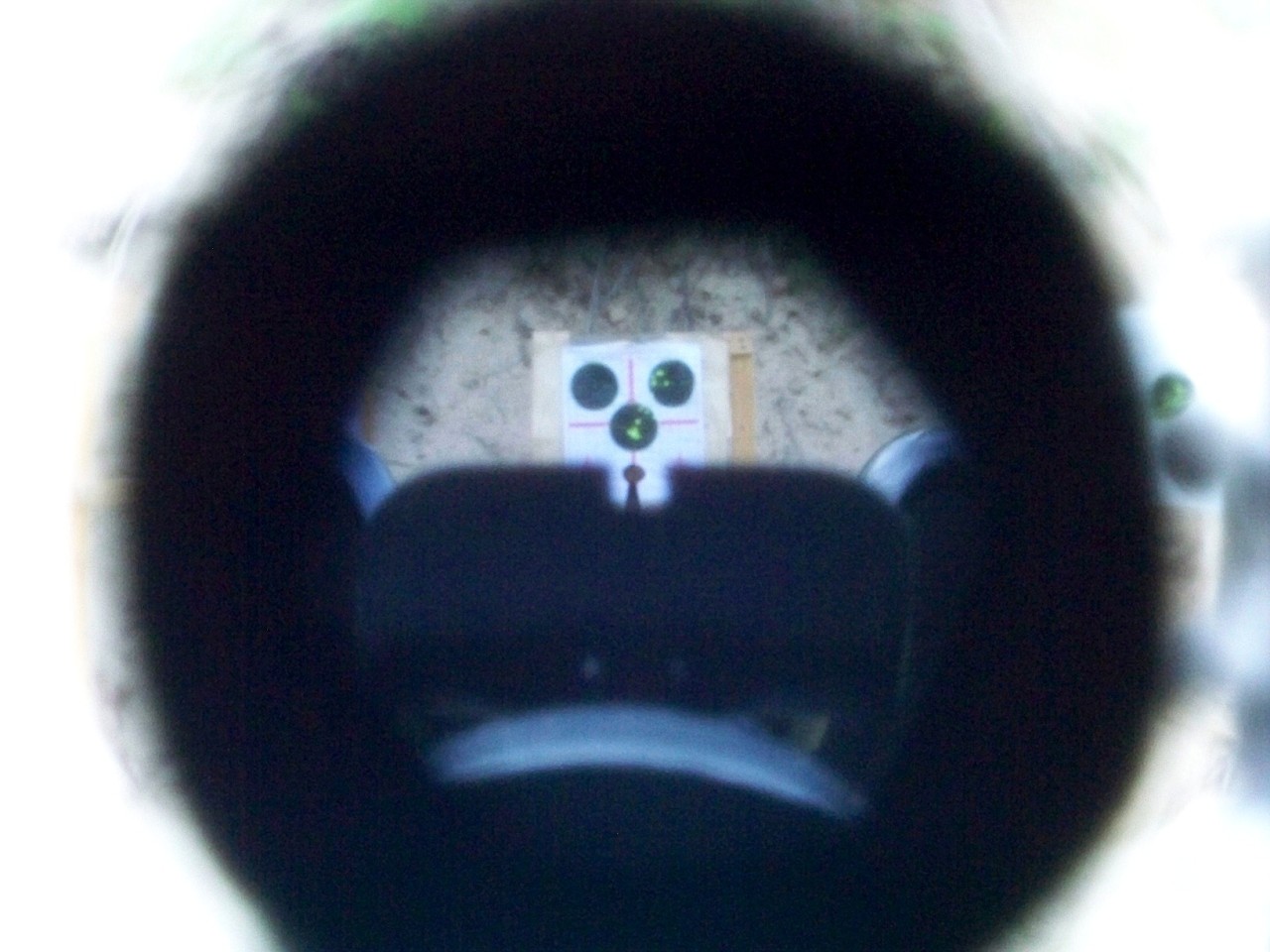 What can I expect when using a handgun?
Since the handgun is at an arm's length away from the eye and well within the minimum focus point of eight inches, its' sights will be in focus simultaneously with the target.

Can persons with 20/20 vision use the EyePal?
Yes. You can easily mount the EyePal on your safety glasses to acquire a desired sight picture free of peripheral vision issues. We won't promise you "super vision" but you be the judge...

How about using the EyePal at the indoor range?
Light levels in both shooting-booths and indoor ranges may not be adequate to properly illuminate the sights of the firearm.

How Does it Work?
Typically, the eye "sees" a huge amount of visual information, information that includes, say, a target. The target shooter is only interested in the target — the rest of the peripheral visual information is not useful and not needed.

Using the EyePal provides the target shooter with three advantages.
First, the EyePal aperture is small and therefore provides maximum depth of focus.

Second, the EyePal produces a very small image which travels undistorted through both the lens of the reading glasses and the pupil of the eye. The result? The rifle's sights and the target are in focus simultaneously.

Third, the peripheral vision is obscured by the large black area of the EyePal and thus creates extra contrast for good sight and target acquisition.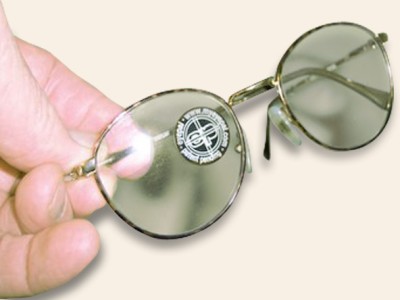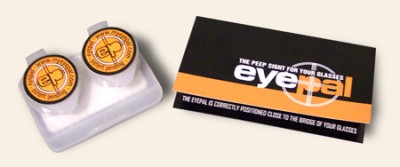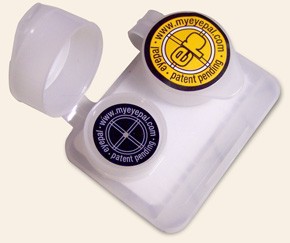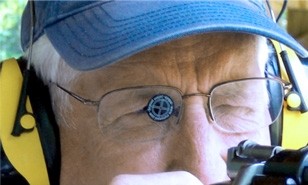 FAQs

How do I attach the EyePal to my glasses?
Simply open the top of a well and remove the EyePal being careful not to drop it. Press the EyePal onto the clean lens of the glasses. The image above shows a right-handed shooter with an EyePal located near the bridge of his glasses. Note that the cheek is resting on the comb of the stock. This will put the EyePal in the proper location. It may take a few relocation moves to find your sight-line. Thereafter, you will find it's second nature to always place the EyePal in the same location.

Can I use the EyePal with a pistol?
Yes. The handgun sights are well within the depth of focus provided by the EyePal. Your particular stance will determine the ultimate location of the EyePal on your eyeglasses.

I shoot with both eyes open. Can I use the EyePal?
Users are being queried as to their results. Most have expressed positive results.

What about my "Dominant eye"?
The EyePal provides the dominant eye with a sight picture with all elements in focus simultaneously. The EyePal also removes most of the unwanted peripheral vision and improves the contrast of the image. To solve Dominannt eye issues where you are shooting with the other side arm use a Master kit and use both apetures - one per lens. See blog at http://www.tacticalscope.co.uk/blog/?p=63 for details on how to do this and why it works.

I'm a leftie, how do I position the EyePal?
For the rifle shooter, place the EyePal on the left lens near the bridge of the glasses.

Can I use the EyePal with safety glasses?
Yes. A pair of safety glasses with an EyePal mounted on the lens in the shooter's sight-line is fine. If you are using safety glasses and your reading glasses, attach the EyePal to your reading glasses.

How it works video - opens in new window or paste the address below into a new window.
http://www.eyepalusa.com/eyepal_how_does_it_work.html

Testimonials
"This is no trick, it really works fantastic!"
I was using it with a No.4 Enfield at 600 yds last weekend with solid hits on man size targets. At 1000 yds, I could see the targets fine but my sights did not have elevation to range and hit. I am fixing that with a milled adj. rear British sight and will go out and drop men sized targets at 1000 yds. My theory of Infantry rifles is : If I can see you, I can drop you. Of course, these days, I need the Eye Pal to help me to that. But ... I can see the targets !!!
I am finding use of hand gun eye pal is perfect for my aperture type rifles like M1, No.4 Enfield and MAS 36. On K31 Swiss, its leaf rear sight let me use the hand gun edition easily. On No.1 Enfields and Mosin Nagants, I got to use the rifle model eye pal. I don' know why... its all Voo Doo. But : it works so what else does a infantryman need to know besides that !
If someone can use Eye Pal, then take it off and still retain sight picture, then I would submit he has been nipping at the cognac flask ! Eye Pal on: I am good to go. Eye Pal off: I am 64 yrs old and not doing very well.
Eye Pal: Front sight, rear sight and target crystal clear.... that is the Litmus test for me.
By the way , 300 yds with iron sights on that No.4 Enfield and Eye Pal: I was doing head shots.
"This is a great sight for the Junior Program. The kids are on target in no time."

"My scores have jumped and my groups are much tighter."

"I thought that I would have to scope my entire C&R collection but since I can now see the sights with my EyePal, I'm good. I can enjoy my handguns, too."

"I can shoot better than ever while using my readers. This helps me with my loading chores, too. It's so easy. Thanks!"

"The EyePal beats the other products hands down in cost, flexibility, ease of use and storage capabilities. A very well-engineered product that does the job perfectly."

"I have discovered an amazing device that makes your target and sights, front and rear, totally in focus at the same time, no matter what your eye problems may be...This device is truly MAGIC!"

"I promised to follow up with you after I'd had a chance to try it out — well I have to say that I'm thrilled with the results... Thanks for making the EyePal, and thanks for selling me one."

"It's amazing what it does to your sight picture."

"I couldn't believe what these little pieces of flexible plastic did for my aging old eyes! I'm not sure why, or how they work... You may have to spend a minute or two finding the best spot to put them on your glasses, but it will be worth it."

"This little accessory has a permanent place in my shooting kit...If these work well for us older guys, I can only imagine what these would do for a younger shooter."

"Good Lord I'm saved!!! this is EXACTLY what I've been looking for!!!!"

"Getting groups on target is much easier, now."
| | |
| --- | --- |
| Brand | Eyepal |
| Code | NW490 |
| Weight | 0.09kg |
| MPN | Master Kit |