Nikko Stirling Mountmaster
Nikko Mountmaster 4-16x50 AO RGB Illuminated Half Mil Dot Reticle Rifle Scope + 9-11m dovetail Rings
Out of stock
1/4 MOA click. Length: 378mm / 14.9"
You will earn
74
loyalty points with this purchase
Nikko Stirling Mountmaster 4-16x50 AO Parallax

Red

-

Green

-Black Illuminated Half Mil Dot reticle Rifle Scope with 9-11mm Airgun/Rimfire Mount Rings
>>> 25mm/1 inch tube with multi coated lenses for excellent light transmission and visual clarity
>>> For all types of air rifle and rimfire
Full size 1 piece 25mm tube

Waterproof - Shockproof - Fogproof - Exceptionally Recoil proof

Nitrogen filled and sealed tube

Crystal clear vision through fully multi emerald coated camera quality lenses

Exceptional focus clarity at all ranges

Parallax adjustable from 15 yards to infinity gives you much easier and faster focus at a variety of ranges.
Genuine Nikko Stirling rifle scope. UK importer supplied with UK warranty.

Half Mil Dot Reticle cross-hair
The classic mil dot with the addition of half mil dashes in-between the main mil dots. Providing more range estimation and holdover points.

With this illuminated version you also have the option to change from black to 5 levels of red or green illumination.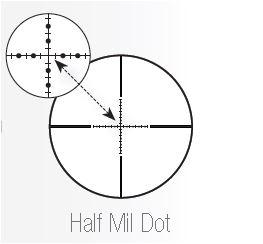 Red and green IR
Red and green with 5 intensity levels on each colour and turned off for plain black.
Side turret control.

IR is very useful in low and bright light where it allows you to get better contrast of the reticle against dark backgrounds.

Use levels 1-3 for low light and 4-5 in daylight.
50mm Fully Multi Coated Lens:
A great medium/large size lens that gives you superb light capture and transmission resulting in a truly excellent view.

Fast target acquisition and moving target tracking.

Fully multi coated with emerald to protect and limit glare and reflections
4-16x variable magnification
A popular all round variable magnification that is especially well suited to rimfire and air rifle shooting ranges.

Very easy and very fast dial adjustment.

Exceptional clarity through premium A grade camera quality lens.
Ocular focus at 4-5 yards. Parallax from 15 yards
Zero it with Windage and Elevation Turrets:
Windage/elevation target turrets with finger click adjustment.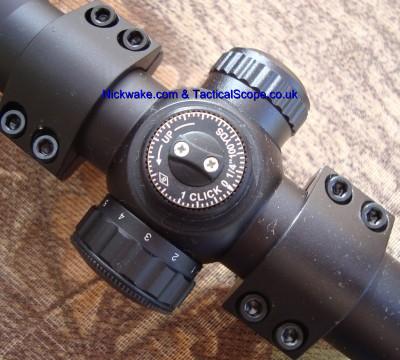 Parallax Focus Adjustment - AO - Adjustable Objective (front lens casing)
Parallax effect is the term that describes the difference in angles between objects that are seen up close and those seen far away. When you look at telephone poles passing by on the side of the road, those closest to your car seem to pass very fast, while the ones far away seem to go very slow. That difference is due to the parallax effect.
The reticle in your scope is like a telephone pole that's very close. If you move your head on the stock while watching the target through the scope the reticle may seem to move, wobble or blur against the target. That affects where you perceive the aim point to be, and that affects your accuracy. Parallax focus correction adjustment reduces this phenomenon to the greatest extent possible.
Parallax focus correction therefore is a must for anyone attempting to use either a high magnification scope, shooting drastically different yardages with the same scope or anyone attempting to shoot at extremely close ranges or extremely long ranges. Especially so if it is a combination of these factors.
This scope features Parallax focus correction from15 yards adjusted by the objective i.e., it is an AO "Adjustable Objective" scope.
Technical
Magnification 4-16

Obj. Diameter (mm) 50

FOV m at 100m - 3.1-9.1

Click Value mm at 100m: 7mm - 1/4 MOA

E/W range (MOA) 30

Eye Relief (mm) 85 / 3.3"

Tube Diameter: 25mm - 1 inch

Length: 378mm / 14.9"

Weight: 520 grams

Parallax 15 yards to infinity

Illuminated Reticle - Yes. Red and Green

Reticle - Half Mil Dot
Dimensions in cm and inches
A - 34.5 / 13.6

B - 13.6 / 5.35

C - 5.4 / 2.2

D - 5.15 / 2

E - 8.8 / 3.5

F - 10.9 / 4.3

G - 6.3 / 2.5

H - 4.2 / 1.65

I - 2.54 / 1

| | |
| --- | --- |
| Brand | Nikko Stirling |
| Code | NW1514 |
| Weight | 1.05kg |
| MPN | NMMI41650AOIR |
| EAN | 9420008989304 |
| Length | 378mm / 14.9" |
| Click value | 1/4 MOA |