Nikko Stirling Diamond Sportsman 10-50x60 Mil Dot IR Reticle 30mm Rifle Scope + Sidewheel
1/8 MOA clicks. 425mm long. THE classic big Nikko. Large sidewheel included.
You will earn
999
loyalty points with this purchase
Nikko Stirling Diamond Sportsman 10-50x60

Red Illuminated

Mil Dot reticle 30mm Rifle Scope + Sidewheel
Nikko Stirlings famous championship winning scope - This high precision scope with a 30mm maintube is made in Japan and a preferred choice for professional air rifle competition shooters worldwide. USFT and World FT PCP championships were won in 2007 and 2013 with the Diamond Sportsman riflescope.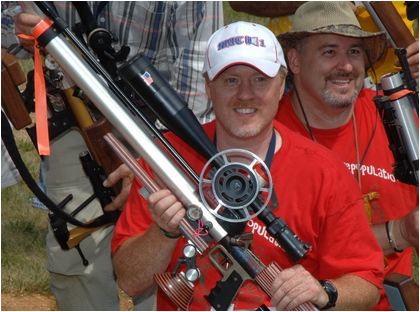 100% manufactured in the Light Optical factory in Japan where the majority of top end Japanese optics are made; e.g., Nightforce, Nikon, Sightron, Bushnell Elite.

If you're thinking of a high powered target style optic that focuses down to 10m you will be very happy with the Diamond Sportsman 10-50×60 as it offers you top quality Japanese lenses, excellent repeatability, massive strength, a lightweight and compact design at an awesome price.

Amazing Vision
The very best Japanese camera quality lenses which have then been precision ground and honed to give the very best image stability. An extra lens and top quality multi coatings have been added to all the Japanese top grade lenses to enhance light transmission and to reduce any reflections to near none that may cause the rifle scopes to be dull in low light conditions
Key Features
Magnification of the target 10 up to 50 times

Japanese camera quality lenses

Optical coatings throughout

Red illuminated etched glass mil dot reticle

Saddle focus system

Large side wheel for accurate speed focusing

Target adjustments

Rubber enhanced zoom ring

Oversized objective lens and 30mm body for maximum light transfer
>>> For All Types and Power of Rifle from air rifle to high powered hunter for game, targets, HFT and FT shooters.
Full size 1 piece 30mm tube

Waterproof - Shockproof - Fogproof - Exceptionally Recoil proof

Nitrogen filled and sealed tube

Crystal clear vision through fully multi emerald coated camera quality lenses

Exceptional focus clarity at all ranges

Parallax from 10 yards > Infinity, by Side focus turret and optional large Nikko Sidewheel.

Large sidewheel is INCLUDED
Superb Optics and clarity of vision
The Diamond Sportsman utilises the very best Japanese Camera quality lenses that have been precision ground and honed for image stability.

Magnify your target 50 times - great clarity even at higher magnigications which is a problem on some lower priced very high magnification scopes.

But with the Diamond Sportsman 10-50x60 Multi-coatings have been added to all the lenses to enhance light transition and reduce reflections that cause scopes to become dull in low light conditions.

With these features combined, the result is the highest possible clarity.
Mil Dot Reticle - Red illuminated

Developed for long range target and hunting shooting, true at 10x

Classic mil dot range finder reticle with 11 intensity setting illumination (mils area only illuminates)
Benefits of Glass Etched Reticles and Illumination

Glass-etched reticles are way superior to wire for several reasons, most notably is how much finer and cleaner they are when viewed through the scope.

A glass etched reticle, also cannot be broken. Anyone who has shot enough has seen a wire reticle actually break within the reticle field. As the reticle design is etched into the reticle lens, it is static and cannot physically be broken.

An added benefit is zero internal light reflection which occurs to some extent in illuminated scopes with wire reticles.

This superior design requires an additional cost, but even if you don't plan to use the illumination, the glass-etched reticle is a feature with value to the shooter.
Illumination comes into its own when shooting targets that are either naturally dark or made dark by light conditions such as shadow, dawn dusk, very bright light or night shooting with lamps or night vision kit.

Without Illumination a black reticle can be very hard to make out against the target. Illumination fixes this problem and gives immediate contrast. Adjust intensity according to the light conditions.
60mm Fully Multi Emerald Coated Lens:
A big lens which, combined with a 30mm tube gives you superb light capture and transmission resulting in a truly incredible view.

The x-large size also gives you very very fast target acquisition and moving target tracking.

Especially good in lower light.

Fully multi coated with emerald to protect and limit glare and reflections.
10-50x variable magnification
Adjust anywhere from 10-50x

A true medium to extreme long range FT and hunters scope with a huge range of variable magnification settings.

Very Easy and very fast dial adjustment.

Exceptional clarity through premium A grade camera quality lens.
You'll get crystal clear focus on 10x at 10 yards.

Lock and reset Windage and Elevation Turrets:
Green anodised, capped all weather target turrets with return to zero ability

Underneath are hand-dialable drums graduated in 1/8" @ 100 yard clicks. These are divided into nine with each section further sub-divided in eight, giving 9" per turn with a shade under six full turns available (50" +) top to bottom.

Updated critical elevation adjustment which has been increased by 25% allowing competitors faster shots without adjustment to the point of impact via the target turrets.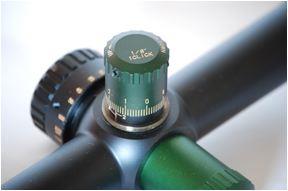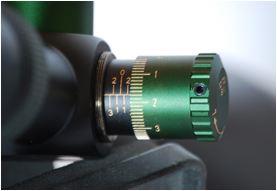 Parallax Explained
At longer distances targets will often "seem" to drift or wobble against their background making locking on them very difficult. This effect is known as parallax. If accurate shots at distance are important to you - small prey head shots, target shooting comps etc then being able to get rid of this problem is critical to your success.
Scopes such as this have Parallax adjustment which basically means you are able to adjust the scope using SWAT (Side Wheel Adjust Turret) to factor it out of the equation and give you rock solid target lock at any distance.
Large wheel Sidewheel included - For finer px adjustment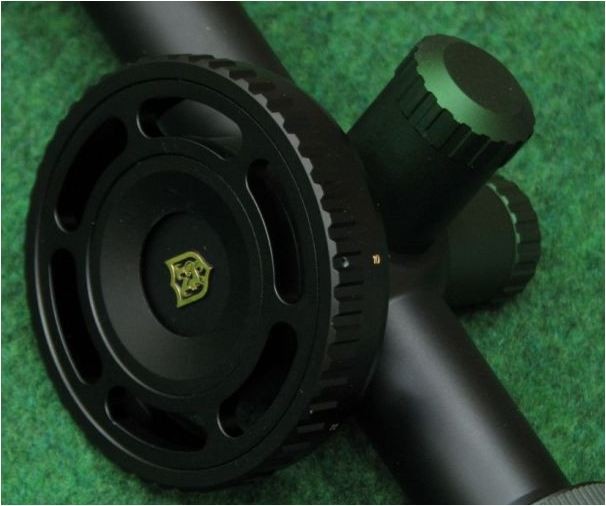 It is optional to use this so just take it off when not needed - Here without sidewheel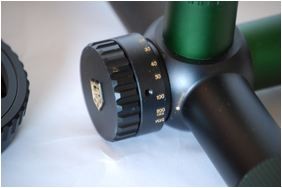 Data
Chassis: 30mm Mono-tube

Optical System: 10-50x

Objective: 60mm

Reticle: Mil dot etched glass

Illumination: No

Focus/Parallax: Side Focus - 9m / 10yds to Infinity

Field of View: m @100m / ft @100yds -

0.6 - 3.1m /

1.9-9.2ft

Eye relief: 90mm / 3.5"

Length: 425mm / 16.7"

Weight: 1060g / 37.4oz
Waterproof, Shockproof, Nitrogen purged.

All calibre rated.
Material: Aluminium

Ocular Type: Fast Focus

Lens Coating: Fully Multi-Coated

Power Selector Style: Rubber coated

Warranty: Nikko Worldwide Warranty

Elevation and Windage Adjustment Range: 50 MOA

Increment: 1/8 MOA

Turret Caps: NA

Turret Type: Target
SUPPLIED WITH
4" (100mm) Side Wheel

Bikini elasticated lens caps

Lens Cloth

Battery
cm / inches
A - 42.42 / 16.7
B - 17.02 / 6.7
C - 7.37 / 2.9
D - 5.33 / 2.1
E - 7.37 / 2.9
F - 18.03 / 7.1
G - 6.86 / 2.7
H - 4.32 / 1.7
I - 3 / 1.18
Box comprises, scope plus sidewheel, bikini elasticated lens caps, cleaning cloth and instructions.

Mount rings not included
Requires 30mm ring diameter mounts of high or extra high profile to suit whatever base is on the rifle, for example, 9-11mm dovetail, 13mm BSA dovetail, weaver/picatinny or model specific. We can also help with picatinny adapter bases for rifles such as Tikka, SAKO, CZ, Ruger, Remington, Howa, Weatherby, Marlin etc (See Britannia Rails section for many picatinny adapter bases)
| | |
| --- | --- |
| Brand | Nikko Stirling |
| Code | NW1332 |
| Weight | 1.7kg |
| MPN | NDS105060MDIR |
| EAN | 9420008958881 |
| Length | 425mm |
| Click value | 1/8 MOA |