Sportsmatch ATP34 34mm 40MOA Adjustable 9-11mm dovetail Rifle Scope Mount Rings - HIGH
For airgun/rimfire 9-11mm dovetail bases. Upto 40 MOA elevation adjustment.
You will earn
89
loyalty points with this purchase
Sportsmatch 34mm tube Adjustable 9-11mm dovetail base Rifle Scope Mount Rings ATP34 HIGH
34mm Diameter Body Tube

Extra High adjustable Range

3/8" Scope Mounts For 3/8" / 9-11mm dovetails / grooves

Up to 60mm lens diameter (on most rifles)

2 PIECE ADJUSTABLE
A = 24mm to 25.3mm saddle (Height from where the ring base touches rail to bottom of scope ring) Height varies due to elevation adjustment.
B = 21mm long
Weight = 133g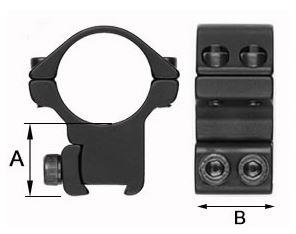 Includes removable arrestor pin

Adjustable for elevation and height.

Registered design No. 4023419

Upto 40 MOA Vertical Adjustment
Clearance guide
The way you calculate the clearance is by halving the overall OUTSIDE diameter of your rifle scopes objective lens and then deducting half the rifle scopes body tube diameter.

For scopes with a 34mm diameter body tube diameter this would mean deducting 17mm.

Note we say OUTSIDE diameter - this means NOT the lens diameter, you need to measure the whole outer casing diameter.

The result gives you the minimum "saddle" dimension required - the measure from base of mount to bottom of the ring.

The amount the saddle dimension is greater than the figure you have calculated is the amount of clearance your scopes objective will be clear of your rifles body.

The saddle on these mounts is 24mm at lowest adjustment

Example -
A 60mm objective lens scope is measured and found to have an outer case measurement of 70mm.

70 divided by 2 = 35

34mm tube scope so deduct 17mm = 18mm

So the mount must have a measure (bottom of mount to bottom of the ring) greater than 18mm or else it will ground out on the rifle body.
So in this example, we have 24mm to use, so have a good clearance of 6mm
Calculating your rifle scopes clearance in this way assumes the base is a regular flat base. Some rifles with high or adjustable cheek pieces may require higher scope mounts or risers so that your eye is in line with the rifle scope and your head is kept in an upright comfortable position.
Suitable for - Air Arms Anschutz Brocock Browning Cometa Crosman Daystate Diana Falcon FX Gamo Hammerli Hatsan Impact Norica Remington RWS Stoeger SMK Theoben Umarex Walther Webley Weihrauch and many other leading Airguns and Rimfire Rifles
| | |
| --- | --- |
| Brand | Sportsmatch |
| Code | NW1593 |
| Weight | 0.16kg |
| MPN | ATP34 |