Leapers UTG OP3 1.5-6x36 30mm Crossbow Scope SF RGB 130 BDC OP3-G1563CRWQ
Out of stock
1/2 MOA clicks. 210mm long. Compatible with Crossbows with Velocities from 250 to 475 FPS
You will earn
219
loyalty points with this purchase
Built on TRUE STRENGTH™ Platform and Completely Sealed and Nitrogen Filled for Reliable Shockproof and Zero Holding Performance

30mm Tube with Best in Class Emerald Lens Coatings to Achieve Maximum Light Transmission for Best Clarity

IPX7 Waterproof Rated

Premium Low Top Zero Lockable and Resettable Target Turrets with Precise 1/2 MOA per Click Adjustment

130 Hunter Etched Glass Reticle with Bubble Leveler Features Ballistic Drop Compensation and Range Estimating Markers out to 130 Yards

Adjustable Calibration Compatible with Crossbows with Velocities from 250 to 475 FPS

EZ-TAP® Red/Green BDC Marker Illumination to Accommodate All Weather/Light Conditions

1-Click Illumination Memory Feature Gets the User Right Back to the Color/Brightness Setting Last Used

Low Top Side Wheel Adjustable Turret for Parallax Adjustment from 10 Yards to Infinity

Fine Tune Adjustable Eyepiece Diopter

Complete with Flip-open Lens Caps and Medium Profile Picatinny Scope Rings

Specification:
Magnification: 1.5 - 6X

Tube Diameter: 30 mm

Objective Diameter: 36mm

Field of View @ 100 yards: 52' - 13'

Eye Relief: 3.5" - 4.0"

Exit Pupil: 8mm - 5.5mm

Click Value @100 yards: 1/2"

Length: 210mm

Material: Aluminum

Weight: 17.8oz

Parallax Setting: 10Yds - Infinity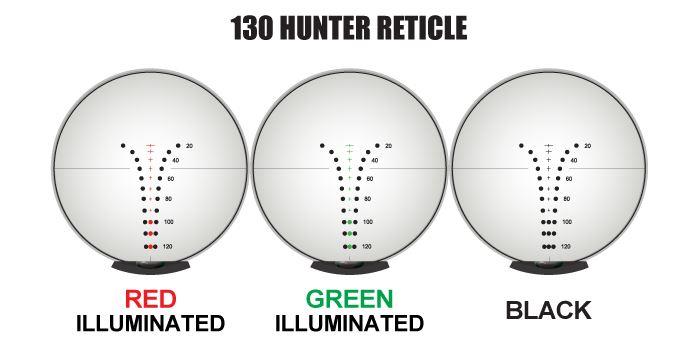 ETCHED GLASS 130 HUNTER RETICLE: The 130 Hunter reticle features a "through the viewfinder" bubble leveler located at the 6 o'clock and ballistic drop compensation and range estimating markers out to 130 yards. Markers found down the central spine of the reticle illuminate and are calibrated to match crossbow ballistics from 20 yards up to 130 yards using 10 yard increments. The center of the reticle marker is calibrated for a 50 yard target distance for general ease of use.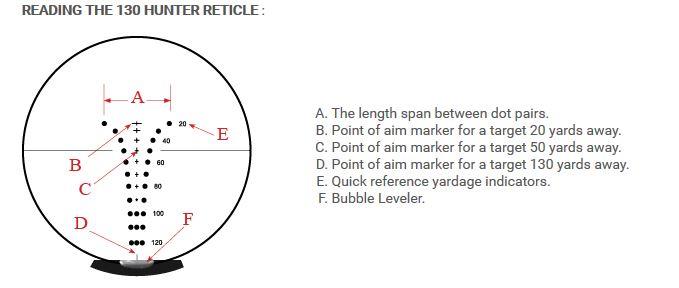 USING THE 130 HUNTER RETICLE:
Bubble Leveler: The bubble leveler is internal through the viewfinder and is not a separate external attachment. Located unobtrusively at the 6 o'clock position, the bubble leveler aids in correcting any cant the user may have while aiming. Being internal allows the user to focus their attention primarily on the target and reticle, while secondarily allowing for quick cant adjustments by seeing the leveler through their peripherals.

Ballistic Drop Compensation (BDC): The 130 Hunter Reticle provides 12 point of aim markers for the user to quickly acquire the target with after having determined the range to target. Some of the more common range to target distances feature yardage indicators for quick reference.
| | |
| --- | --- |
| Brand | Leapers UTG |
| Code | NW2070 |
| Weight | 0.8kg |
| EAN | 4171385555990 |
| MPN | OP3-G1563CRWQ |
| Length | 210mm |
| Click value | 1/2 MOA |