Nikko Stirling Diamond 30mm 6-24x50 LR SF Illuminated Half Mil Reticle Rifle Scope - NDSI62450LRHMD
1/4 MOA click, 40 MOA range. 390mm - 15.4" length
You will earn
249
loyalty points with this purchase
Nikko Stirling Diamond 30mm 6-24x50 LR

Red

-

Green

Illuminated Etched Glass Half Mil Dot Reticle Rifle Scope - NDSI62450LRHM
The Nikko Stirling Diamond LR (Long Range) is designed and optimised for long range advanced shooting where accuracy and consistency is critical


Using premium grade lenses featuring the latest in optical coatings combined with a 30mm aircraft grade aluminium tube ensure maximum light transmission and clarity.

Supplied with 2 Interchangeable ballistic turrets with RTZ (Return to Zero) can be customised for specific calibers and precise ¼" MOA increments ensure every shot is on target - First time, Every time!


The Nikko Diamond LR - Made for hunters
Features:
30mm aircraft-grade aluminium, one-piece main tube

Glass-etched Half Mil Dot reticle

Fully multi-coated lens

Microlux ETE GEN III glass coatings

Zero-stop turrets

¼ MOA turret adjustments. 40 MOA range

4" of eye relief
Side Parallax Adjustable from 11 Yards to infinity - Nikko Diamond LR Sidewheel compatible
Red

and

green

illumination settings

Supplied with 2 ballistic drop turrets

Nikko Stirlings RTZ (Return to Zero) elevation turret for quick shooting

Sunshade included
6-24x Magnification
From 6x up to a high/mid-range x24.

Ideal for many hunting and target situations especially medium and longer ranges.

Ocular focus from about 6 yards at 6x and parallax from 10 yards
50mm Objective lens
A good large size that gives you an excellent wide field of view and makes target acquisition and tracking easy.

Interchangeable ballistic turrets with RTZ® (Return to Zero)
Can be customised for specific calibers and precise ¼" MOA increments (7mm at 100m) ensure every shot is on target.

The scope is supplied with 2 Ballistic Drop Turrets: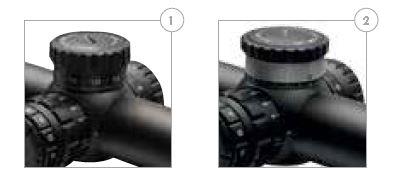 1. Assembled Ballistic Drop Turret with ¼ inch indications. (equals app. ¼ MOA or app. 7mm@100m) Full numbers indicate 1" at 100yds

2. Extra blank Ballistic Drop Turret for your customized markings of your required distances. Increments are ¼ inch at 100yds

See videos at http://www.nikkostirling.com/content/Products/Diamond/Diamond%20Long%20Range/NDSI41650LR.html for more info on the turrets and user manual at http://www.nikkostirling.com/Images/manuals/NS.DiamondLR.manual.pdf
Illuminated Half Mil Dot Reticle - Etched glass with illumination

The classic mil dot with extra dashes in-between mils offers more aim points and holdover options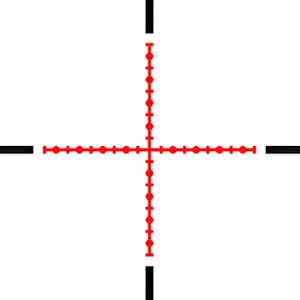 Benefits of Glass Etched Reticles and Illumination
Glass-etched reticles are way superior to wire for several reasons, most notable is how much more crisp, fine and clean your view is when you look thorough the scope.
A glass etched reticle, also cannot be broken. Anyone who has shot enough has seen a wire reticle actually break within the reticle field. As the reticle design is etched into the reticle lens, it is static and cannot physically be broken.

Glass-etched reticles have the added benefit of zero internal light reflection which occurs to some extent in illuminated scopes with wire reticles.

This superior design requires an additional cost, but even if you don't plan to use the illumination, the glass-etched reticle is a feature with value to the shooter.
Illumination comes into its own when shooting targets that are either naturally dark or made dark by light conditions such as shadow, dawn dusk, very bright light or night shooting with lamps or night vision kit.

Without Illumination a black reticle can be very hard to make out against the target. Illumination fixes this problem and gives immediate contrast. Adjust intensity according to the light conditions.
Side focus parallax adjustment
Parallax effect is the term that describes the difference in angles between objects that are seen up close and those seen far away. When you look at telephone poles passing by on the side of the road, those closest to your car seem to pass very fast, while the ones far away seem to go very slow. That difference is due to the parallax effect.
The reticle in your scope is like a telephone pole that's very close. If you move your head on the stock while watching the target through the scope the reticle may seem to move, wobble or blur against the target. That affects where you perceive the aim point to be, and that affects your accuracy. Parallax focus correction adjustment reduces this phenomenon to the greatest extent possible.
Parallax focus correction therefore is a must for anyone attempting to use either a high magnification scope, shooting drastically different yardages with the same scope or anyone attempting to shoot at extremely close ranges or extremely long ranges. Especially so if it is a combination of these factors.
This scope features Parallax focus correction by way of the side focus (SF) turret and optional Nikko Diamond LR sidewheel
Technical Specification
Parallax: 11 yards/10m to infinity

Main tube Diameter: 30mm

Reticle : Half Mil Dot (Etched glass)
Illumination : Red and Green - adjusted intensity by side turret (or turn off for black)
FOV feet at 100 yards: 8 - 32.1

FOV m at 100m: 1.8 - 7.1

Click Value: 7mm at 100m - 1/4 MOA with 40 MOA range

Eye Relief: 8-10cm /3.1-4"

Length: 390mm / 15.4"

Weight: 788g / 27.8oz
Dimensions in cm and inches
A - 39 / 15.35

B - 17.4 / 6.85

C - 7.7 / 3.03

D - 6 / 2.36

E - 9.3 / 3.66

F - 12.3 / 4.84

G - 5.7 / 2.24

H - 4.3 / 1.69

I - 3 / 1.18
| | |
| --- | --- |
| Brand | Nikko Stirling |
| Code | NW1431 |
| Weight | 1.2kg |
| MPN | NDSI62450LRHMD |
| EAN | 9420001436157 |
| Length | 390mm / 15.4" |
| Click value | 1/4 MOA |