Nikko Stirling Diamond 30mm 34mm and FFP
Nikko Stirling Diamond 30mm 3-12x56 Illuminated etched no4 Red Dot Reticle Rifle Scope
Out of stock
Classic much loved scope. 30mm tube 3-12x56 scope, perfect for hunting in European woodlands with centerfire calibers
You will earn
194
loyalty points with this purchase
The Nikko Stirling Diamond 3-12x56 is a great fast shooting 30mm tube rifle scope, perfect for hunting in low light and European woodlands with centerfire
A European hunter best seller, many sold to Scandinavia, Italy, Germany etc
Faster shooting in low light – the Diamond 30mm Illuminated reticle models are designed for fast shooting in low light conditions. Here the hunter needs to quickly take a shot at game in dawn, twilight or forest conditions. The clearly defined red or green illuminated reticle makes this easy. Ideal for driven game hunting!

ETE Microlux optical coatings are added to the lenses to reduce the reflection of light by the lens surfaces, ensuring a brighter scope in low light conditions when target acquisition is critical.

Features:
CNC machined parts made to tightest tolerances

Aircraft approved aluminium

High Grade Optical lens coatings for maximum light transmission

Low profile adjustments

Fast finger adjustable dials

Rubber enhanced zoom ring

Speed focused eyepiece
3-12x Magnification
You can go from a base of 3x up to a high/mid-range x12.

Ideal for a very wide range of hunting and target situations with both air rifles, rimfire and centerfire
56mm Objective lens
A good large size that gives you an excellent wide field of view and makes target acquisition and tracking easy.
Illuminated No4 Dot Reticle - etched glass
Designed for fast shooting in low light conditions where the precise dot Illuminated reticle combined with Microlux ETE coated lenses gives you superb clarity of vision and rapid target acquisition.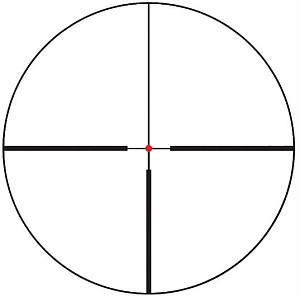 Only centre No4 lights up
Benefits of Glass Etched Reticles and Illumination

Glass-etched reticles are way superior to wire for several reasons, most notable is how much more crisp, fine and clean your view is when you look thorough the scope.
A glass etched reticle, also cannot be broken. Anyone who has shot enough has seen a wire reticle actually break within the reticle field. As the reticle design is etched into the reticle lens, it is static and cannot physically be broken.

Superior glass-etched reticles have as an added benefit of zero internal light reflection which occurs to some extent in illuminated scopes with wire reticles.

This superior design requires an additional cost, but even if you don't plan to use the illumination, the glass-etched reticle is a feature with value to the shooter.
Red illumination helps a lot in low light, shadows etc (very good in woodland)

The illumination removes the problem of a black reticle against a black/shadowed target which makes shots very hard to place precisely.

With the red turned on you can see your dot clearly against a dark background and fire with confidence.
Fast-Focus Eyepiece with graduated settings for precise setting

Technical Specification
Parallax; Fixed 100 yards

Magnification: 3-12 variable adjust

Lens size: 56mm objective lens

Overall Length: 340mm - 13.4"

Main tube Diameter : 30mm

Windage and Elevation Adjustments : 1/4 MOA - 7mm at 100m

Reticle : No 4 Dot

Illumination : Red dot (or turn off for black)

FOV

9.2-36.8ft at 100 yards / 3.1-12.3m at 100m

Eye relief "inches) 3.5-4.3"

Weight: 680 grams - 24oz
Dimensions - cm / inches
A - 34.05 / 13.4

B - 14.55 / 5.7

C - 5 / 2

D - 5.75 / 2.3

E - 8.8 / 3.5

F - 10.7 / 4.2

G - 6.4 / 2.5

H - 4.32 / 1.7

I - 3 / 1.18
mikkel mortensen
from Aarhus, Denmark
"
Excellent Quality at this price level
I have two of these scopes, and I am very happy using them for on the range as well as when stalking and foxing!
The overall built quality is very good!
Compared to my Schmidt & Bender, the glass is not as clear and the zoom and lightning is not as smoothly adjusted. Also the light level of the flash dot is a little low for my taste, when shooting running target or drivin deer in full daylight..
But it is 1/10 of the price of the S&B so you should expect some minor details of a different quality.
A very good scope for the price!
"
| | |
| --- | --- |
| Brand | Nikko Stirling |
| Code | NW564 |
| Weight | 0.95kg |
| MPN | NDSI31256 |
| EAN | 9420008963403 |