Hawke 1" Steel Precision Weaver/Picatinny Rifle Scope Mount Rings - HIGH 23012
You will earn
30
loyalty points with this purchase
Pair - 2 rings supplied

Base fit - Weaver/Picatinny base -
For base rails that look like the one pictured below. (Base rail NOT included)

20-22mm wide with horizontal slots.

May vary in length and be 2 smaller sections on some rifles.

If you do not have a base that looks similar to this, and have for example, an 11mm wide dovetail groove then the mounts can only be made to fit by also purchasing an adapter.

Please ask us if unsure.


1" Tube -
Ring is 1" (25,4mm) diameter.

To suit scopes with 1 inch diameter tubes.

High Profile Height -
14mm base to bottom of ring "Saddle" - about 20mm including distance to clamp bottom. Use 20mm for clearance calculations

In practice this means in most cases scopes upto approx. 56mm lens when on a flat base.

However if base is raised or end of scope will be over barrel with more space then larger lens scopes may be used.

This is down to the user to determine we can only give broad guidelines.

See scope clearance guide at bottom of page.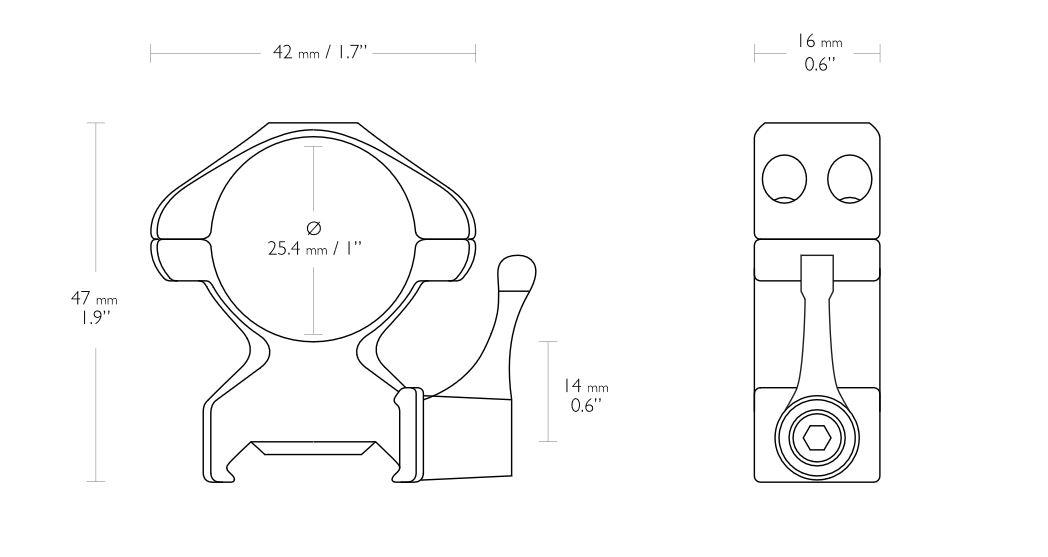 Mount Rings Detail
Quick release lever

Double torx screws to hold your scope firmly in place

Designed for Weaver/Picatinny rail fitting

Solid steel construction for superior strength

Tech Spec
Configuration: 2 Piece

Ring Size (Diameter): 1″ / 25.4mm

Height: High

Rail: Weaver

Fixings (Rail & Top Cap): Double Torx Screw

Internal Cushion: NO

Retractable 'Recoil Stop' Pin: NO

Height: 47mm / 1.9″

Weight: 190g / 6.7oz

Calculating scope to rifle body clearance
The way you calculate the clearance is by halving the overall OUTSIDE diameter of your rifle scopes objective lens and then deducting half the rifle scopes body tube diameter.

For scopes with a 1" diameter body tube diameter this would mean deducting 12.7mm and 15mm for scopes with a 30mm diameter body tube.

Note we say OUTSIDE diameter - this means NOT the lens diameter, you need to measure the whole outer casing diameter.

The result gives you the minimum "saddle" dimension required - the measure from base of mount to bottom of the ring.

The amount the saddle dimension is greater than the figure you have calculated is the amount of clearance your scopes objective will be clear of your rifles body. The saddle on these mounts is 20mm

Example -
A 42mm objective lens scope is measured and found to have an outer case measurement of 50mm.

50 divided by 2 = 25

1" scope so deduct 12.7mm = 12.3mm

So the mount must have a measure (bottom of mount to bottom of the ring) greater than 12.7mm or else it will ground out on the rifle body.
Calculating your rifle scopes clearance in this way does assume the base is basic flat, not raised above or below your rifles barrel. Note some rifles with high or adjustable cheek pieces may require higher scope mounts or risers so that your eye is in line with the rifle scope and your head is kept in an upright comfortable position.
| | |
| --- | --- |
| Code | NW1617 |
| Weight | 0.2kg |
| EAN | 5054492230129 |
| MPN | 23012 |